GEORGIA NEAR EXIT FROM CIS
Publication: Eurasia Daily Monitor Volume: 3 Issue: 92
By: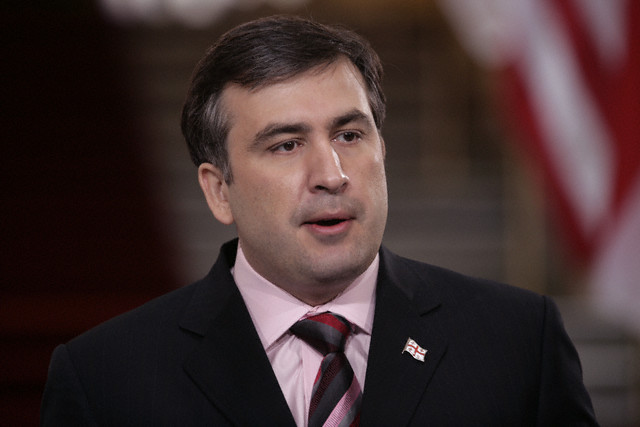 The presidents and other officials of Georgia and Ukraine have announced in recent days that they are considering the possibility of their countries' quitting the Commonwealth of Independent States or minimizing their participation. Stung, Russian officials are threatening severe retaliatory measures against the two countries if they head for the exit. Russian executive branch officials do so in not-for-attribution media interviews, while senior Duma and Federation members do so openly.
Although it has lost all practical significance or usefulness to Russia or its other members, the CIS remains a major symbol of Russia's claim to dominance in what it terms the "post-Soviet space." By the same token, Moscow regards the abandonment of the CIS by Western-oriented governments as an affront to Russia's prestige and ambitions. For its part, Georgia is merely responding to Moscow's sweeping, unprovoked economic sanctions that now accompany the incorporation of Georgian territories de facto into Russia.
On May 2, President Mikheil Saakashvili instructed the Georgian government to submit within maximum two months a report weighing the implications of quitting the CIS. Saakashvili and the government plan to act in consultation with friendly CIS member countries and to conclude bilateral agreements on trade and visa-free travel with such countries. By friendly countries, Saakashvili means Ukraine in the first place on this particular issue. On May 7, Georgia's Ministry of Foreign Affairs hosted consultations with a delegation from Ukraine's MFA on coordinating the two countries' next steps regarding the CIS.
Georgia's ultimate decision is up to its parliament. The idea of abandoning the CIS enjoys traditionally strong support in that chamber, and the support is overwhelming now as a result of Moscow's seemingly irrational hostility toward Georgia.
Georgia joined the CIS in 1993 (two years after the organization's founding) under Russian duress — but also under some illusions about Moscow's willingness to assist in the country's economic recovery and in finding a solution to Abkhazia and South Ossetia conflicts, as then-president Eduard Shevardnadze recalled in a recent comment on the present situation (Itar-Tass, May 9). Moscow itself dispelled Tbilisi's illusions on both counts fairly soon. Georgia exercised its right to abandon the CIS Collective Security Treaty in 1999, but remained a member of the CIS itself. The following year, Vladimir Putin launched an openly anti-Georgian policy even before becoming president of Russia. While still prime minister, Putin singled out Georgia from among all CIS member countries, canceling visa-free travel to Russia for Georgia's citizens (though not for residents of Abkhazia and South Ossetia). The exclusion of Georgia from this CIS-wide preference was a calculated blow to Georgia's economy. Political and economic blows continue to this day, never mitigated by Georgia's membership in the CIS.
Russia's "peacekeeping" troops in Abkhazia ostensibly operate under a CIS mandate, which however is not legally recognized by any international authority. The UN Security Council's routine compliments to that "CIS operation" in twice-annual resolutions are mere political genuflections to Moscow, without legal consequences. Now suddenly faced with the possibility of Georgia's opting out of the CIS altogether, Russian officials are changing the pretext for that operation. While maintaining the CIS cover, they now rationalize the operation as "maintaining stability in the Caucasus" and "protecting the interests of Russia's citizens" in Abkhazia, irrespective of whether Georgia remains a member of the CIS or not.
In their media interviews, Russian officials threaten the following sanctions against Georgia, if it quits the CIS:
a) Closing Russia's market to Georgia's agricultural products;
b) Imposing "radical" price hikes on gas and electricity supplies to Georgia;
c) Denying residence permits to Georgia's citizens for work or business in Russia; and
d) Revoking the 1996 resolution by presidents of CIS member countries that banned direct contacts between those countries and Abkhazia, requiring any such contacts to be routed through Tbilisi.
Such warnings are mostly empty, because Moscow has already lost — in fact, deprived itself of — all those forms of leverage. It has already closed its market to Georgian wine, a wide range of other agricultural products, and mineral water — cumulatively the main source of Georgia's trade revenue in Russia — for purely political reasons since March of this year. It was already threatening to impose price hikes for energy supplies during the winter just past, unless Georgia handed over its energy systems to Gazprom and other Russian companies. Denial of residence permits in Russia on any large national group would be largely unenforceable; it could however be used as an extortion mechanism whereby Georgians (or any targeted group) would have to bribe the authorities to have the permits extended. Finally, the 1996 CIS resolution on Abkhazia has long been nullified by Moscow's ample, now-open ties with the secessionist leadership.
Thus, the sentiment that prevails in Georgia has rapidly changed from "there is nothing to be gained from CIS membership," to "there is nothing any longer to lose from quitting the CIS." Such is the result of Moscow's recent moves against Georgia, from the never-explained but well-coordinated cutoff of energy supplies in mid-winter to the economic sanctions slapped on the country this spring.
(Interfax, RIA-Novosti, Rustavi-2 and Imedi Televisions, May 2-9)