GEORGIA ON RUSSIAN "PEACEKEEPING:" ENOUGH IS ENOUGH
Publication: Eurasia Daily Monitor Volume: 2 Issue: 186
By: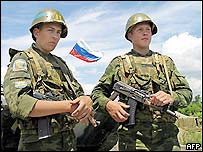 Georgia has taken a major step toward correcting or ending Moscow's "peacekeeping" and "mediating" activities in the Abkhaz and South Ossetian conflicts on Georgia's territory. Georgian parliamentary leaders in close consultation with the Presidency have drafted a resolution whereby the parliament sets deadlines for corrective measures or, alternatively, termination of those activities in Abkhazia and South Ossetia.
Parliament Chairwoman Nino Burjanadze, foreign affairs committee chairman Kote Gabashvili, and three influential young parliamentarians — Giga Bokeria, Nika Rurua, and Davit Bakhradze, vice-chairmen respectively of the legal affairs, defense and security, and European integration committees, a generation of rising political leaders — are the resolution's main drafters.
During more than a decade of Russian "peacekeeping" and "mediation," the document notes, "every effort for conflict-resolution based on internationally recognized norms and democratic principles has reached no tangible result." It observes that Russia's claim to the role of peacekeeper and mediator is incompatible with Russia's actual role in inspiring and sustaining the Abkhaz and South Ossetian conflicts. Moscow "does nothing to advance the process of conflict-resolution; on the contrary, it strengthens the separatist regimes."
The document describes the secessionist authorities as clan-based regimes manipulating ethnic issues in their own interest, their income and power based on smuggling and racketeering. It observes that the two enclaves are rife with gang activity, robbery and kidnapping, and arms trafficking, which "endangers the entire population including the Abkhaz and Ossetian peoples whom the secessionist leaders claim to protect." The enclaves have been turned into "information vacuums that are only filled with anti-Georgian propaganda"; and the authorities persecute those Abkhaz and South Ossetians who have tried to engage in public diplomacy and civic reconciliation with Georgians.
The text goes on to list Russia's steps toward incorporating Abkhazia and South Ossetia de facto into Russia. The enumeration includes: granting Russian citizenship to local residents en masse; official visits by Russian delegations and signing of agreements with the secessionist authorities; appropriation of Georgian assets, including properties of Georgian refugees; arming and training of secessionist forces and sponsoring their military exercises; and sending citizens of Russia, including senior military and intelligence officers, to take up leadership posts in Abkhazia and South Ossetia.
Russian "peacekeeping" forces are shielding those activities, "disregarding international law … and contravening the [stated] goals of conflict resolution and demilitarization," the document notes. In view of the aggravating situation, "The Georgian parliament deems it necessary to achieve rapid progress toward peaceful political conflict-settlements that would guarantee the full range of rights and freedoms for all residents of Abkhazia and South Ossetia and protection of their identity within a united Georgia."
Consequently, the parliament resolves that the peacekeeping forces' performance deserves a "highly negative assessment." The parliament shall instruct the Georgian government to take up this issue with Russia and international organizations. The government is to report to parliament by February 10 on developments in South Ossetia and by July 1 on developments in Abkhazia. "If the situation continues to warrant a negative assessment and no progress is witnessed," the parliament shall exercise Georgia's sovereign right to demand the termination of Russian peacekeeping operations and associated structures in South Ossetia by February 15 and in Abkhazia by July 15. In that event, the Georgian government shall "undertake appropriate measures for the rapid withdrawal of Russian peacekeeping forces from the territory of Georgia." Concurrently, Georgia's Prosecutor-General's Office shall take legal steps against Russia's citizens who hold leadership posts within the Abkhaz and South Ossetian secessionist authorities.
Russian Defense Minister Sergei Ivanov reacted instantly by claiming that any withdrawal of Russian "peacekeepers" or change to those operations' format would require "agreement on the part of Abkhazia and South Ossetia." On cue, the Abkhaz and South Ossetian leaders Sergei Bagapsh and Eduard Kokoiti repeated that assertion and gave the Russian peacekeeping operations a "highly positive assessment" as "guarantors of stability."
In reply, Gabashvili commented that Ivanov's statement amounted to "open support to separatism and an effort to thwart the settlement of conflicts." Gabashvili and the other drafters cautioned Moscow that the presence of its "peacekeepers" would officially be declared illegal by Georgia, if Moscow refuses to change the two operations' format or to withdraw the troops at Georgia's request from what is legally Georgia's territory. In the same vein Burjanadze declared, "We want peaceful settlements, but will not tolerate criminal-separatist regimes on our territory that destroy our country."
Saakashvili weighed in with the remark, "Georgia will no longer put up with the freeze on the negotiating process." His is a key conceptual point, clarifying on the highest level that the negotiations, not the conflicts as such, are frozen.
As Gabashvili points out, "It is no longer possible to speak about frozen conflicts, nor about peace processes." Instead, "What we have is direct annexation of these territories by Russia" (Novye izvestiya, September 29-October 5). Given this Russian policy and international passivity in the face of that policy, an internally consolidated Georgia is responding as any normal state would in such a situation.
(Civil Georgia, Interfax, Rustavi-2 and Imedi TV, Russian Television Channel One, September 30-October 1)