Georgia Opposition Escalates Rhetoric Amid Dwindling Numbers
Publication: Eurasia Daily Monitor Volume: 6 Issue: 71
By: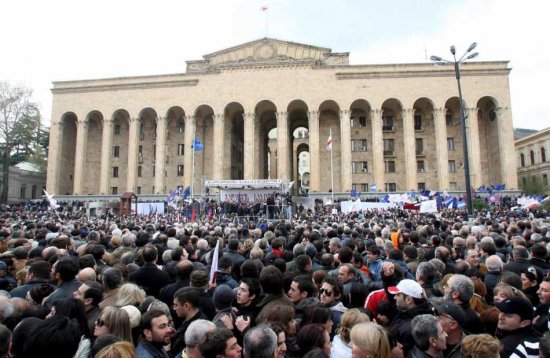 Extra-parliamentary opposition groups continue pushing for regime change in Georgia despite the diminishing numbers at their daily rallies in Tbilisi. All of Georgia's television channels are covering the events -including the leaders' dangerously inflammatory rhetoric- in full detail (Rustavi-2 TV, Imedi TV, April 10-13).
Predictably to everyone except the radical leaders, their April 9 ultimatum to President Mikheil Saakashvili to resign within 24 hours (EDM, April 10) has expired without consequences. Given the machismo culture of radical leaders (of both genders in certain cases), this failure may prompt them to seek face-saving solutions by escalating the forms of action to force regime change.
As was the case in 2007 and before the August 2008 Russian invasion, the extra-parliamentary opposition has no program other than demanding the president's removal and pre-term general elections, barely one year after the previous ones (which were rated on the whole positively by Western observers). Meanwhile, the parliamentary opposition (mainly Christian-Democrats) keeps its distance from the extra-parliamentary groups' campaign.
Rally organizers had publicly anticipated 120,000 to 150,000 participants at the opening rally on April 9 and planned to continue with daily rallies. By Western news agencies' estimates, however, some 60,000 attended on April 9; 20,000 to 25,000 on April 10; up to 10,000 on April 11; 4,000 on April 12, when rally organizers called a break on the occasion of Palm Sunday; and rose again to 20,000 on April 13 (AP, AFP, Reuters, RFE/RL, April 9, 10, 11, 12, 13). A net decrease in numbers, however, does not necessarily indicate that the movement has run out of steam or its leaders have lost their resolve.
Inflammatory rhetoric seems, if anything, to escalate, now carrying even moderates on radicalism's wave. Former parliamentary chairwoman Nino Burjanadze is calling to "barricades" and for demonstrations to continue with full force until Saakashvili resigns. She is taunting the president to face opposition leaders "if Saakashvili is a real man" (EurasiaNet, DPA, April 10). Burjanadze, "Conservative" leader Kakha Kukava, the 2008 presidential runner-up Levan Gachechiladze and other leaders are warning that they might resort to "civil disobedience."
The leaders told dwindling crowds on April 11 and 12 of intentions to block three major arteries in Tbilisi as well as roads around the capital, and ultimately to extend such a campaign throughout the country. Meanwhile, dispersal of actions from Tbilisi's central square to several locations is a method to disguise the shrinkage of the crowd on the central square. On April 13 demonstrators blocked Tbilisi's central Rustaveli Avenue with benches outside the parliament building and announced round-the-clock picketing outside the presidential building "until Saakashvili resigns" (Kavkas-Press, April 13).
Movement leaders are resorting to a form of psychological warfare against the authorities. "Imagine what will overcome him when he sees the protest wave cover all of Tbilisi. His nerves won't be able to handle it," Ekaterine Beselia called out (Public TV Channel One, April 12). She deputizes for the fugitive ex-defense minister Irakli Okruashvili as head of his political group as well as his lawyer. As in many a would-be revolutionary situation, Georgian opposition leaders regard the uncontrollable firebrand Okruashvili both as a possible asset to their movement and as a possible rival to their ambitions. There is some speculation that Russian intelligence might facilitate the Paris-based Okruashvili's return via South Ossetia to the Georgian city of Gori, where he had attempted to establish a personal stronghold in 2007 just ahead of his arrest.
While enjoying full TV coverage, Gachechiladze and another 2008 presidential candidate, Gia Maisashvili, led a demonstration outside Rustavi-2 TV studios denouncing journalists -live on camera- as "dirty prostitutes" and "street harlots" (Maisashvili) and "servants of the Devil" (Gachechiladze) (Rustavi-2 TV, April 11). Demonizing the president is a continuing theme in this movement since 2007. Incompatibly with demonization, however, the same groups are describing the president as a "coward" for his performance during Russia's invasion and they threw "rabbit food" at the presidential residence (Imedi TV, April 11).
The president is being blamed not only for the war's outcome but also for the global recession's impact on Georgia and even for the emotional stress of some veteran oppositionists, such as Republican co-leader Tina Khidasheli: "We need oxygen, a new way of breathing, and the Georgian people can only have this after Mikheil Saakashvili resigns" (Rustavi-2 TV, Imedi TV, April 10). Even when the radical opposition does not sound serious, it is no less risk-prone.
A forlorn voice of moderation in this landscape, Saakashvili's former confidant Irakli Alasania is calling for a dialogue with the authorities and has offered to meet personally with the president. Alasania's idea of dialogue is a peaceful transition of power by agreement with Saakashvili and new elections, in which Alasania is generally believed to intend to run for president. But the crowd booed Alasania when he called for dialogue in that vein. Evidently intimidated, he has accepted the radicals' terms for a dialogue: namely, that it can only deal with the president's resignation and new elections and it must take place with a group of opposition leaders as a live televised show (Rustavi-2 TV, Imedi TV, April 11, 12).