Georgia Provides More Security Than it Consumes
Publication: Eurasia Daily Monitor Volume: 8 Issue: 27
By: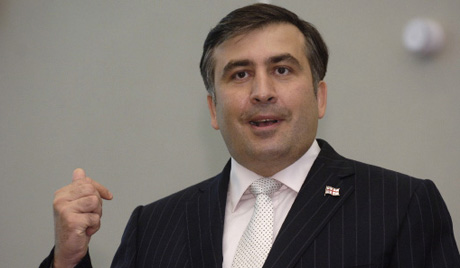 Addressing the annual international security forum in Munich –the highest-level NATO event between the Alliance's summits–Georgian President, Mikheil Saakashvili, had the temerity to talk strategy. His address stood out in this year's forum (February 5, 6), which focused on issues relating only indirectly to NATO competencies (with the Egypt crisis a major distraction for the conferees), skirted uneasily around NATO's predicaments, and heard Russian officials setting unacceptable conditions to cooperation with NATO and the US.
For his part, Saakashvili called for a more active European and US [in that order] engagement in the South Caucasus, "the only alternative route for bringing Central Asia's energy resources to Europe, as well as a supply route for ISAF [International Security Assistance Force in Afghanistan]." Pointing to the unresolved conflicts in Europe's eastern neighborhood, he warned against the notion that the "frozen conflicts" can be conserved indefinitely; and criticized the use of the euphemism "low-intensity conflicts" to imply conflicts of little importance, despite their wide ramifications. "I came here to deliver a simple message: ignoring these military buildups by well-known hands can lead to future disasters," he cautioned, citing the recent deployment of Russian tactical missiles and long-range artillery, in breach of the EU-brokered armistice agreement in Georgia (www.securityconference.de, February 6).
"Constructive unilateralism"–the term attributed to EU Monitoring Mission (EUMM) Chief Hansjoerg Haber– denotes Tbilisi's pledges of non-use of force vis-à-vis Abkhazia and South Ossetia. Under that formula, Saakashvili extended unilateral pledges as part of his November 2010 address to the European Parliament and, again, on February 6 at the Munich forum. Russia, however, wants Georgia to sign agreements on non-use-of-force with the Abkhaz and South Ossetian authorities, respectively. Signing bilateral agreements would imply recognition of those authorities. This was Russia's demand long before the 2008 invasion and became even more of a non-starter after Russia's unilateral recognition of Abkhazia and South Ossetia. The Georgian government has proposed signing a non-use-of-force agreement directly with Russia; but Moscow refuses, hiding behind Sukhumi and Tskhinvali. This demonstrates that Russia is primarily interested in seeking recognition of its clients, without assuming obligations of peaceful conduct toward Georgia.
Bereft of US and NATO support for homeland defense, Georgia remains the number one troop-contributing country (other than the US) to the Afghanistan operation on a per-capita basis. While a growing number of West-European countries are discussing time-tables for troop withdrawal from Afghanistan, Georgia considers a further increase in its troop contribution within the next months. "For Georgia, a country of 4.7 million, whose territory is still partly occupied, such an effort underscores our determination to be a provider, and not just a consumer, of international security," Saakashvili told the Munich forum (Civil Georgia, February 7).
Indeed, NATO aspirant countries were assisted to advance from sheer consumers to net providers of security, as part of the qualification process. Georgia's involvement in US-led and NATO missions, and its pivotal position in energy security, turned it into a significant security provider. Unlike past NATO aspirants, however, Georgia is not receiving the benefits of a security consumer in terms of national defense support.
On February 3, four US Republican Senators released a letter asking Defense Secretary, Robert Gates, to consider the option of placing a missile-defense radar site in Georgia. The radar, TPY-2, is planned as a component of the US-NATO missile shield in Europe against Iran. According to the letter, "Georgia should be a significant partner for future defense cooperation with the United States, whether as a future member of NATO or in another capacity; it is already one of our nation's most loyal allies" (The Cable, www.foreignpolicy.com, February 3; Civil Georgia, February 4).
The proposal recognizes Georgia's readiness for the role of security provider as a given. The US is in discussions with Turkey for placing this radar there, to be connected with a radar in Israel and a missile interceptor site in Romania. However, Turkey is said to demand a share in command and control of the system, restrictions on sharing information with Israel, and removal of references to Iran (or other countries) as a potential missile threat. Consequently, according to the Senators, the option of placing the radar in Georgia "would offer clear advantages, as compared to Turkey" (The Cable, February 3).
Tbilisi's initial reaction is cautiously receptive of the idea but also deferential to Turkey at the same time. According to Deputy Foreign, Davit Jalagania, the government has not yet formulated its official response. It regards the proposal as important in terms of stability and security for the region, but "specific comment would be premature" while the US has the possibility to place this radar in Turkey (Civil Georgia, February 7). This response reflects concern to protect Georgia's relations with both Washington and Ankara, avoiding possible damage from a tussle between them over the radar issue.
This situation is potentially reminiscent of that which had developed between the United States, Poland, and Lithuania during the final stage of the Bush administration. To soften up Poland's negotiating position on the terms of missile shield deployment, the US suggested placing a missile interceptor site in Lithuania. The Russian invasion of Georgia in 2008 helped to catalyze the signing of the US-Polish agreement on the missile shield.