Georgia Risks De Facto Recognition of Breakaway Regions by Opening Direct Talks
Publication: Eurasia Daily Monitor Volume: 15 Issue: 34
By: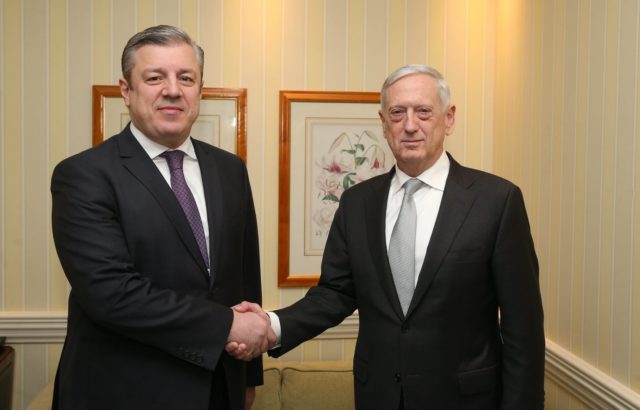 Georgian citizen Archil Tatunashvili died in custody in breakaway Tskhinvali Region (South Ossetia), on February 23 (Civil Georgia, February 23). Subsequently, the de-facto authorities have refused to hand over the body of the deceased (Civil Georgia, February 26) or to allow the return of two other detained Georgians to Tbilisi-controlled territory (Civil Georgia, March 1). Together, these developments highlight the dilemma the Georgian government currently faces vis-à-vis both of its breakaway regions.
On the international stage, the Georgian government maintains the appearance of the status quo, displaying a seemingly uncompromising stance toward South Ossetia, Abkhazia and, hence, Russia. Thus, at the recent meeting with the United States Defense Secretary James Mattis, during the 54th Security Conference in Munich, Georgian Prime Minister Giorgi Kvirikashvili stressed anew "Russia's aggressive actions in Georgia's occupied territories and the grievous human rights situation on the ground" (Facebook.com/KvirikashviliOfficial, February 17).
However, domestically, Georgian authorities have been unequivocally attempting to reinvigorate the notion of a "direct dialogue" with the "conflict regions," as Prime Minister Kvirikashvili again titled this endeavor during his December 12, 2017, meeting with the Parliamentary faction Georgia's Patriots; the talks were dedicated to issues linked to the occupied territories (Interpressnews.ge, December 20, 2017). Addressing the ongoing advancement of the so-called "borderization" process (a piecemeal, surreptitious push of the occupation line more deeply inside Tbilisi-controlled Georgian territory) in the Tskhinvali Region, and its coordination from Russia, Kvirikashvili exclaimed, "What do you think we can do in such cases, enter into a new military conflict?! […] Unfortunately, other than activating international mechanisms, we have no other means to react [to this process]" (Interpressnews.ge, December 20, 2017)
Furthermore, defending the "dialogue" with the breakaway regions, Kvirikashvili stressed, "Let me tell you this directly: we do not have the same approach [as Georgia's opposition, which rejects such direct talks]. You will see this once we introduce changes in the Law on the Occupied Territories, as intended by the new [legislative] package, about renewing trade mechanisms. I agree that without direct talks with the conflict regions, no such conflict has ever been resolved" (Interpressnews.ge, December 20, 2017).
That new, deeper legislative and executive measures of a "direct dialogue" are already in the making, was confirmed by Zurab Abashidze, the Georgian government's special envoy to Russia, in his January 15 interview with the Russian paper Nezavisimaya Gazeta. Abashidze's discourse exhibited the same pattern of seemingly bemoaning the relentless pulling of Abkhazia and South Ossetia into Russia's orbit in military, political and economic terms, yet, at the same time, eagerly welcoming Moscow's support in opening direct talks with the breakaway regions. "I believe, Russia could effectively facilitate a direct Georgian-Abkhazian and Georgian-Ossetian dialogue. This interest is shared by the international communities, which, in fact, fully share Georgia's position," Abashidze stated, without clarifying which "international communities" he had in mind. Abashidze also disclosed something that was hardly reported in Georgia itself: Prime Minister Kvirikashvili suggested increasing the level of official participation in the Geneva talks between Georgia, the breakaway regions and Russia, aiming to use this platform for the aforementioned "direct dialogue" (Nezavisimaya Gazeta, January 15).
Attempts at initiating such direct talks have been underway since at least last year. In 2017, Abashidze sought in meetings with his Russian counterpart, Grigory Karasin, the establishment of transit routes through both South Ossetia and Abkhazia, which effectively amounts to recognition of direct economic relations with the breakaway regions and thus acknowledgment of them as legitimate political entities and partners of Georgia (see EDM, March 7, 2017). Yet, Abashidze is careful to veil this circumstance by stressing that the decision to set up the trade routes (via the mediation of a Swiss border control service company, SGS)—which was already ratified by Georgia and is awaiting confirmation from Russia (see EDM, February 8, 2018)—"is a Georgian-Russian agreement" (Nezavisimaya Gazeta, January 15).
In response to these government efforts, pro-Western Georgian opposition parties, as well as a number of independent experts, have underlined that taking up direct talks with Sukhumi and Tskhinvali—especially only on economic and social questions while ignoring the main political problem of Georgian sovereignty and internally displaced persons—jeopardizes Georgia's long-established policy of non-recognition of the breakaway regions. "If official Tbilisi holds a dialogue with the regimes extant in Tskhinvali and Sokhumi, it will be a sign that they are not Russia's puppets, but legitimate players. As a result, Georgia will destroy its own position with regard to the Russian occupation. Official dialogue with these regimes means that in two regions of Georgia we have no Russian occupation, but rather two independent actors, Abkhazia and South Ossetia," noted local international relations expert Davit Batashvili. "Occupation has only one legitimate outcome: liberation of the territories and restoration of the sovereignty of the victim state. To the contrary, resolutions of conflicts between the center and regions […] are open-ended issues," Batashvili stressed (Civil Georgia, February 7).
Thousands of Russian troops remain stationed in both breakaway Georgian territories. At the same time, the Russia-backed authorities in Sukhumi and Tskhinvali have continued to repeatedly perpetrate and attempt to cover up violent incidents against Georgian citizens on territories controlled by them—the death of Archil Tatunashvili being just the latest case in point. But none of this has deterred the current Georgian government from nevertheless seeking to open a "direct dialogue" with the breakaway regimes.
In the case of Tatunashvili, who was accused by the South Ossetian side of "genocide against the Ossetian people," Georgian authorities have had to rely on Georgian Patriarch Ilia II to appeal to his Russian counterpart, Patriarch Kirill, to help repatriate the body. Tatunashvili was allegedly brutally mishandled by the Tskhinvali regime's authorities (Civil Georgia, March 5). The European Union and the United States both condemned this overreach by the South Ossetian regime (Civil Georgia, February 28). Nevertheless, the current Georgian government seems keen to turn the approaching tenth anniversary of the Russian-Georgian August war into, in Abashidze's words, "a threshold of sorts for our better future relations" (Nezavisimaya Gazeta, January 15). Tbilisi apparently hopes to accomplish this, the government's critics assert, by de facto recognizing the breakaway regions as independent actors of the conflict rather than collaborators in the ongoing Russian occupation.