Azerbaijan Seeks to Enhance Military Cooperation With Iran
Publication: Eurasia Daily Monitor Volume: 15 Issue: 33
By: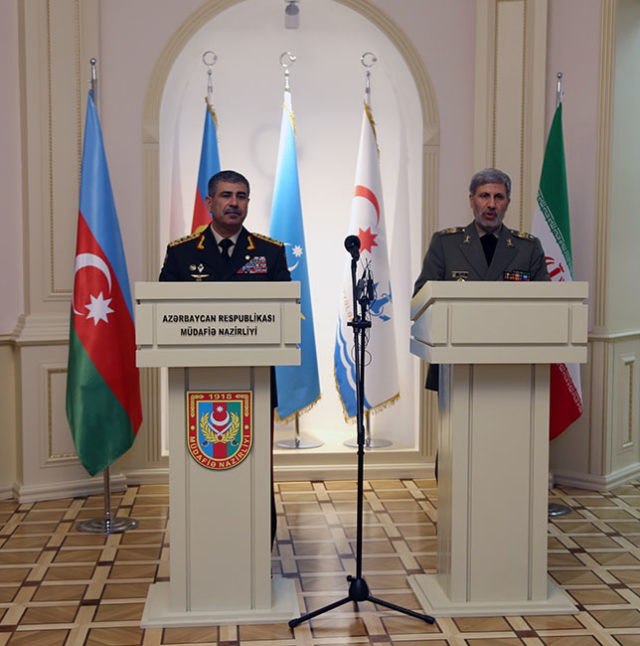 Iranian Defense Minister Amir Hatami visited Azerbaijan, on February 21, to discuss the expansion of military cooperation (technical, medical, educational, joint defense industry), regional stability, as well as Caspian security (Mod.gov.az, Mdi.gov.az, February 21). Hatami expressed Iran's interest in increasing Azerbaijan's military power and in sharing military experience. He hoped to sign new agreements and finalize previous deals (1news.az, February 21; Irna.ir, February 21, 22; Mehrnews.com, February 22). Reportedly, the two parties agreed on the joint manufacture of new high-tech military equipment (Ifpnews.com, February 21).
By signing a mutual nonaggression pact in 2005, Azerbaijan and Iran committed to preventing their territories from being used against each other by third parties. Shortly before this pact, former United States Secretary of Defense Donald Rumsfeld visited Baku (April 2005), and some observers at that time speculated the visit was linked to Iran (EurasiaNet, April 12, 2005). However, Azerbaijani President Ilham Aliyev, during his visit to Washington the following year, reiterated the inadmissibility of any country (implying also the US) to use Azerbaijani territories against Iran in accordance with the two neighbors' 2005 agreement (Cfr.org, April 26, 2006). Tehran consequently blocked purported US efforts to use Azerbaijan's territory as a military/intelligence cell against Iran; Azerbaijan, in return, could receive Iranian military hardware (Stratfor, May 17, 2005). In 2010, Azerbaijan passed a new Military Doctrine, which also explicitly forbids the installation any foreign military bases in the country (Anl.az, August 15, 2010).
Until now, Azerbaijani-Iranian military cooperation had been confined to limited technical issues, sporadic meetings on previous agreements, and alleged Iranian arms supplies to Azerbaijan, which were later substituted by weapons imports from Russia and Israel (Virtualaz.org, April 17, 2017). Additionally, relations were long held back by mutual discord associated with various ethnic, religious and political/security issues (Gwu.edu, September 2012). Some political forces in Iran worried about Azerbaijan's cooperation with the North Atlantic Treaty Organization (NATO) as well as the United States' alleged plans to use Azerbaijani territory against Iran (see EDM, April 27, 2006; Caucasian Review of International Affairs, Vol. 1, Winter 2006). Tehran also demanded that Azerbaijan coordinate with Iran when making arm purchases (anti-ship missiles/guns, boats and drones) from Israel. Baku usually justifies these purchases as necessary to counter Armenia's military aggression (Dfnc.ru, October 11, 2016; EurasiaNet, April 12, 2012; Armstrade.org, September 3, 2013). In recent years, various disinformation campaigns in the media alleged that Azerbaijan had granted Israel access to its territory for possible air strikes and intelligence-gathering operations against Iran; but these rumors have been wholly denied by Baku (see EDM, September 25, 2017).
Azerbaijani-Iranian relations warmed up significantly following the election of Iranian President Hassan Rouhani and mutual presidential visits (see EDM, December 4, 2014; President.az, February 21, 2018). In October 2017, an Azerbaijani-Iranian joint military working-group met for the first time in Baku to sketch out a roadmap for military-technical cooperation and to discuss Caspian security (Mod.gov.az, PressTv, October 24, 2017). According to former Iranian ambassador (2012–2015) to Baku Mohsen Pakayeen, the working-group was established to deal with regional security threats stemming from religious radicalism (Apa.az, April 21, 2015). Azerbaijani Defense Minister Zakir Hasanov's prior (April 2017) visit to Iran also focused on jointly combating terrorism emanating from extremist groups, as well as on border security, military-technical cooperation and becoming acquainted with Iranian military products (Mod.gov.az, April 16, 17, 2017; Farsnews.com, Apa.az, April 16, 2017).
Regular mutual visits by the countries' medical officers along with joint exercises of Azerbaijani and Iranian naval forces strengthens the interaction and cooperation between their naval commands (Mod.gov.az, October 19, 2016; August 9, October 3, 8, December 28, 2017). Indeed, this prospective naval cooperation on Caspian security, in addition to shared activities in the military-technical sphere and joint exercises are significant in terms of easing past bilateral tensions related to energy exploration in their disputed offshore oil and natural gas fields (Vestikavkaza.ru, April 20, 2015; EurasiaNet, October 11, 2017). In December 2017, Azerbaijan's Border Service Chief Elchin Guliyev visited Iran to discuss cooperation on combating threats (terrorism, drug trafficking, smuggling, illegal migration) along their shared border and in the Caspian Sea (Apa.az, December 3, 2017; Azeridefence.com, December 5, 2017).
According to Iran's former ambassador (2003–2006) to Baku, Afshar Suleymani, prospective military cooperation going forward may include training and consultations, joint equipment production and the supply of arms/ammunition. He noted that Iran has formerly conducted military training of Azerbaijani armed units (Defence.az, March 2; Tisri.org, February 26). President Aliyev first openly admitted that Iran was selling arms to Azerbaijan during his 2016 visit to Germany (Vestnik Kavkaza, June 8, 2016). Earlier, Azerbaijani retired general Yashar Aydemirov stated that his country purchased Iranian howitzers, multiple-rocket launchers, mortars, ammunitions and other equipment, which were effectively used during Azerbaijan's military operations against Armenian forces in April 2016. Aydemirov also claimed that during the first Karabakh War (1988–1994), Iranian military specialists and volunteers fought on Azerbaijan's side (Apa.az, May 3, 2016). Zaur Shiriyev, an associate fellow at the British-based think tank Chatham House, argued that "the most attractive Iranian military product [for Azerbaijan] would be ballistic missiles" (EurasiaNet, November 1, 2017) to counter Armenia's Iskander missiles, since the Iranian military industry is well advanced in the manufacture of medium-range ballistic and operational-tactical missiles (Amec.org.za, August 6, 2010).
The current intensification of Iranian-Azerbaijan military cooperation coincides with a reinforced military dialogue between Azerbaijan and Saudi Arabia. Shortly before Iranian Defense Minister Hatami's visit to Baku, representatives of the Saudi defense ministry traveled to Azerbaijan to discuss military cooperation (technical, exercises, education and defense industry). This was a follow-up visit to Minister Hasanov's official trip (April 2017) to Saudi Arabia, where he discussed similar topics with his hosts, including counter-terrorism issues (Mod.gov.az, April 5, 2017, February 5, 6, 8, 2018; Mdi.gov.az, February 8).
Azerbaijan's warming military ties with Iran have raised eyebrows, particularly in light of the former's close military cooperation with Israel. Yet, as a secular Muslim country, Azerbaijan, tries to play a constructive role across the Islamic World. The expert community usually portrayed Azerbaijan's relations with Israel or the US as a possible anti-Iranian alliance. However, Farhad Mammadov, the director of the Center for Strategic Studies in Azerbaijan, argues that considering Azerbaijan's complicated and unstable neighborhood, Baku "does not make its bilateral relations dependent on third countries," which allows it "to cooperate with states that do not have relations with each other" (Valdaiclub.com, February 2017, p.12). By upgrading and diversifying its military ties and arms purchases with different partners, Azerbaijan demonstrates a multi-vector approach that seeks to outflank Armenia's possible diplomatic activities there.