GEORGIAN ARMY MARKS 15th ANNIVERSARY, BUT IS IT READY FOR NATO?
Publication: Eurasia Daily Monitor Volume: 3 Issue: 86
By: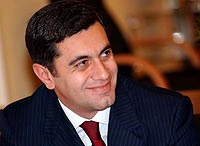 Fifteen years ago this week, Georgia created its own armed forces. Tbilisi celebrated this anniversary by taking major steps toward eventual NATO integration.
Yesterday, May 2, Georgian Defense Minister Irakli Okruashvili presented Georgia's Strategic Defense Review (SDR) to a high-ranking audience of senior NATO policymakers and prominent international pundits attending a three-day conference on Georgia's defense policy that opened in Tbilisi on May 2. Okruashvili emphasized two top priorities: integration into NATO and improving the management and efficiency of the armed forces.
The SDR is a part of the reform package implemented by Georgia within its Individual Partnership Action Plan (IPAP) with NATO. On April 13, when addressing the NATO North Atlantic Council in Brussels, Okruashvili described the reforms in the Georgian armed forces as "revolutionary," although he acknowledged that process was far from complete. He also promised to increase the transparency of the armed forces, which the media and military analysts have long criticized. Civic watchdogs have also criticized the non-transparency of funds earmarked for military development (see EDM, April 12).
The actual celebration of the Georgian army's 15th anniversary was held on April 30. In a symbolic move, the government marked the anniversary not in Tbilisi as expected, but at the newly opened military base in Senaki — a region in Western Georgia that borders breakaway Abkhazia. President Mikheil Saakashvili, who, as supreme commander of the Georgian armed forces, rarely misses key military events, did not attend the ceremony, prompting speculation about his absence.
Formerly a Soviet military base, Senaki has been revamped to meet NATO standards at a cost of some $10 million. Okruashvili noted that additional funds would enhance the base and make its airfield capable of receiving all types of aircraft. He pointed out that the Senaki base is designed not only to "neutralize threats" posed by Russian and Abkhaz armed forces in the region, but also to help restore control over Abkhazia, which is only 60 kilometers away from Senaki. "The Georgian armed forces face one main task, which is the restoration of Georgia's territorial integrity, and the restoration of this base is symbolic," Okruashvili said. During the celebration and later in a TV talk show broadcast live on May 1, Okruashvili reiterated his adherence to his December 2005 prediction that Georgia would fully restore control over breakaway South Ossetia by January 1, 2007. Okruashvili admitted that Georgia plans to accomplish this task with support from the United States and other Western allies, including NATO. He pledged to resign if Georgia fails to regain South Ossetia by the specified deadline. Giorgi Khaindrava, Georgian state minister for conflict resolution, has already dismissed Okruashvili's statement as "unrealistic."
The Georgian army, according to Okruashvili, plans to fully switch from conscription to contract service in 2009. Currently about 70% of the army serves on a contract basis. He boasted that the Georgian army is "highly battle-worthy and motivated" despite its small size. Colonel Levan Nikoleishvili, chief of the general staff, said that Georgia will demonstrate its increased military capacity as part of the May 26 Independence Day celebration. Meanwhile, the West wants Tbilisi to refrain from saber rattling and military rhetoric.
Ironically, while Okruashvili was boasting of the potential of the Georgian army, about 70 soldiers from the elite commando brigade deployed in Kojori, near Tbilisi, briefly went AWOL on May 2. They had protested a decision by their commanders to punish several soldiers for being drunk. The soldiers hid in the forest but soon returned to their barracks. The defense minister downplayed this incident by citing the odd assignment as Georgia's "wine ambassador" that he recently received from Saakashvili: "The soldiers treated the President's assignment for me to promote Georgian wine as their own command and decided to uphold Georgian winemakers" (see EDM, April 20). However, it appears that the Defense Ministry has not learned lessons from similar personnel problems in recent years (see EDM, February 1, 2006; November 3, 2005; October 14, 2005; June 21, 2004).
The Georgian armed forces have come a long way from the paramilitary detachments under amateur warlords that predominated in 1991-92. But the process has been painful and uneven. Corruption and nepotism still plague the Defense Ministry. Each time a new defense minister has been appointed during the last three years it has automatically triggered personnel changes at lower units under the pretext of purging the ministry of "old cadres." The Georgian army still lacks a complement of highly professional officers, because these sweeping personnel changes have pushed out many experienced and devoted veterans.
The first serious test for the Georgian army in the Saakashvili era was the 2004 military campaign against South Ossetia and the army failed (see EDM, August 12, 13, 31, 2004). The Georgian army apparently lacks clear guidance about its role in the restoration of Georgia's territorial integrity, and conflicting statements by top politicians confuse the military even more. Yet military reform can boast of one significant achievement — unlike some other South Caucasus countries, Georgia has largely managed to keep the army out of politics.
(TV-Rustavi-2, Civil Georgia, May 2; Kavkaz Press, May 1-2; Kviris Palitra, May 1; TV-Imedi, TV-Rustavi-2, Trend, April 30, May 1; 24 Saati, April 20)