Georgian Authorities Investigate Former Government to Hit at Current Opposition
Publication: Eurasia Daily Monitor Volume: 10 Issue: 86
By: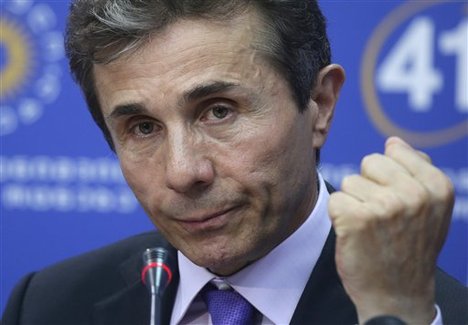 Georgia's government under Prime Minister Bidzina Ivanishvili claims that the former government (2003–2012) under President Mikheil Saakashvili (who is still in office) has colluded with Chechen or other "North Caucasian" insurgents operating against Russia (see EDM, May 3). Ivanishvili's serial statements to that effect are devoid of specifics and unclear on the time frame, but replete with hints at revelations to come from ongoing internal investigations. His claims range from accusations of passive cooperation to suspicions of active cooperation with those insurgents by Saakashvili's United National Movement (UNM) government.
These imputations supplement the current government's threats to hold the previous government co-responsible for the 2008 Russia-Georgia war. Both lines of attack support the Ivanishvili team's efforts to amass the fullness of political power in Georgia. Threats to investigate and prosecute the former UNM government are actually targeting the UNM in its current capacity, as political opposition party. But they also seek to earn Moscow's appreciation for the current government, while attempting to undermine the opposition party in Western eyes.
The Boston Marathon bombing by two ethnic Chechen terrorists (April 15) opened a new line of speculation for Ivanishvili: "Maybe the suspect in the Boston terrorist attack had some contact with terrorists trained in Georgia." His government is "investigating that possibility," he said (see EDM, April 30; The Cable—Foreign Policy, May 2). Meanwhile, similar speculations by the Moscow newspaper Izvestia have been dismissed by Georgia's interior ministry, which is headed by Ivanishvili's appointees (Georgia Today, April 25). The same ministry and other Georgian authorities, however, purport to investigate the previous government for cooperating with insurgents against Russia.
President Saakashvili has publicly appealed to "responsible members" of the current government, "who worked previously in Georgian government structures and cannot fail to understand [the implications]. At least you should speak up. At least you should tell the prime minister not to act in this way; and if he does not listen to you, then say publicly that this is not so" (Rustavi 2, Civil Georgia, April 27).
Defense Minister Irakli Alasania and Parliament Chairman Davit Usupashvili (each representing a small party allied with Georgian Dream) have slightly distanced themselves from Ivanishvili's line on this issue. Alasania is cited as having said several times (in response to questions) that, according to his information, there are "no grounds to claim" that the previous government had been implicated in the Lopota Gorge incident with Chechen fighters in August 2012 (see below). For his part, Usupashvili has commented that no Georgian party benefits from public debates on these issues ahead of the investigation. Alasania and Usupashvili both take the position that any further discussion should await the investigation's results, and proceed from hard evidence (Channel 9 TV, April 30; Civil Georgia, May 1).
This line of argument, however, would not hold up well in a crunch. It avoids acknowledging the investigation's politicized (even personalized) character, under Ivanishvili's former private employees (now heads of law enforcement), and with designated political targets. It also avoids recognizing that the Prime Minister expects the investigations to show Georgia retroactively liable for having harbored what Russia describes as terrorists.
It is hardly imaginable that these investigations would uncover credible evidence against Saakashvili's government (2003–2012), given that Moscow itself had, during that period, practically exhausted any basis for such accusations (see accompanying article).
However, one investigative track focuses on the August 2012 Lopota Gorge incident, in which Georgian interior ministry troops intercepted and annihilated a Chechen armed group on its way to the Russian border. Questioning that version, the current authorities insinuate that the former authorities had cooperated with that Chechen group (Rezonansi, May 1). This aspect of the investigation seems designed to apply direct pressure on Vano Merabishvili (internal affairs minister until 2012, UNM secretary-general at present) and potentially to set the stage for purging the interior ministry's intelligence and counter-intelligence staffs.
Building those high-quality staffs in the interior ministry is one of the signal achievements of the UNM-led government. With every regime change that Georgia has experienced, Moscow demanded a say over appointments in the state security system, as one pre-requisite to "improving" Moscow's relations with a new Georgian leader. President Eduard Shevardnadze unwillingly made concessions on that score under duress. President Saakashvili rejected that demand out of hand. If Prime Minister Ivanishvili obtains a meeting with Vladimir Putin, the Russian President will probably ask Ivanishvili to dismantle the intelligence and counter-intelligence staffs of the Saakashvili era. The Kremlin might even expect this "goodwill" move in advance of such a meeting, to help pave the way for it.
Georgia's Western allies and partners never had reasons even remotely to suspect Saakashvili's former government of cooperating with terrorists. On the contrary, that government's anti-terrorism record at home and abroad was highly rated by Georgia's allies. If the current government is seen to inculpate its predecessor on artificial terrorism-related charges—whether as part of the internal power struggle, or to "improve" its relations with Russia—this government's credibility as a North Atlantic Treaty Organization (NATO) aspirant would collapse in that case.
Georgian Dream being a coalition government, not all of its components share identical priorities, and certainly not the same order of priorities. The further handling of this issue will help reveal which components of this government prioritize what objectives in domestic and foreign policy.