Georgian Opposition Attacks Bank of Billionaire Ivanishvili
Publication: Eurasia Daily Monitor Volume: 14 Issue: 120
By: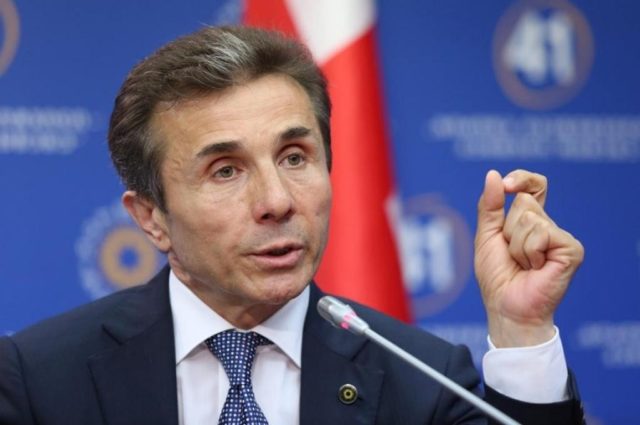 The party of former Georgian president Mikheil Saakashvili, United National Movement (UNM), has begun actively preparing for local elections, scheduled for October 21. Its first major action, which caused a big response, was a rally in downtown Tbilisi, at the central office of Cartu Bank, belonging to former prime minister and founder of the ruling Georgian Dream party, Bidzina Ivanishvili.
Hundreds of UNM activists, as well as party leaders and UNM members of parliament, held a rally in front of the doors to Cartu Bank. The demonstrators raised serious accusations against Ivanishvili, who, even though he no longer holds any official position, is still widely considered to be the informal leader of the Georgian Dream government (Rustavi 2, September 19). Specifically, the opposition alleged that Ivanishvili and his entourage are involved in money laundering through Cartu Bank as well as being guilty of corrupt schemes, as a result of which, the Bank's profit increased by 1,700 percent in the last few years. The chairman of UNM's "political council," Nikanor Melia, said at the rally that the opposition is launching a mass movement against "Russian [sic—though originally from Georgia, Ivanishvili made most of his money in Russia] oligarch Bidzina Ivanishvili" and "oligarchic rule" in Georgia (Kommersant, September 20).
Law enforcement assembled at the bank prior to the protest's official kick-off. The situation became strained after the opposition affixed photos of Ivanishvili's close associate on the façade of the building. Participants in the crowd demanded that Cartu Bank openly declare its revenues (Rustavi 2, September 19). When the protesters attempted to block the building entrance and attached a poster with a slogan denouncing the "oligarchs," the police employed force. Fierce clashes broke out between opposition activists and law enforcement officers as well as Cartu Bank's security guards. At the same time, an unknown man struck Marina Datukishvili, a deputy in the city assembly, in the face (Kommersant, September 20).
One of the participants in the rally, former defense minister and former interior minister Giorgi Baramidze, noted, in an interview with this author (September 22), that billionaire Bidzina Ivanishvili came to power in 2012, promising prosperity for the country. But "instead of solving the problems of ordinary citizens, he only increased his wealth, which is immoral." Аccording to Baramidze, during the reign of UNM and then-president Saakashvili, "Georgia's economy increased from $4 billion to $16 billion; and after the arrival of the billionaire Ivanishvili's party, Georgian Dream, the country's gross domestic product [GDP] shrank to $13 billion."
Giorgi Baramidze confirmed that the opposition suspects Ivanishvili and his bank of nepotism and corruption. One example he offered is the transfer of accounts of many government institutions and government organizations to Cartu Bank. Georgia is exhibiting signs of "classical oligarchic rule" since "a businessman is using politics and state power to enrich himself and lobby for his own business," the opposition leader summarized (Author's interview, September 22).
However, member of parliament (MP) Zakhary Kutsnashvili, from the ruling Georgian Dream party, called all charges against the billionaire "fake": "Ivanishvili is the biggest philanthropist in the history of this country. The opposition has no evidence of money laundering through Cartu Bank. There is no such information in the world, otherwise many countries would start an investigation against Bidzina Ivanishvili," the parliamentarian declared. Kutsnashvili believes that the attacks on Ivanishvili, who left politics and does not occupy any public office, "is in fact directed against the Georgian Dream party." He added, "UNM is trying to harm and discredit our party before the local elections, but they will not achieve their goals" (Author's interview, September 22).
A few years ago, Ivanishvili's name popped up in the "Panama Papers" for his offshore financial dealings in the British Virgin Island. But international investigators found no criminal actions in the billionaire's transfers of money offshore (Georgiatoday.ge, June 14, 2014).
In 2014, the leader of the Labor Party of Georgia, Shalva Natelashvili, filed a lawsuit against Ivanishvili in the International Criminal Court, accusing the founder of the ruling party and then–prime minister of engaging in illegal arms trading. In this sensational case, nicknamed "Angolagate," the chairman of the Board of Directors of Ivanishvili's bank Rossiyskiy Credit, Arcadi Gaydamak, was also explicitly implicated (Apsny.ge, September 29, 2012). "We demand that Ivanishvili bear a severe punishment for violating international law and enriching himself through the illegal sale of weapons," Natelashvili told this author last year (Author's interview, October 8, 2016).
However, Georgian Dream MP Georgy Zhorzholiani has called all charges of Ivanishvili's involvement in the illegal trafficking of arms "absolute lies." According to Zhorzholiani, even though Bidzina Ivanishvili founded Rossiyskyi Credit, he is not responsible for the actions of Gaydamak (Author's interview, September 19).
The former head of the State Chancellery Petre Mamradze often criticizes Ivanishvili's policies. But in an interview with this author, on September 22, he asserted that the opposition's latest charges against Ivanishvili are unfair. "He only spent money in Georgia as a philanthropist—he did not have any business here," Mamradze said.
Meanwhile, some independent Georgian experts have argued that staging political actions in front of banks is dangerous and unacceptable, since such activities run the risk of destabilizing domestic financial institutions. "Georgian politicians do not pay attention to the 'sensitivity' of the banking sector," Georgi Khukhashvili, an expert on economics, noted. "And all charges against Ivanishvili and his bank regarding 'money laundering' and corruption have not been proven," Khukhasvhili added (Author's interview, September 22).
The activation of Mikheil Saakashvili's Georgian party and its attacks on financial institutions connected to Bidzina Ivanishvili, coincided with events in Ukraine, where the former Georgian president is also organizing protests and similarly accusing President Petro Poroshenko of "oligarchic governance." Ukrainian authorities have confirmed that they received a request from Tbilisi to extradite Saakashvili (see EDM, September 14). The Georgian government is seeking his extradition to face charges related to the violent dispersal of protesters and a raid on a private television station during his time in power. Saakashvili says those charges are politically motivated (RFE/RL, September 5).
By the recent actions in Ukraine and Georgia, Saakashvili demonstrates that he is ready to "fight on two fronts."