GEORGIAN OPPOSITION ON A FREE RIDE
Publication: Eurasia Daily Monitor Volume: 4 Issue: 205
By: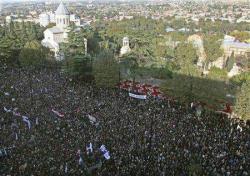 On Friday, November 2, at least 50,000 people (as estimated by most local and foreign observers at the scene) demonstrated in downtown Tbilisi for regime change and early presidential elections in Georgia. The number decreased to some 12,000 on November 3. The demonstrations were peaceful and the police presence was relatively light.
However, speeches by opposition politicians described President Mikheil Saakashvili and the government as "terrorist," "criminal," and " bandits"—language they have used throughout this campaign—and demanded their resignation. Demonstrators erected a gallows outside the parliament building, with Saakashvili's effigy suspended on it, along with the image of a rose, the symbol of the 2003 Rose Revolution that brought Saakashvili to power. The Tbilisi rallies capped a series of demonstrations that were held in Kutaisi, Zugdidi, and Batumi during October.
The ad hoc opposition alliance is vowing to continue the demonstrations in Tbilisi non-stop until the president and government yield to its regime-change demands (see EDM, October 26). These demands include abolishing the institution of the presidency (so as to pre-empt Saakashvili's widely expected reelection in autumn 2008), changing the legislation on parliamentary elections in the opposition's favor (a goal currently under negotiation), bringing forward the date of parliamentary elections by six months (so as to separate the parliamentary elections from the presidential election), and restoring the Georgian monarchy (200 years after the monarchy's cessation, and lacking candidates, at least for now).
The dozen small, mutually distrustful parties now agitating for regime change are benefiting from a free ride in three respects. First, the billionaire businessman Badri Patarkatsishvili is openly bankrolling this campaign, seeking to leverage his wealth into control of Georgia's political system through regime change.
Second, the country's most popular television channel, Imedi TV, co-owned by Patarkatsishvili and Rupert Murdoch's News Corp., is advertising the campaign around the clock.
And third, all the players involved—the Georgian government, local and international media, as well as officials in Washington, Europe, and Moscow—for varying reasons treat the Georgian opposition with a respect normally due the opposition in mature democracies, although this particular opposition hardly fits that bill. Georgia's chances to advance to a NATO Membership Action Plan at the alliance's upcoming summit will significantly depend on how the authorities handle the opposition's challenge. In this regard as well, the onus is on the authorities; their Western friends are justified to feel that the opposition should be propitiated, while the opposition itself behaves as if on a free ride.
Patarkatsishvili returned to Georgia from Russia in 2000, when his close friend, Boris Berezovsky, left Russia as well. Patarkatsishvili obtained Georgian citizenship and, thus, shelter from Russian prosecution, in return for financial support to then-president Eduard Shevardnadze and his allies. Patarkatsishvili's wealth could make him the dominant economic and political force in Georgia. Frustrated in that ambition after the Rose Revolution, he apparently has moved toward an alliance with the sacked defense minister Irakli Okruashvili in recent months, as Okruashvili was turning against Saakashvili. Meanwhile, Patarkatsishvili had begun financing opposition parties. He announced this fact publicly on October 28, along with his decision to put this financing on a systematic basis. In practice, he has now privatized the opposition as a regime-change instrument.
Patarkatsishvili's declared goals include turning Georgia into a "federation" of ten provinces, leaving just foreign policy and defense with the central government, in a two-chamber "parliamentary" republic and a vacuum instead of presidency. This would be a prescription for disorder in Georgia. Patarkatsishvili seems to want a weak government of doubtful legitimacy, reduced to unstable coalitions among the many small parties whose leaders he could in that case control.
Almost all parties in the opposition alliance have publicly welcomed and accepted Patarkatsishvili's funding announcement, except the Labor Party led by Shalva Natelashvili. This left-populist party is the only one with a distinct social base and profile within the opposition alliance. It is also the only one with a pro-Moscow orientation, which is generally believed to obviate its need for internal funding.
Patarkatsishvili's private funding of political parties may well contravene Georgia's law on party financing, adopted in 2005 and amended by the February 2007 Strasbourg Memorandum, which was signed by the governing National Movement and six opposition parties under the Council of Europe's auspices. Under this legislation, political parties receive state funding in a three-tier system: a base subvention, an amount proportionate to the number of parliamentary seats of each recipient party, and another amount proportionate to the number of votes garnered by each recipient part. The legislation places limits on corporate donations (the opposition had especially insisted on this) as well as requiring full disclosure and independent audits.
(Messenger, November 2; Civil Georgia, Imedi TV, Rustavi-2 TV, November 1–4)