Georgian Opposition Requests Meeting with Biden
Publication: Eurasia Daily Monitor Volume: 6 Issue: 136
By: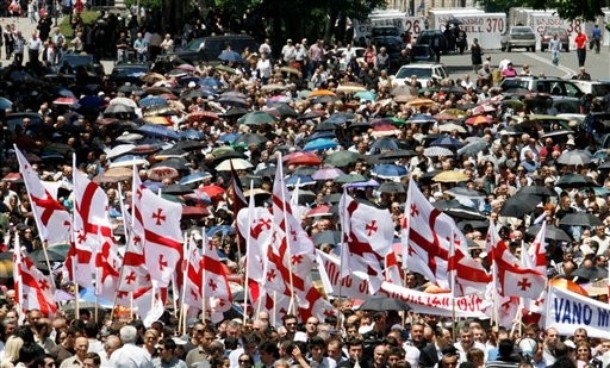 U.S. Vice-President Joseph Biden's imminent visit to Georgia will be watched for indications of an American strategic re-engagement with the Black Sea-South Caucasus region. The Obama administration has not yet defined its policy in this regard and the Vice-President cannot be expected to announce any major regional initiatives during his visit. Nevertheless, the wider Black Sea region -including Ukraine, Biden's other destination on this visit-urgently awaits a reversal of the Bush administration's 2007-08 strategic disengagement from this region.
That disengagement, unplanned and unannounced, had occurred by drift rather than policy, forced by distorted priorities that drained U.S. resources in Iraq and Afghanistan while giving Russia new forms of leverage. Occasional, short-lived U.S. moves (e.g., the push for Georgian and Ukrainian membership action plans at NATO) could hardly disguise Washington's de facto strategic disengagement. This resulted in a regional security vacuum that prefaced the Russian invasion of Georgia and other Russian pressures in the wider region. Georgia, loyally supported those U.S. policies that ultimately deprived the United States of the resources, flexibility, and will to shield Georgia from attack in August 2008. U.S. credibility and, by extension, that of NATO took serious hits.
U.S. strategic re-engagement, therefore, is the main expectation in the region from Biden's visit and Washington's ongoing policy review. Such re-engagement can be cost-effective and rich in strategic payoff on a wide range of Georgia-related issues (EDM, July 14, 15). It also presupposes viewing Georgia as a core strategic asset, rather than misperceiving it as a distraction from U.S.-declared top policy priorities or as a liability in U.S. relations with the Kremlin.
During Biden's visit, Georgia will undoubtedly reaffirm its full dedication to transit projects for Caspian oil and gas directly to Europe. The inter-governmental agreement on the Nabucco gas project, just signed on July 13 as a component of the E.U.-planned Southern Corridor, maximizes Georgia's vital contribution to European energy security. By the same token, however, it increases the potential risks of Russian retaliatory actions. While the transit projects as such are an E.U. primary responsibility, it is only the United States who can take the lead in providing hard security and some ground presence in Georgia, the linchpin country (along with Azerbaijan) for Caspian oil and gas transit projects.
The Obama administration has an opportunity to reverse the Bush administration's disengagement also on energy security for Europe. Even during Obama's first months in office, some administration representatives were suggesting that Europe's energy security was a matter for the E.U. after all, while the United States and its companies could pursue their own, separate commercial strategies in Central Asia, for example by developing and exporting gas to the east, rather than Europe. This period of confusion seems to be easing by now. Biden's visit to Georgia will show whether the Obama administration is apt to restore the U.S. policy continuity, broken (by omission more than commission) during the Bush administration. U.S. policy traditionally held that European overdependence on Russian energy poses serious risks to NATO's political cohesion and Euro-Atlantic solidarity -a view amply vindicated by Russia's recent energy policies and their effects in Europe. In this sense as well, the new U.S. administration can recognize Georgia as a key asset to U.S. and European energy security policies.
The U.S. Vice-President will witness the tail end of the Georgian radical opposition's campaign to change the president and government by unconstitutional means. Launched during Georgia's economic boom in mid-2007, by retro groups opposed to or uncomprehending of modernization and westernization, the campaign petered out in June of this year. It failed despite full daily access to television and despite (or more likely because) incendiary rhetoric, use of unlawful methods, and havoc wrought on Tbilisi. By the second week in July the extra-parliamentary opposition was no longer able to collect more than 100 protesters daily in Tbilisi and had never managed to launch any significant protests in the country. Nevertheless, extra-parliamentary opposition leaders have announced intentions to organize a mass rally during Biden's visit (Rustavi-2 TV, Civil Georgia, July 14, 15).
Radical oppositionists need this rally for just one day, even if their campaign unravels again after Biden's departure. But the movement's leaders have also requested to meet with the U.S. Vice-President personally. Indeed, it is a normal practice for U.S. leaders to meet with opposition leaders as well as the government during official visits. This time in Georgia, however, opposition leaders want to meet with Biden while holding a protest rally at the same time. Apparently, they calculate that a vociferous street backdrop if only for a day might pressure the visitor during the private meeting.
Never a "beacon of democracy," Georgia is merely an aspiring democracy, undergoing a process of institutionalization while lacking historical experience with democratic institutions. In Georgia more than elsewhere, the United States remains "the indispensable country," provided that it can re-engage strategically in this region.