GEORGIAN PARLIAMENT CALLS FOR REPLACING RUSSIAN PEACEKEEPERS WITH INTERNATIONAL POLICE CONTINGENT
Publication: Eurasia Daily Monitor Volume: 3 Issue: 140
By: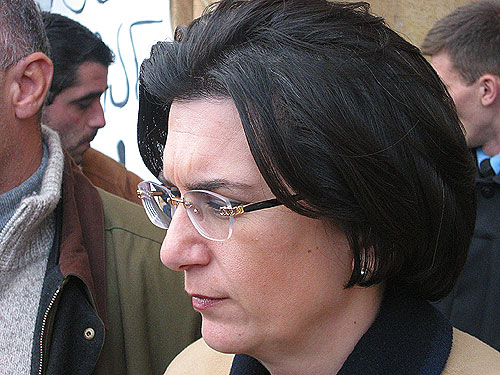 Georgia's parliament approved on July 18 a resolution calling for the withdrawal of Russia's "peacekeeping" troops from Georgian territory in Abkhazia and South Ossetia and the deployment of internationally mandated police forces in the two areas.
The resolution's preamble notes that Russia's actions in blocking the political negotiations on the two conflicts can only be assessed as support for separatism and attempts to annex parts of Georgia's territory. It further notes that Russia's "peacekeeping" troops form one of the main obstacles to peaceful resolution of the conflicts.
The parliament instructs Georgia's government to initiate procedures for the speedy termination of the "peacekeeping" operations in Abkhazia and South Ossetia and the undelayed withdrawal of Russian troops from Georgia. The parliament further instructs the government urgently to seek the deployment of international police units in place of the "peacekeeping" troops. Finally, the government is instructed to inform the international community and the populations of Abkhazia and South Ossetia about Georgia's plans for a peaceful resolution of the conflicts and the establishment of internationally recognized standards of democratic life on the entire territory of Georgia.
Introducing the resolution, Parliament Chairwoman Nino Burjanadze noted that it is unacceptable for Russia to claim at one and the same time that its "peacekeeping" forces are neutral and that they protect Russia's "citizens" in Abkhazia and South Ossetia. Burjanadze warned against international acceptance of a precedent-setting case whereby Russia unilaterally confers its citizenship to residents of areas it has seized militarily from another country, as is the case in Abkhazia and South Ossetia, inalienable parts of Georgia under international law. She called on the international community and democratic parliaments to support Georgia's proposal for deployment of internationally mandated police units in the two areas (Interfax, Kavkaz-Press, Rustavi-2 TV, July 18, 19).
The parliament's resolution carries forward the process initiated by the same body's resolution of October 11, 2005, which gave Russia until February 2006 to demonstrate that its "peacekeeping" operation in South Ossetia conforms to its mandate and international peacekeeping standards, and until June 2006 to demonstrate the same regarding its "peacekeeping" operation in Abkhazia. On February 15, the parliament passed a resolution ascertaining that the Russian operation's breaches of its mandate and of international standards in South Ossetia persisted and had even worsened. During the discussion of the July 18 resolution, Prime Minister Zurab Nogaideli observed that, by all accumulated evidence, Russia had no intention to correct the conduct of its troops and that therefore the parliament has ample reason to demand their withdrawal.
Moscow had sufficient time to make those corrections, not just since October 2005, but since 1992 and 1994 when it deployed its "peacekeeping" forces in South Ossetia and Abkhazia, respectively. The Georgian parliament's October 2005 and February and July 2006 resolutions exercise a sovereign right to terminate the foreign military presence on the country's territory. Beyond that, the July 18 resolution serves to alert the international community to the urgency of upholding international law in Georgia and providing a replacement to Russia's discredited "peacekeeping" operations.
The parliament's resolution seeks to transform those operations in two ways: internationalizing them as well as civilianizing them by replacing military with police units. There is no need for army troops to patrol the conflict zones in Abkhazia and South Ossetia. The main problems there — organized crime, smuggling, and trafficking of all types, mainly sponsored by the secessionist leaderships — are of a nature to be dealt with by police-type forces, not the military. "Peacekeeping" by Russian army troops is only an instrument for de facto incorporation of these areas into Russia.
The resolution does not set a deadline for Russian compliance. A final decision on operationalizing the resolution will depend on the results of a bilateral meeting of Presidents Mikheil Saakashvili of Georgia and Vladimir Putin of Russia. The Georgian side wants to give Russia a final chance to correct its conduct. Tbilisi has requested that the presidents' meeting be held on the sidelines of the CIS informal summit in Moscow on July 21-22.
Presumably, a sequential process is envisaged whereby Georgia will ask the international community and/or its friends to assemble a police force for replacing the Russian troops. The latter include 1,600 in Abkhazia and 1,000 in South Ossetia (500 Russians from Russia proper and 500 Ossetians largely from Russia's North Ossetia). An international police presence of this size is eminently doable. The police nature of such missions should preclude the usual objection or excuse that Western militaries are overextended in other theaters (most European militaries are not overextended anyway).
The Georgian parliament's resolution also tests the credibility of Western, particularly U.S., policies on peaceful conflict resolution and adherence to international law. Thus far, many U.S. and European officials have tended to equate conflict-resolution with urging Georgia to wait almost indefinitely and have declined to place this issue (as well as that of Moldova) high on the agenda of Washington-Moscow and Brussels-Moscow dialogues. The Georgian parliament's move amounts to an appeal against such complacency.