Georgian Parties Fail to Link Domestic Prosperity With a Consistent Foreign Policy
Publication: Eurasia Daily Monitor Volume: 13 Issue: 156
By: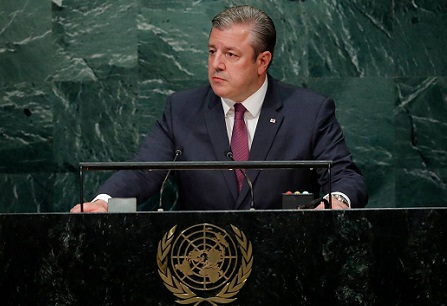 Days after Russia completed its annual military exercise Kavkaz 2016, centered on the southern part of the country and the Black Sea area and reportedly involving 120,000 service personnel (see EDM, September 15), Georgian Prime Minister Giorgi Kvirikashvili delivered a pre-election speech at the United Nations General Assembly (Civil Georgia, September 22). With Georgia's October 8 parliamentary elections nearing, campaigns are in high gear. Kvirikashvili used his opportunity in the international spotlight to delineate an action plan that is nearly identical with his party Georgian Dream–Democratic Georgia's (GDDG) domestic platform (Civil.ge, September 22). He only briefly addressed the main national security issue: Russia occupies 20 percent of Georgian territory, and human rights violations against Georgia's citizens there are ongoing (Civil Georgia, September 17).
UN resolutions and international reprimands against Russia's infringement of Georgian territorial integrity brought few or no results in recent years. As its foreign policy, GDDG proposes more of the same. Throughout its rule, Georgian Dream has pursued the bifurcated goal of integration with the West—joining the North Atlantic Treaty Organization (NATO) and the European Union—as well as dialogue with Russia. This strategy is set to remain unchanged. GDDG further seeks a "peaceful resolution of the conflict with the Russian Federation" (Partiebi.ge, accessed September 25). Such a policy position seems to ignore the full-scale war waged by Russia against Ukraine since Georgia's last election cycle, in 2012.
Scarce public surveys indicate why GDDG may believe such inertia to be a good bet politically. Between 70 percent (Iri.org, April 28) and 33 percent (Ndi.org, June 2016) of those polled believe that Georgia is moving in the wrong direction (the National Democratic Institute's June 2016 poll also reveals that popular support for the idea that "Georgia is not changing at all" has been steady at about 34 percent since April 2015), suggesting a significant shift toward general discontent with the status quo since early 2014. However, although 71 percent consider Russia to be their country's biggest threat, and 67 percent believe Russian aggression is active and ongoing, at the same time 59 percent strongly support further dialogue with Moscow, while 79 percent also support joining NATO and 85 percent—the EU (Iri.org , April 28). Evidently, the parties opposing GDDG thus far have failed to potently highlight the inconsistency between viewing Russia as an enemy and maintaining a friendly dialogue with it.
The opposition United National Movement (UNM) does not mention Russia at all alongside its major objectives of "restoring territorial sovereignty with peaceful means" and "achieving full membership" in NATO and the EU (Partiebi.ge, accessed September 25). As such, UNM and its potential like-minded coalition partners fail to articulate the connection between economic prosperity and its inhibition by the gradually growing domestic influence of Russia. Securing jobs consistently remains the most important national issue, holding at about 56 percent since May 2009 (Ndi.org, June 2016). GDDG celebrated Georgia's recent free trade agreement with the People's Republic of China as "historical" (Economy.ge, September 13), stressing its presumed advantages of export diversification for lessening dependence on Russia (see EDM, September 21). Yet it may be overly dismissive of the possibility that Beijing could be compelled to act in concert with Moscow in case of another Russian embargo on Georgian goods.
Parties with a nominally pro-American and pro-Western foreign policy orientation, such as the Free Democrats and the Republicans—both formerly part of GDDG's coalition—have a longstanding history of opposition, if not animosity, toward UNM. They either exclude or remain vague about the option of a post-election coalition (Tabula, September 14), thus missing a chance to increase electoral success with a coordinated campaign. A party headed by opera-singer-turned-politician Paata Burchuladze, State for People, started to gain traction with its populist overtones. But one of the party's leaders did not rule out a coalition with GDDG (Ipress.ge, September 18). Two of State for People's co-opted groups—the New Rights party and Girchi, the latter comprised of former UNM members—left the party, accusing Burchuladze of blackmail. Meanwhile Burchuladze alleges Girchi is being funded by the informal leader of GDDG, Bidzina Ivanishvili (Netgazeti, September 27).
In a recent pre-election poll, conducted by Wilson Perkins Allen Research (WPA), all these parties, save UNM, fare below 2 percent, while GDDG enjoys 25 percent support, with the nationalist Alliance of Patriots (AP) at 16 percent and UNM at 12 percent (Interpressnews, September 24). Though reported to be carried out by WPA independently, the company confirmed to this author, on September 27, that the poll was in fact commissioned by AP. Another survey for the TV station Rustavi 2, in June, had GDDG at 22.4 percent and UNM at 21.7 percent, while State for People was third with 7.8 percent, Free Democrats at 6.2 percent, and AP at 2.2 percent (Rustavi 2, June 28). AP has been recently making headlines by accusing Turkey of attacking Georgian sovereignty by allegedly deliberately inviting up to 2,800 Georgian children from the predominantly Muslim Adjara region to study free of charge in its Islamic schools (Tavisupleba.ge, September 21). Despite its criticism of GDDG, AP, which displays no opposition to Russian influence in Georgia, is readying a coalition with the ruling bloc (Resonancedaily, September 8).
Nationalist sentiment is also targeted against UNM on the streets. On May 22, a number of its high-ranking party members were assaulted and injured by a group of wrestling athletes associated with GDDG at an election rally in Kortskheli (GPB, May 23). UNM lawmakers are boycotting the parliament since the incident, demanding that investigators address the role in the attack of GDDG Energy Minister Kakha Kaladze, to whom they say the violent group is linked (Civil Georgia, June 2). UNM's leading figures remain either in jail or are avoiding returning to the country. Former prime minister Ivane "Vano" Merabishvili has been convicted of another crime and sentenced to an additional six years and nine months in prison (Netgazeti.ge, September 22). UNM's party leader, former president of Georgia and current governor of Ukraine's Odesa region Mikheil Saakashvili, meanwhile, is staying abroad for fear of prosecution at home. However, Saakashvili's wife, Sandra Roulofs, has begun to appear as a popular surrogate at UNM campaign rallies, drawing large crowds. Another female candidate, Helen Khoshtaria is generating positive responses in the central Vake district, in Tbilisi.
While GDDG's foreign policy seems to correspond to public opinion, a logical strategy for the opposition would be to articulate the impossibility of maintaining both a pro-Western and pro-Russian position. But so far, that has been lacking in this campaign.