Russian Iskanders in Yerevan: New Challenges for Azerbaijan's Security
Publication: Eurasia Daily Monitor Volume: 13 Issue: 156
By: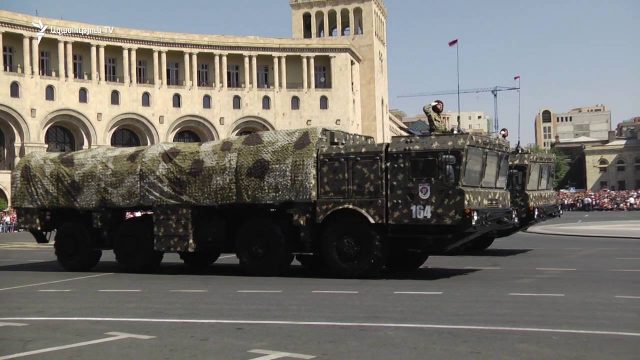 The military parade dedicated to the 25th anniversary of Armenian independence was held in Yerevan, on September 21, 2016. The event drew considerable attention from Azerbaijan because of the advanced military equipment demonstrated during the parade. The Armenian side showcased several offensive military systems, tanks as well as other equipment. Perhaps most notably, the parade for the first time featured the Iskander mobile short-range ballistic missile system, produced by the Russian Federation (see EDM, September 26).
Baku, which has been in a conflict with Yerevan since the late 1980s over the Azerbaijani territory of Karabakh, is acutely sensitive to issues of Armenian-Russian military cooperation. And as illustrated by its clashes with Armenian forces in Karabakh in April of this year, Azerbaijan's goal has been to attain a clear military superiority over Armenia (see EDM, April 6, May 11). The acquisition of Iskanders by Armenia may force a change in Azerbaijan's armament plans and intensify its efforts to obtain either similar or superior types of weapons to neutralize the new threat.
The appearance of Russian Iskanders on the streets of Yerevan sparked excited commentary and a fervent debate in the Azerbaijani media. In particular, experts disagreed over whether the Iskander systems shown during the parade were the property of the Russian Armed Forces stationed in Gyumri, or whether these theater ballistic missiles had in fact been sold and transferred to Armenian command. Confusion on this point was fueled by reports that soldiers from the Russian 102nd base in Gyumri participated in the Armenian parade. And although the Armenian government rushed to announce that the displayed Iskanders were, indeed, Armenian property, Moscow did not issue any statement on the ownership of these weapons (Minval, Contact.az, September 20; 1news.az, September 26).
Several Azerbaijani military experts have argued that the Iskander systems must have belonged to Russia and not to Armenia. Analyst Uzeir Jafarov asserted that Yerevan's poor financial situation would have precluded it from being able to purchase these systems. Even Russia's $200 million loan, extended to Armenia earlier this year for the purchase of Russian military equipment (see EDM, March 18), would not have been enough to cover the presumed cost of the Iskanders on display earlier this month, he claimed. Moreover, no specific reports or documentation are readily available that would unequivocally prove that the sale actually occurred, he said (Minval, September 20). In addition, the parade in Yerevan also demonstrated the Smerch multiple rocket launch system, which Armenia heretofore also did not possess (Contact.az, September 20). Other experts claimed that the demonstration of the Iskanders at the September 21 parade was foremost aimed at the Armenian domestic public, dissatisfied with Russia's apparent impartiality during the April clashes in Karabakh and Moscow's willingness to sell weapons to both sides in the conflict. Thus, even if the Russian side did in fact supply Iskanders to the Armenian side, the effect of their presence in Armenia's inventory would have more of a psychological rather than military effect, some analysts claimed (1news.az , September 26).
Yet, if the parading of Iskanders was in part designed to frighten and deter Baku, it achieved the opposite effects. Azerbaijan reacted quickly and harshly. Immediately, Azerbaijani Defense Minister Zakir Hasanov instructed the Armed Forces to increase their monitoring of Armenia's strategic and military facilities and be ready to destroy them if necessary. The military top brass also reportedly discussed increasing reconnaissance with the aim of identifying and prioritizing new targets in Armenia (Turan, September 21). Then, on September 26, the Ministry of Defense reported on the Azerbaijani Army's successful completion of five-day-long military exercises. During these drills, divisions of missile and artillery troops practiced targeting and destroying enemy targets with the use of optical and electronic reconnaissance unmanned aerial vehicles, as well as trained with special forces reconnaissance teams (Ministry of Defense, September 26).
Yahya Musayev, Azerbaijan's deputy minister of defense industry, stated that his country would step up its efforts to purchase modern weapons technology abroad as well as aim to manufacture more such products at home. The deputy minster declined to elaborate on unconfirmed reports that since at least 2014, Azerbaijan has been in talks with Pakistan to purchase the Hatf–IV Shaheen, a missile system similar to the Iskander (APA, September 22). But only days later, on September 26, Azerbaijani President Ilham Aliyev met with Pakistan's Minister of Defense Production Rana Tanveer Hussain. The two officials discussed issues of future defense-sector cooperation. Minister Hussain later stated that his country was modernizing its military-industrial complex and was specifically prioritizing the production of surface-to-surface missile (SSM) as well as surface-to-air missile (SAM) systems. He further stated that Baku was negotiating to obtain technology to produce ballistic missiles with a range of 280 kilometers (the same range as the export model of the Iskander) (Contact.az, September 27).
At the same time, AZAD Systems Co, the production branch of Azerbaijan's Ministry of Defense Production, presented newly developed Zarba unmanned aerial vehicles. It is worth to mentioning that these drones played a significant role during the April clashes against Armenian forces in Karabakh (Report.az, September 27). The government also revealed that Turkey has finalized supplying Azerbaijan with 21 T-300 Kasirga multi-barrel rocket launchers (News.az, September 28). Baku signed the agreement back in 2013, and the final part of the order was finally delivered.
The appearance of Russian Iskanders in Armenia creates new challenges for security in the South Caucasus. Azerbaijani parliamentarian Rasim Musaboayov believes that if Russia did indeed sell Armenia this weapon, then Baku should reconsider its relations with Russia. "Moreover, if Armenia and the separatist Karabakh regime consider using this weapon against Azerbaijan—[such as by targeting] the Mingechevir Dam for instance—then they should know that retaliation by Azerbaijan would be heavy. Azerbaijani artillery and missiles can reach both Yerevan and other strategic facilities of Armenia," Musaboayov stressed (1news.az, September 26).
Regardless of who actually commands these Armenian Iskanders, their very presence in the South Caucasus may spark a new arm race in the region. It is highly unlikely that the weapon will actually be used against Azerbaijani cities by the Armenian/Russian side. Still their presence on Armenian territory put Baku in an uncomfortable security situation. So even if these few Iskanders do not change the overall military balance in the region, Baku will nonetheless strive to obtain similar weapons if only to maintain parity with its regional archrival.