Georgian Politics and Political Prosecutions: The Current State of Play (Part One)
Publication: Eurasia Daily Monitor Volume: 11 Issue: 3
By: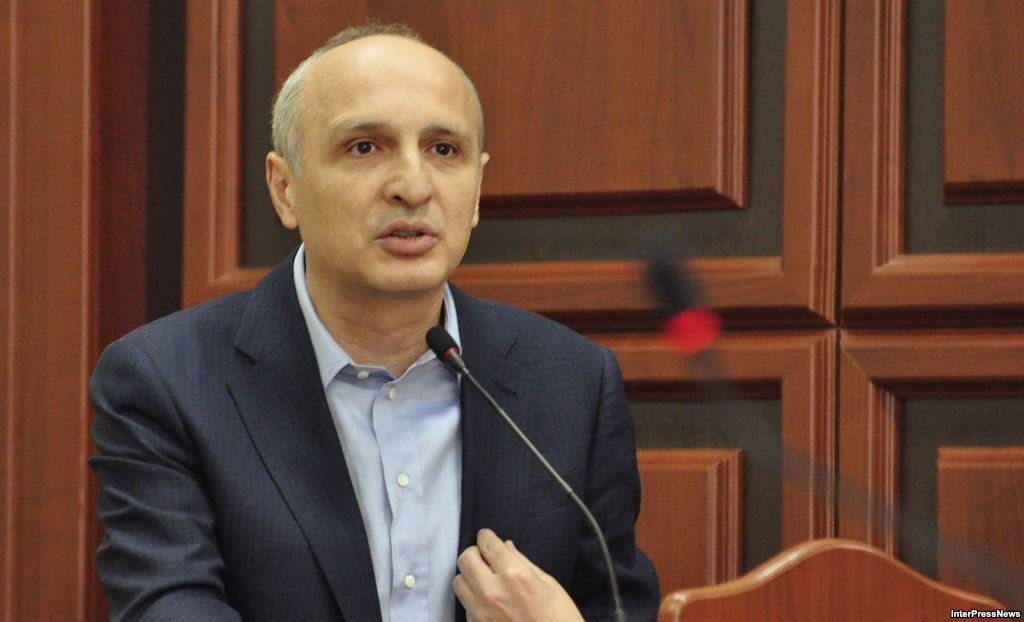 Georgia's Prime Minister Irakli Gharibashvili, in office since November 2013, has heralded a resurgence in politically-motivated prosecutions against officials of the previous government and current opposition party, the United National Movement (UNM) (see EDM, November 22, 2013; January 7, 2014). Recent developments in several high-profile cases—including those of Vano Merabishvili, Gigi Ugulava, and Bacho Akhalaia—seem to epitomize this trend.
UNM Secretary-General Vano Merabishvili (formerly internal affairs minister and prime minister) is in pre-trial detention since May 2013 under multiple criminal investigations, which have failed to produce incriminating evidence against him thus far. Last month, law enforcement authorities apparently tried to pressure Merabishvili into testifying against others, including former president Mikheil Saakashvili.
On December 17–18, during proceedings in his own case, Merabishvili told the court that he was unlawfully taken out of his prison cell, blindfolded, and driven to another location for a meeting with Prosecutor-in-Chief Otar Partskhaladze, at 1:30 AM on December 14. Merabishvili told the court that Partskhaladze asked him to disclose "Saakashvili's bank accounts" and to "help solve the case" of former prime minister Zurab Zhvania's death in 2005 (which Georgian Dream government officials seek to blame on the former president and government—see below). According to Merabishvili, the chief prosecutor threatened that his treatment in prison would seriously deteriorate, and that some of his friends and relatives could be arrested, if Merabishvili would not comply with that demand. (Merabishvili's uncle was detained, then released on bail.) Merabishvili and the UNM parliamentary opposition have called in vain for judicial and parliamentary probes into this incident (Civil Georgia, December 18, 23).
The Chief Prosecutor's Office issued a statement that Merabishvili's allegations were "totally absurd" and were aiming to "pressure the parties to his court case" (i.e., the detainee "pressuring" the prosecution and its witnesses). However, the Chief Prosecutor's Office did not explicitly deny—nor did it address—Merabishvili's account of the night-time meeting with Partskhaladze (Civil Georgia, December 18). Partskhaladze had to resign as chief prosecutor on December 30, discredited in another scandal (see EDM, January 7). But Prime Minister Gharibashvili backed him up, describing Merabishvili publicly as a "case for psychiatrists," and stating that Merabishvili had "panicked" over the authorities' inquiry into Zhvania's death (an insinuation amounting to a presumption of guilt) (Civil Georgia, Interpress, December 18).
The ministers responsible for rule of law—Internal Affairs Minister Aleksandre Tchikaidze, Justice Minister Thea Tsulukiani, and Corrections and Legal Assistance Minister Sozar Subari—all used the same talking points in their statements: Merabishvili's account was "not serious" and they would "not even discuss it" (Interpress, Imedi TV, December 18; Civil Georgia, December 18, 19, 23).
The Ministry of Corrections (in charge of the penitentiary system) has belatedly launched an internal probe into Merabishvili's account of his unlawful abduction from prison that night. But the probe looks irrelevant because the ministry rules out an examination of the recordings of surveillance video cameras in that prison. Moreover, the probe does not deal at all with Merabishvili's reported encounter with the Chief Prosecutor (which the latter did not explicitly deny). Twelve leading Georgian non-governmental organizations (NGO) have issued a joint statement that the probe is inadequate, and that dragging it out would only give credibility to Merabishvili's allegations. Parliament Chairman Davit Usupashvili (politically allied with the government) has criticized law enforcement agencies for failing to shed light on this affair. The authorities have said nothing further about it since the year's end (Civil Georgia, December 23, 30).
The authorities have piled up criminal cases, one by one, against Merabishvili since detaining him in May 2013. Four cases running in parallel allege, respectively:
1) Misappropriation of some 5 million lari ($2.9 million) while prime minister in 2012 to support the UNM's parliamentary election campaign. Then–minister of health Zurab Tchaberashvili is a co-defendant in the case. The prosecution has filed requests for some 4,000 witnesses to be heard, apparently so as to drag out the trial and keep Merabishvili in jail. More than 100 of those have testified, but produced no incriminating evidence thus far (Civil Georgia, December 3, 20). This stop-and-go trial is scheduled to resume in the Kutaisi court today (January 8).
2) Obstruction of justice in the 2006 manslaughter of banking executive Sandro Girgvliani by four Ministry of Internal Affairs officers, while Merabishli was the minister. Those four officers were sentenced at that time and served relatively short prison terms. Merabishvili is accused of covering up the hypothetical involvement of senior-level ministry officials, with suppositions focusing on Data Akhalaia. His brother Bacho Akhalaia, a former top Ministry of Justice official at that time (subsequently defense minister), is also a defendant on obstruction of justice charges in the Girgvliani case (and other charges in unrelated cases—see below) (Interpress, December 20).
3) Excessive use of police force in dispersing the May 26, 2011 rally in downtown Tbilisi. The former chairwoman of parliament Nino Burjanadze, who with her husband Badri Bitsadze led that rally, is a prosecution witness against Merabishvili (Civil Georgia, December 3; Rustavi-2 TV, December 26, 2013). The Burjanadze-Bitsadze couple had re-aligned politically with the Kremlin at that time and led a violent rally that raised barricades in downtown Tbilisi. The United States and European Union ambassadors in Tbilisi at that time stated that the police had acted lawfully, and on the whole professionally (see EDM, May 27, 28, 2011).
4) Unlawful "appropriation" of a seaside villa near Batumi by Merabishvili and his family. This case is being commingled with the electoral campaign funding case (see item 1 above) (Civil Georgia, December 20).