Georgian President Calls for Bans on Pro-Russian Parties and Violent Groups
Publication: Eurasia Daily Monitor Volume: 19 Issue: 109
By: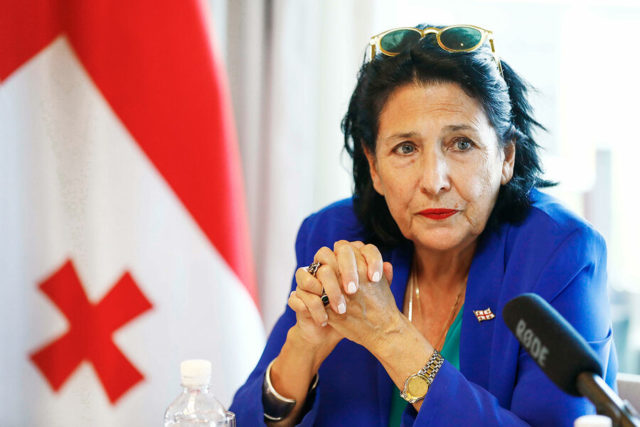 In a social media post on July 5, Georgian President Salome Zurabishvili admitted that "the public is still waiting for the perpetrators to be brought to justice." She was referring to the events that took place one year ago, on July 5, 2021, when pro-Russian, far-right mobs led an assault on 50 journalists, forcing the cancellation of an LGBTQ pride parade on Tbilisi's central Rustaveli Avenue. President Zurabishvili continued, "The reality is pro-Russian, violent, homophobic and aggressive groups grew stronger during this period. They became stronger throughout the country, with 20 percent of the territory being occupied by Russia, and that is completely unacceptable" (Facebook.com/Zourabichvilisalome, July 5; Radiotavisupleba.ge, July 5).
To begin with, Zurabishvili is referring to the Conservative Movement (CM). The CM and its leaders, Zurab Makharadze and Koka Morgoshia, often make pro-Russian statements, criticize the West and Ukrainian authorities, as well as demand that Georgia change its pro-Western course. The party also refuses prospects for transatlantic integration, instead encouraging the start of negotiations with Russian President Vladimir Putin (1tv.ge, November 20, 2021; Radiotavisupleba.ge, November 27, 2021).
The Georgian government recognizes that the strengthening of pro-Russian parties and violent groups harms Georgia's European prospects. On July 6, Georgian Public Defender Nino Lomjaria issued a special statement that announced she is preparing a constitutional lawsuit to ban the CM—as a party founded by homophobic and pro-Russian group Alt-Info. Lomjaria has relayed her certainty that Alt-Info organized the violence on July 5–6, 2021, which was the culmination of the group's growing pro-Russian and anti-patriotic activities in recent years.
The public defender said CM must be outlawed as "many of its previous and subsequent statements contain the signs of overthrowing the constitutional order, stir up various types of strife, encourage violence, or contain the signs of violence themselves, and represent propaganda for war" (Civil.ge, July 5).s
In response to the public defender, Zurabishvili declared, "Some believe that the answer to this is to ban [CM's] activities; however, in a country with democratic principles, a ban should be the last, extreme step and should be supported by strong legal arguments. That way there is no chance of an infringement of freedom of speech and expression." The Georgian leader added, "Before making this extreme decision, everyone should take their share of responsibility, and it is unacceptable to protect these groups and encourage their pro-Russian and anti-European propaganda."
In regard to protecting democratic values, Zurabishvili also focused on government accountability, arguing that "in this context, the most important thing is compliance with the principle of the rule of law, which means accountability for committed crimes, effective control of their activities and identification of their funding sources. This is the direct responsibility of the government. It is the government's responsibility to ensure that such groups do not interfere with Georgia's European perspective" (Radiotavisupleba.ge, July 5).
However, the public defender of Georgia has no authority to appeal to the Constitutional Court of Georgia. And as a decision from this court is necessary for the prohibition of CM for alleged anti-constitutional activity, Lomjaria turned to the parliamentary factions and advised them to file a lawsuit in the constitutional court.
Yet, as expected, the parliamentary forces rejected Lomjaria's suggestion. Governing Georgian Dream (GD) party chairperson Irakli Kobakhidze stated that banning a political party is "one of the most serious forms of interference" of the basic right of freedom of parties. Kobakhidze emphasized that, while GD does not hold any sympathies toward the far-right faction, and the interference "may be legitimate, it is still a serious form of interference."
The governing party chair also seized the opportunity to criticize the public defender, stating that the constitutional mandate compels the body to act as a lawyer and observe how an individual's rights are protected, "even when dealing with an unacceptable person." Kobakhidze further stressed, "In such a case, the public defender should act as a lawyer. But the public defender … took it upon herself to function as a prosecutor, which is directly contrary to her mandate" (Radiotavisupleba.ge, July 5).
The campaign of the Georgian president and public defender to ban pro-Russian and violent political forces, primarily the CM and Alt-Info, is not popular even among the opposition pro-Western parties. Leader of the Reforms Group parliamentary faction, Teona Akubardia, said in a July 13 interview with this author that the government may use this precedent to ban pro-Western opposition parties in the future. For example, such a precedent could be used to ban former Georgian President Mikheil Saakashvili's United National Movement on the pretext that, in June 2019, pro-Western opposition forces organized large demonstrations on the same Rustaveli Avenue against the government's pro-Russian actions, which devolved into police violence and hundreds of people were injured. As Akubardia contended, "The authorities will be able to say that all pro-Western parties involved in mass protests should also be banned for 'resisting the police'" (author's interview, July 13).
The status of pro-Russian, violent parties in Georgia, their activities and possible ban is all the more relevant now that the European Commission, on June 17, acknowledged Georgia's European aspirations but demanded the implementation of 12 deep reforms—one of which is electoral reform. Meeting this criterion involves, among other things, banning violent groups so they cannot damage the electoral process with hate speech, homophobia, violence, discrimination of minorities and violation of Georgia's pro-Western orientation, as stated in the country's constitution. (Civil.ge, June 17)
The danger of pro-Russian groups in Georgia is that they often use the people's religious sentiments to unscrupulously speculate on family values and various other phobias still rooted in a society that just 30 years ago emerged from a totalitarian regime (see EDM, October 8, 2015). Thus, these groups, even if they call themselves "parties," violate fundamental human rights and seriously threaten the free, democratic development of Georgia.