Georgian Presidential Candidate Frontrunner Says He Will Not Run in a Second Round
Publication: Eurasia Daily Monitor Volume: 10 Issue: 187
By: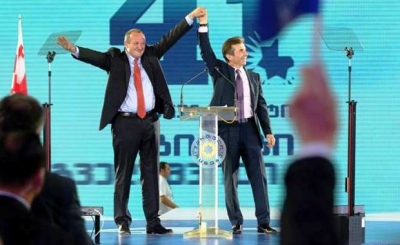 On October 17, Georgian Prime Minister Bidzina Ivanishvili declared that the ruling Georgian Dream (GD) coalition's presidential candidate, Giorgi Margvelashvili, would be well advised not to participate in a second round of the upcoming presidential election should he fail to garner over 50 percent of the vote in the first round, to be held on October 27. Ivanishvili stated that he views this election as a public referendum on his government's year in power. As he asserted, if GD's candidate does not win in the first round and does not win convincingly, by at least 60 percent of the votes, it will mean that the Georgian people do not support his policies. However, he expressed his confidence that his candidate would win in the first round and, therefore, there would be no need for a second round. Margvelashvili quickly agreed with Ivanishvili, stating within hours that he would indeed pull out from a hypothetical second-round runoff (Civil Georgia, October 17).
Parliamentary speaker David Usupashvili tried to paper over these bizarre statements. He declared that Margvelashvili did not really mean what he said and that his words should be understood only metaphorically, not literally (kavkasiatv.ge, October 18). However, Margvelashvili soon poured cold water on Usupashvili's explanation and reiterated that he really would not run in a second round. He emphasized that failure to win in the first round would signify a lack of the people's support in the GD government, and angrily suggested that such a result would imply that the Georgian people missed the "power abuses" of President Mikheil Saakashvili's nine-year rule (geworld.ge, October 19).
According to one of the latest presidential election polls, released by the National Democratic Institute (NDI) on September 26, Margvelashvili leads with 39 percent, well short of the required 50 percent plus one vote needed to win outright in the first round. The United National Movement's (UNM) candidate, David Bakradze, trails him with 18 percent, followed distantly by 7 percent for Nino Burjanadze, a former parliamentary speaker under Saakashvili and now his staunch opponent. A total of 26 percent were undecided, refused to answer, or did not have a preferred candidate (Civil Georgia, September 26). Such a distribution of support may well put Margvelashvili above the 50-percent threshold in the first round; however, such an outright victory is not assured. Having been a virtual unknown with a low political stature when Prime Minister Ivanishvili chose him as GD's presidential candidate (see EDM, July 24, 26), Margvelashvili continues to suffer from limited popularity in Georgia. Moreover, during Georgia's first ever televised presidential debates, Margvelashvili came off as un-statesmen like, which may harm his popularity further. During the debate he became irritated by another candidate's excited tone, and Margvelashvili rather rudely and aggressively told to him to calm down or he would force him to calm down. Margvelashvili even told the opponent that he should be thankful that he was answering his questions at all (icmm.ge, October 18). Such a performance may contribute to why Margvelashvili's 39-percent poll rating stands lower than GD's overall 50-percent support.
Nevertheless, Margvelashvili seems more than likely to win, if not in the first round, than at least in the second. Against this background, Ivanishvili's and Margvelashvili's statements are difficult to understand. These statements sound capricious and angry, if not outright bizarre, unless they are a calculated pre-election tactic to encourage people to come out and vote to assure landslide victory on October 27. One way or another, GD leaders have little to worry about. Even a forced second round would likely be highly beneficial for GD and Georgia at large. First, a runoff election could be seen as increasing the Georgian government's democratic credentials—it would be the first time that a Georgian president was ever elected in a second round rather than outright in the first round. Yet, Ivanishvili and Margvelashvili appear not to share this view. Their statements represent a maximalist "all or nothing" position that has reappeared time and time again among Georgian governments in the past. Furthermore, these statements distort the very nature of a democratic electoral contest. Most presidential elections envisage a runoff if the first round does not deliver a clear winner. Subsequently, the participation in an election means a tacit agreement to the rules of the game by all nominees. Ivanishvili's and Margvelashvili's recent statements that GD would back out of a runoff election, therefore, at best represent a snub to the most elementary rules of the electoral contest.
As the election observer mission of the Organization for Security and Cooperation in Europe (OSCE) stated, Georgia's presidential election campaign has, so far, been conducted in a largely calm and free environment, with relatively balanced media coverage and under the purview of the transparent and efficient Central Election Commission (Civil Georgia, October 15). All of these have been a rarity in Georgian elections until now. However, this election will be remembered for even more than that. First, since the 1991 presidential election, Georgians have not witnessed such a high number of presidential candidates in a single race. The Central Election Commission registered 23 candidates in total. Second, the pool of candidates has rarely been so colorful. It ranges from an ultra-religious candidate who wants to prepare Georgia for the second coming of Christ to a candidate who wants to build a Georgian Vatican in the capital to attract tourists (Civil Georgia, October 13, 15; see EDM, July 26). Third, this is the first time that Georgians are electing a president with largely symbolic powers as the country switches to a parliamentary system of governance after the October 27 election. Fourth, the election has been unusually low key and short, lasting only for five months, since GD first announced Margvelashvili as its candidate in May (www.1tv.ge, May 11). And last, but not least, this upcoming election may represent the first instance in Georgian history when a victory by the leading presidential candidate is not absolutely guaranteed in the first round.
As Georgians go to the polls this coming Sunday, they will be voting for a constitutionally weak president. Nevertheless, Margvelashvili's possible withdrawal should a runoff actually occur could destabilize this election and hurt Georgian democracy itself. Moreover, the GD candidate's withdrawal in a possible second round would add one more noteworthy legacy to this election—producing an unexpected winner out of a candidate in second or third place in the polls.