Georgian-Russian Rapprochement Is Not Yielding Any Results for Georgia
Publication: Eurasia Daily Monitor Volume: 10 Issue: 63
By: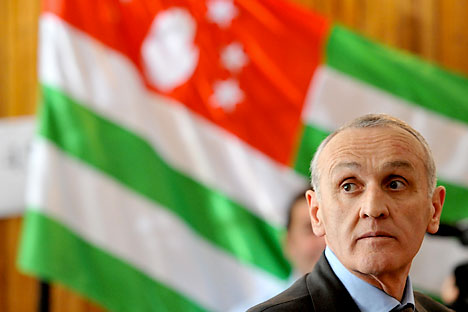 On March 12, on his official visit to Moscow, Abkhazian separatist leader Alexander Ankvab met with Russian President Vladimir Putin as well as with the head of the Russian Orthodox Church Patriarch Kirill I. The sides discussed strengthening bilateral ties between Russia and Abkhazia (www.georgiatoday.ge, March 14). Ankvab's official trip to Moscow represents a deliberate slap in the face of the Georgian Dream (GD)-led government in Tbilisi. The Georgian government has vigorously tried to normalize relations with Russia since Bidzina Ivanisvhili and his GD coalition came to power in October 2012. But Ankvab's official visit to Russia once again clearly emphasized to Tbilisi that Moscow views Abkhazia as a sovereign state and that Russia does not plan to compromise on its status. The Georgian government has naively hoped that by trying to mend ties with Russia, even at the expense of many more concessions on Georgia's part, Moscow would back away from formally recognizing Sukhumi's independence.
It is also noteworthy that the Kremlin deliberately scheduled Ankvab's Moscow visit to coincide with the official visit by Armenia's newly reelected President Serzh Sargsyan (RIA Novosti, March 12). The overlapping visits, first and foremost, signaled to the Georgian government that Russia views separatist Abkhazia and sovereign Armenia as equals by their international status. In addition, by scheduling the two visits together, Moscow seemed to indicate that Armenia and Abkhazia are Russia's most important allies in the South Caucasus—an alliance potentially orientated against Georgia. The Georgian Ministry of Foreign Affairs only uttered a timid protest against Ankvab's official Moscow visit, falling far short of directly condemning this latest blatant Russian violation of Georgia's territorial integrity (www.info9.ge, March 12).
Russia, however, did not hesitate to react fiercely to the recent US-Georgian joint military drills codenamed "Agile Spirit 2013," which were held at the Vaziani base near Tbilisi during March 11–30. Carried out annually since 2011, the Agile Spirit drills supplement other exercises, including the preparatory training of Georgian soldiers for their service in Afghanistan. In its protest against the Agile Spirit exercise, the Russian Ministry of Foreign Affairs once again blamed Georgia for "launching" the August 2008 military conflict. Moreover, the Russian foreign ministry strongly condemned Georgia for refusing to accept the fact that Abkhazia and South Ossetia were "independent states" now. The ministry then went on to rebuke all foreign military assistance being provided to Georgia (Rustavi 2, March 13). In other words, Russia fell back on the same aggressive and abusive rhetoric that it somewhat tried, but failed, to tone down since October 2012, when the GD-led government took power in Georgia.
Further Russian reproaches soon followed. On March 28, on the orders of President Putin, the Russian armed forces launched a surprise, three-day large-scale exercise in the Black Sea, involving 7,000 military personnel and 30 warships (RIA Novosti, March 28). When Georgia expressed its grave concern over the conduct of such large military exercises in its proximity that it had also not been notified of in advance, Moscow lashed out at Tbilisi. Russia once again blamed Georgia for launching the August 2008 war, accused it of exaggeration and scolded Tbilisi for protesting, calling Georgia's objection out of step with the Georgian government's declared desire to mend ties with Russia (www.civil.ge, April 1).
In light of these recent developments, it is clear that relations between the two countries are not improving much, if at all. Indeed, Georgian-Russian bilateral talks do not seem to be yielding any meaningful results for Georgia, regardless of the series of compromises that Tbilisi has already made to Moscow (for instance, see EDM, November 13, 2012; December 4, 2012; February 7). Even the often-cited Georgian-Russian trade negotiations have not yet turned out entirely profitably for Georgia (see EDM, February 26).
Russia has yet to make any compromises to Georgia, no matter how big or small. The recent visit of the Head of the Georgian Orthodox Church Patriarch Ilia II to Moscow is illustrative of this. Ilia II visited Russia in January and met with Russian Patriarch Kirill I as well as President Putin to help mend ties between the two countries (www.mospat.ru, January 23). Among several requests, the Georgian religious leader hoped to secure an agreement from Russia to exhume the bodies of the 17th and 18th century Georgian kings Vakhtang VI and Teimuraz II, respectively, currently lying in the Russian city of Astrakhan, and reburying them in Georgia. Both kings died in Russia, the former fleeing a Persian invasion, and the latter passed away during a long state visit to the Russian Empire. The issue of reburying the Georgian kings has been a long-standing point of discord between Russia and Georgia. According to an unofficial source, the Georgian Church delegation was again refused permission to rebury the kings. Rather, Patriarch Ilia's delegation received a cynical reply that the Georgian kings might not even want to be buried in Georgia.
While unwilling to make any compromises itself, Moscow actually demands more concessions from Tbilisi. For instance, Russia requested that Georgia annul its recognition of the 19th century Russian "genocide" of Circassians (https://ghn.ge/news-82836.html, February 1), which the Georgian parliament recognized in 2011 (www.civil.ge, May 11, 2011).
As the Georgian government continues its efforts at rapprochement with Russia, Georgia's society may soon start feeling disappointed. Since Russia shows no flexibility toward compromise, Ivanishvili's government will, before long, find itself facing—if it has not already—a very simple dilemma: either to go along with Moscow's ever mounting demands and embark on the road toward gradual capitulation, or to reject Moscow's requests, reassert Georgia's pro-Western foreign policy orientation and, hence, enter a renewed course of confrontation with Russia. Whether there exists some kind of third way remains unclear.