Georgians Support Ukraine, but Georgian Government Fears Irritating Russia
Publication: Eurasia Daily Monitor Volume: 19 Issue: 8
By: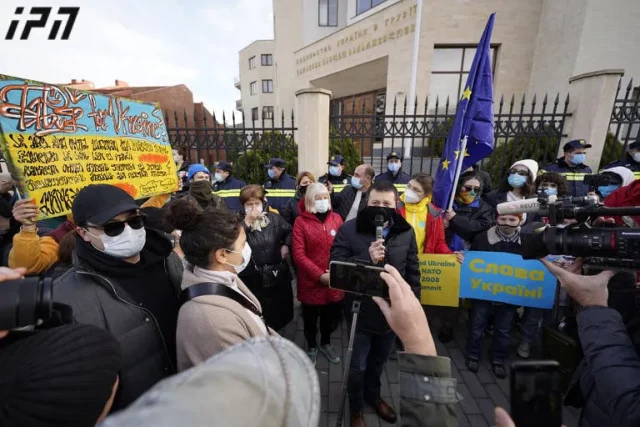 On January 22, civil society activists from the The Shame Movement and multiple other pro-Western non-governmental organizations (NGO) gathered near the Embassy of Ukraine in Georgia's capital, Tbilisi. While the rally was joined by many public figures and representatives of political parties, not a single member of the ruling Georgian Dream (GD) party was present (Netgazeti, January 23).
Demonstrators sang the Ukrainian and Georgian national anthems and unfurled flags of both countries. They held up banners reading "Ukraine and Georgia without Russia," "Glory to Ukraine," "We will never return to the Soviet Union," and similar slogans. The assembled rally-goers bemoaned the Georgian government's "shameful silence" regarding Russia's aggression against Ukraine, calling Tbilisi's stance "anti-state" and "detrimental to the future security of Georgia" (Netgazeti, January 23).
The founder of the political party Droa, Batu Kutelia, stated in his January 22 interview with this author that Prime Minister Irakli Garibashvili's policy of "not irritating Russia" may have somehow benefited GD founder and billionaire Bidzina Ivanishvili but certainly not the country of Georgia. "It is definitely in Georgia's fundamental interest to actively support Ukraine against Russian aggression," Kutelia underscored. He further argued, "Russian aggression against Ukraine, which started after Moscow's 2008 invasion of Georgia, is now approaching its culmination. Unfortunately, during GD rule, our country has been absent in terms of even expressing solidarity or making any particular steps to support its allies or strategic partner country, Ukraine," Kutelia said.
The politician contended that Georgian society, which emotionally supports the Ukrainian people in their just struggle, "does not see any meaningful action, either from the GD government or from the parliament." Furthermore, Kutelia asserted, the Georgian government and other public agencies generally "avoid mentioning Russia at all" (Author's interview, January 22).
In contrast, Georgia's third president, Mikheil Saakashvili, who is jailed on charges of abuse of power, often makes pro-Ukrainian statements, while his opposition United National Movement (UNM) party plans important steps in the national legislative body. Georgian Member of Parliament Khatia Dekanoidze, who headed the National Police of Ukraine from 2015 to 2016, noted that UNM has prepared a draft resolution in support of Ukraine that Georgia's lawmakers will consider in the near future. "But I am not very optimistic about GD support for this document," Dekanoidze stressed. According to her, "The draft resolution will inevitably be favored by other opposition parties, but no one knows how the Georgian Dream parliamentary majority will behave" (Author's interview, January 23).
It would be an exaggeration to say that the Georgian government does not express any position on Ukraine at all. Although it is a fact that the leaders of the government and ruling party often try to limit themselves to general phrases (see EDM, April 20, 2021).
That said, last summer during an official visit to Kyiv, Prime Minister Garibashvili held meetings with Ukrainian leaders, including President Volodymyr Zelenskyy and Prime Minister Denys Shmyhal. Moreover, Georgia's head of government addressed the inaugural summit of the Crimea Platform (Civil.ge, August 23, 2021). "Thirteen years ago the Russian Federation launched a large-scale military attack against Georgia. The August 2008 Russo-Georgian war shattered European security and the rules-based international order… Ukraine shared the same fate in 2014," Garibashvili stipulated. The Georgian leader blamed Russia's "deliberate" policies directed at "undermining the peace processes" and "destabilizing the security situation on the ground" (Civil.ge, August 23, 2021).
Other high-level contacts between Ukraine and Georgia over the past year include the visits of the prime minister (June 2–4) and the minister of defense of Ukraine (May 25–27) to Tbilisi. However, during these visits, the Georgian side notably did not make any sharp statements against Russia, except for some cautious phrases regarding a peaceful resolution to the regional conflicts.
One of the reasons why Kyiv and Tbilisi may not be as close as one might presume is the issue of Mikheil Saakashvili. The former president of Georgia is a citizen of Ukraine, and the Ukrainian authorities demand his release, which the Georgian government refuses. Earlier this month, Saakashvili's lawyer said that the Ukrainian Prosecutor's Office had opened a criminal case against several Georgian officials accused of violating Saakashvili's rights (Kommersant, January 14).
However, most Georgian experts believe the main reason why the Georgian ruling party and its government consciously avoid sharp statements or moves is due to their anxiety over how Russia would react. David Avalishvili, a columnist with the independent news and analytical agency Nation.ge, noted that Russian army units are located only 35 kilometers from Tbilisi, on the occupied territory of South Ossetia. Officials of the Moscow-backed separatist "government" of South Ossetia have repeatedly said they are waiting for the moment to conquer other Georgian territories of Georgia (Radio Tavisupleba, August 1, 2009; GHN, October 13, 2013), including the Truso Valley and the Kazbegi district, which Ossetian separatists consider to be "ancient Ossetian lands," Avalishvili pointed out. The expert also voiced concern that Moscow "can punish Georgia by using Ossetian separatists and encourage their attack on the Truso Gorge and Kazbegi, just as Russia uses the Donbas proxy army against Ukraine" (Author's interview, January 23, 2022).
Other Georgian analysts disagree with that logic, however. According to Ghia Nodia, a professor at Ilia State University, the Georgian government's position is "not to have any position" and "just to avoid any position." Nodia also contended that GD's general policy during the last nine years has consisted of trying not to annoy Moscow. "Russia's goal is to dominate the neighborhood and all of the post-Soviet space, including Georgia." Therefore, "Ukraine's interests are very close to Georgia's interests," Professor Nodia posited (Author's interview, January 23).
In contrast to the GD government's reticence, Western diplomats are doing their best to convince Georgians of their strong support for the South Caucasus country's independence, territorial integrity and right to choose its own alliances. For instance, on January 11, United States Ambassador Kelly C. Degnan delivered an unprecedentedly tough statement about Russia. The US diplomat noted that Washington maintains "unwavering" support for Georgia's sovereignty and territorial integrity. And she added that, while Washington is willing to negotiate with Moscow to prevent war, it will not "trade away" the sovereignty of any European countries, including that of Georgia. "Russia does not get a veto over your sovereign decisions. We will not negotiate about Georgia without Georgia," she declared (Radio Tavisupleba, January 11).
The next few weeks or months will show whether the West can restrain Russian aggression against Ukraine and, thus, allow other post-Soviet countries the chance to freely develop outside of Moscow's orbit.