Georgia's Anaklia Port May Alter Balance of Power Near Russian-Occupied Abkhazia
Publication: Eurasia Daily Monitor Volume: 12 Issue: 120
By: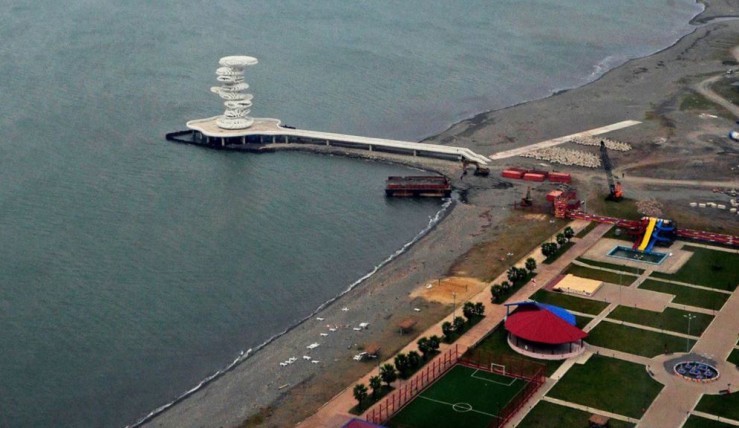 On June 9, the Georgian government finally selected two winners, two consortia that are to move to the final stage of the bidding process to design, construct and operate the deep sea port of Anaklia, on Georgia's Black Sea cost. Both consortia are owned by Georgians. The first one, Anaklia Industrial Eco-Park and Port, was founded by Teimuraz Karchava, a Georgian businessman who owns some enterprises in Russia and also is connected to the thermal power plant project in Armenia. The second winner, Anaklia Development Consortium, was started by Mamuka Khazaradze, the chairman of TBC Bank's supervisory board. He joined up with the US company Conti Group, which develops and builds capital assets projects. Out of these two consortia, one will be selected to launch the construction of the port in spring 2016 (Ipress.ge, Civil Georgia, June 9).
The economic as well as political significance of Anaklia's planned deep sea port is hard to underestimate. Its cargo capacity should reach 40 million tons annually by the twelfth year of its operation. This will far exceed the cargo capacity of the other two major Georgian ports, Poti and Batumi, which can handle only smaller, "feeder" vessels and are dependent mostly on the port in Istanbul, Turkey. There, Georgian-bound cargo is reloaded from larger panamax-size ships to smaller vessels to be then transported to Georgia (Civil Georgia, June 9). Anaklia port promises to address that problem, promising to turn the facility into a major hub in the Black Sea, particularly along the sea's eastern basin, rivaling Turkish ports in the region. Moreover, Anaklia is expected to revitalize the struggling Georgian economy in the medium and long term, bringing much needed revenues to the state treasury.
Anaklia's biggest impact, both economic and political, will be on the Russian-occupied Georgian region of Abkhazia, however. Anaklia sits right on the edge of this breakaway territory, where the Enguri River, which separates Abkhazia from the rest of Georgia, merges with the Black Sea. If Anaklia succeeds as a major port, it will certainly become a draw for thousands of impoverished Abkhazians, who are struggling under crushing poverty.
Moreover, Anaklia promises to revitalize the surrounding region of Samegrelo. This revitalization may create a success story right on the doorstep of neighboring Abkhazia. If successful, Samegrelo's development might encourage some groups within the separatist Abkhazian region to question the rationale of continued "independence" under Russian occupation, which has so far been accompanied by little more than economic impoverishment and bleak prospects ahead.
In addition, if Anaklia emerges as a major port city on the eastern Black Sea coast, it may facilitate further deterioration in the importance of Abkhazia's capital of Sukhumi and other coastal cities, which had already gone into decline after the 1992–1993 war and the ensuing expulsion of Georgians from this once sprawling region. Hence, Abkhazians will have more reason to reevaluate their stance on many political issues with regard to their relations with Tbilisi. Because of all these reasons, Anaklia will likely have a major pull factor to attract the estranged Abkhazians closer to Georgians and possibly build bridges between the communities.
Certainly, Anaklia cannot and will not be a panacea to the problem of a separatist Abkhazia. Nor will this port bring immediate changes in that regard. This backwater coastal village still has a long way to go to becoming a sprawling port city. Yet, Anaklia certainly has the potential to transform itself into a regional hub and gradually alter the economic and political balance of power in northwestern Georgia, near Abkhazia, in the medium and long term.
Paradoxically, the Anaklia port project started out as a highly controversial endeavor in Georgia. The project was launched by President Mikhail Saakashvili's administration. Saakashvili, while building Anaklia port, declared that he, in fact, was building a new city named Lazika, referring to the ancient and powerful Georgian kingdom that existed in this part of Georgia back in the first millennium CE. Many, including today's ruling Georgian Dream coalition, which was then in the opposition, heavily criticized the idea of building a new Black Sea port city as an unrealistic undertaking, especially against the background of poverty-stricken Georgia's colossal socio-economic problems (For.ge, October 8, 2012; Tspress.ge, November 2, 2012). Some even blamed Saakashvili for pilfering the idea of building Anaklia port from someone else. The above-mentioned businessman Temur Karchava, now the head of Anaklia Industrial Eco-Park and Port, claimed back in 2012 that the idea belonged to him, not to Saakashvili, and that President Saakashvili simply stole it from him (Geworld.ge, July 11, 2012).
After coming to power, the Georgian Dream–led coalition quietly dropped the name Lazika from the project. However, realizing its economic potential, the new government agreed to build a port and soon claimed the entire Anaklia project was Georgian Dream's brainchild (Frontnews.ge, September 27, 2014). Former president Saakashvili pushed back, reasserting that the project was his idea. Nevertheless, he encouraged the current government to realize his plans (Radiotavisupleba.ge, November 11, 2013).
With political quarrels around Anaklia now apparently resolved, the project seems to be steadily moving forward. Although its effects will not be felt immediately, Anaklia port promises to alter the balance of power with regards to Russian-occupied Abkhazia in the medium and long term. With few, if any, mechanisms left to have any impact on the breakaway territory, Georgia views the new port with hope and expectation.