Georgia's Parliamentary Elections: Four Underestimated Challenges and Risks (Part One)
Publication: Eurasia Daily Monitor Volume: 9 Issue: 133
By: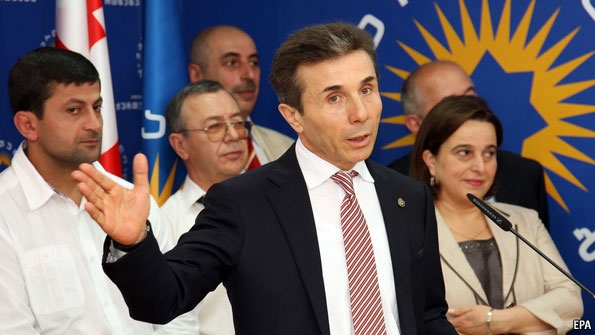 The upcoming parliamentary elections pose a unique set of challenges to Georgia's evolving democracy, the country's stability and potentially to Georgian statehood itself. The challenges include: vote purchase leading to full or partial state capture, Russian military pressure timed to the voting, danger of post-election turmoil, and lavishly funded political action in the West for the purpose of neutering support to Georgia.
Other countries have been known to face one or two of those election-associated risks at one time or another. But no single country – and certainly no strategically vital country – is known to have faced all of these dangers simultaneously at one and the same time while holding elections. This combination of risks and challenges is unique to Georgia. It stems largely from Russia's policy objectives and money earned in Russia being reinvested into Bidzina Ivanishvili's Georgian political project. But it also exploits certain Georgian opposition politicians' specific characteristics and modus operandi: unbridled emotionalism, inflammatory rhetoric, pre-modern attitudes toward statehood, personal ambitions trumping common interests, absence of any reform agenda, and deal-seeking with Russia. Opposition politicians of this type have blighted Georgia's post-1991 history, at times pushing the country into civil war or near that brink.
From the moment he entered Georgia's politics last October from the shadowy world of Russian business, the billionaire Ivanishvili launched a bid for state capture through the purchase of political support. His business assets are almost all in Russia, none in Georgia. They grew from $4 billion in 2004 (when he returned from Russia to Georgia) to $6.4 billion in 2011, surpassing Georgia's entire state budget of $5.7 billion for the same year. The Kremlin allowed Ivanishvili to continue accumulating wealth in Russia while he was residing in Georgia and is now allowing him to sell some of his Russian assets profitably in order to re-channel the proceeds into his political project. In that sense, Georgia's electoral campaign is far from being a "level playing field"; the field of finance power is skewed heavily in Ivanishvili's favor (see EDM, March 13, May 16).
Ivanishvili and his organization promise material gifts and services to those who would vote for his Georgian Dream party. Recent examples include: "Dream Cards" and flyers distributed during the recent rally in Kutaisi, inviting requests for such assistance; the Komagi Fund political charity, financed partly from Ivanishvili's donations and partly through bank transfers from abroad to individuals and companies affiliated with his organization (pro-Georgian Dream television channels have encouraged applications to the Komagi Fund); gratis distribution of satellite antennae to households wishing to receive Ivanishvili's TV-9 channel. For Tbilisi voters, Ivanishvili has offered to buy up the electricity company and reduce the electricity price to consumers; i.e., operate the electricity company at a loss and subsidize the lower price from Ivanishvili's own funds. Such promises can sound entirely credible to low-income voters, in view of Ivanishvili's past large-scale subsidies to selective constituencies: his native district of Sachkere, the Tbilisi intelligentsia and the Georgian Orthodox Church (Civil Georgia, July 1-12).
Georgian laws on electoral campaign financing are designed to prevent the purchase of elections by moneyed interests. Breaching the upper legal limits on election-related spending is liable to heavy fines by court decisions. However, fines amounting to millions or even tens of millions of dollars seem difficult to enforce in practice, they have shown little deterrent effect thus far on Ivanishvili's spending in Georgia, and these fines do not at all restrain his massive spending on lobbying firms in Washington and Brussels.
Georgia's internal political processes are unfolding in the shadow of Russian military power. The mobile spear-points of Russian forces stand poised in occupied Abkhazia and South Ossetia. Election-related violence in Georgia can furnish pretexts for Russian action to "restore order." Ivanishvili and his team, trailing far behind in opinion polls, threaten via mass media to trigger post-election protests unless they win (see Part Two). Western diplomatic circles share the Georgian government's concerns that political upheaval and violent incidents can open the way for Russian intervention. These contingencies are carefully considered but are not being discussed publicly at the official level. Such discussion could, on the one hand, encourage irresponsible actions from elements in the opposition, and on the other hand gratify Russia's capacity for military intimidation.
The Russian military has scheduled large-scale exercises along the Russia-Georgia border, in neighboring Armenia and within the occupied territories of Georgia. The planned exercises involve massive forces from Russia's interior to be specially deployed around Georgia in September. That deployment can easily be extended (as it was in 2008) into the next month, this time to October, overshadowing the Georgian elections' immediate aftermath.
Given a political pretext in Georgia and a conciliatory international context, Russian forces would again be able to switch from an exercise scenario to an intervention scenario as in 2008. At that time, forces specially deployed from Russia's interior held exercises in the North Caucasus in July, but remained at readiness in their forward positions, smoothly turning into an invasion force in August 2008. With the United States currently immersed (as in 2008) in its presidential election campaign, and Europe now immersed in its own crisis, Moscow policy makers may well perceive a temporary window of opportunity to "resolve" their Georgia problem. To do so, the Kremlin needs two premises for action: first, political upheaval turning violent in Georgia; and second, discrediting Georgia's electoral process in the West to a degree sufficient to confuse Western preventive diplomacy or inhibit crisis-responses. Irreconcilable opposition politicians are now setting that first premise in Georgia, while a long list of expensive lobbying firms are helping set that second premise in Washington and Brussels.