Georgia's Radical Opposition: Regime Change Today, Tomorrow, and Forever
Publication: Eurasia Daily Monitor Volume: 5 Issue: 217
By: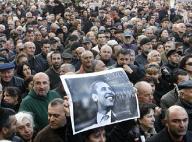 Five radical opposition parties restarted a campaign for regime change in Georgia on November 7, with a ritualized rally outside parliament and a march on Tbilisi's Rustaveli Avenue. These small parties are not represented in parliament, though several of them are headed by past and future presidential aspirants. Several of the protest leaders were elected to parliament in May of this year but claimed that the general elections had been rigged and refused to take up their parliamentary seats.
The Georgian and foreign media alike estimated the rally's size at 10,000 at its peak. The disappointed organizers had predicted 50,000. Five other extra-parliamentary parties, loosely allied with the former group, declined to join the November 7 protests but did not explicitly distance themselves from them and are apparently biding their time. For its part, the small opposition in Parliament is inching toward some form of structured relationship with the parliamentary majority and the government.
The five protesting parties have announced a joint action program for regime change through snap parliamentary and presidential elections. As preliminary steps, they demand: an independent investigation of the August [Russia-Georgia] war; freedom of the broadcast media with the handover of Imedi Television to the "legitimate ownership" of the late tycoon Badri Patarkatsishvili's widow; and release of political prisoners, meaning 16 individuals purportedly sentenced in connection with the November 7, 2007, opposition demonstration.
These parties freely disseminated their demands through the broadcast media in advance of the rally and then had them attached as leaflets to the fence of the presidential residence by demonstrators during the rally.
To press for regime change, the five parties have announced their intention to: hold a 24-hour rally outside Imedi TV on November 23; demand that parliamentary and presidential elections be held in the spring of 2009 (that is, approximately a year after Georgia's last elections); call for protests outside parliament and across the country on April 9, if the government has not set the dates for snap presidential and parliamentary elections by then; and, if those dates are not set, launch a civil disobedience campaign, with permanent rallies outside parliament and in provincial towns, calling for the resignation of President Mikheil Saakashvili and the Georgian government.
Georgian television channels, which the protesters claim are not free, fully reported the protesters' actions and programmatic statements (Rustavi-2 TV, Imedi TV, Georgian Public TV, November 7).
These five parties (along with the five that are now abstaining) embarked on the regime-change campaign in June 2007, culminating in the November 2007 demonstrations and police crackdown, which in turn led to the pre-term presidential election in January (shortening Saakashvili's term by one year) and parliamentary elections in May 2008. Already by mid-2007 their slogan was "Georgia without Saakashvili," in an ad-hoc alliance with Patarkatsishvili who had launched his own regime-change campaign. Following their defeat in the presidential and parliamentary elections, which were internationally certified as valid with irregularities not affecting the outcomes, the opposition leaders saw their street rallies dwindle and promised to resume them in the autumn; but they had to declare a "moratorium" on street actions in the wake of the Russian invasion.
That moratorium has now been ended by these five parties and some other groups. They regard the war's aftermath as a tactical opportunity for gathering support through attacks on the Georgian government. "Today we begin a new wave of open protests against Saakashvili and his clique," announced Levan Gachechiladze, runner-up to Saakashvili in the presidential election 10 months ago (22 percent to 53 percent). "If we do not achieve 'Georgia Without Saakashvili,' I will resign from politics," Gachechiladze vowed on television and to the crowd (Kavkas-Press, AP, November 7).
The radical opposition had no alternative program to offer in this year's presidential and parliamentary elections and has developed none in the intervening months. Their regime-change campaign is intensely personalized, both in the choice of its target (the president as demon) and in the opposition leaders' emotionalism. Unrestrained hyperbole seems to substitute for a program: "There is currently the same deceit and violence in the country as there was during the Soviet Union," according to Equality Institute's Giorgi Khaindrava, one of the opposition leaders (Kavkas-Press, November 7). The parliamentary opposition (which did not refuse to sit in parliament) "is a monolithic part of the authorities," according to conservative leader Kakha Kukava (Imedi TV, October 31). "We can only dream of the quality of democracy that we had during [Eduard] Shevardnadze's rule," according to Georgia's ombudsman, Sozar Subari, who doubles as leader of the opposition Movement for Freedom and Justice (Institute for War and Peace Reporting, Caucasus Reporting Service, October 30).
The plan for continuing protest actions follows a concept of "waves of protest," and their schedule (see above) is determined by anniversaries of regime changes that have occurred in Georgia's post-Soviet years. Leaders of today's radical opposition participated in that series of regime-change events (1990, 1992, 2003, and the failed 2007 attempt), which became a modus operandi for some of them, with Rustaveli Avenue and the steps outside Parliament as center stage each time. The protest actions just called for on November 7, November 23, and April 9 mark anniversaries of the 2007 demonstrations, the 2003 Rose Revolution, and the 1989 anti-Soviet protests, respectively.
The era of regime changes through "protest waves" has, however, clearly ended in Georgia, thanks to post-2003 institution building. That work is far from complete in many respects; but it has advanced beyond the point of no return, to guarantee against upheavals and improve the effectiveness of governance. Moreover, a more responsible opposition seems to be emerging in Parliament and beyond, superseding the radicals. Reenactments of revolutionary rituals are still possible but without revolutions themselves.