Germany Continues Crackdown on Kurdish PKK Leaders
Publication: Terrorism Monitor Volume: 20 Issue: 8
By: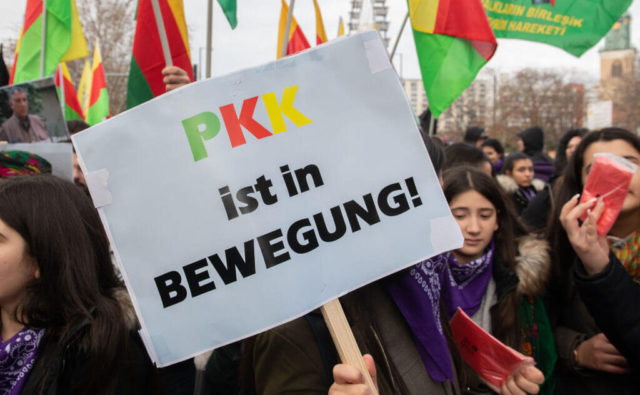 On April 6, the Oberlandesgericht (higher regional court) of Frankfurt opened proceedings in the counter-terrorism prosecution of an alleged Partiya Karkerên Kurdistan (Kurdistan Workers' Party, PKK) leader in Germany, who was identified as "Abdullah Ö." The 58-year old Kurdish Turkish citizen was accused not only of being a PKK member, but also of serving as a leader of the PKK regional divisions of "Hessen," which includes the cities of Frankfurt, Mainz and Giessen, and "Stuttgart." As the "PKK regional manager" from 2019 to his arrest in 2021, Abdullah Ö was responsible for the coordination of organizational personnel and propaganda activities. He was further "able to task his subordinates and control the implementation of his orders" and answered to the "PKK leadership in Europe" whose orders he had to follow.
Interestingly, Abdullah Ö's influence in Germany was not limited to the PKK regions of Hessen and Stuttgart, but extended, according to the prosecution, to the PKK region of "Saarland," which includes Darmstadt, Mannheim, and Saarbrücken (Generalbundesanwalt, December 9, 2021). Besides this, Abdullah Ö collected "donations" for the PKK. In this area he seems to have excelled. According to the prosecution, from June 2020 to April 2021, he was able to collect more than 900,000 euros by personally contacting potential "donors."
The counter-terrorism prosecution of Abdullah Ö is, however, just the latest bead in a string of criminal investigations targeting PKK leaders in Germany.
Arrests and Convictions of PKK's leading functionaries
On May 11, 2021, Abdullah Ö was arrested in Heilbronn in a joint operation by police in Frankfurt and the Landeskriminalamt (State Police) in Baden-Würtemberg (Generalbundesanwalt, May 11, 2021). A few months earlier, in February 2021, a similar sting operation took place and the higher regional court in Koblenz convicted "Gökmen Ç" to a 27-month jail sentence for serving in a similar position as Abdullah Ö. Specifically, this conviction referred to the PKK regional leader in "Mainz", which was included in PKK's internal regional divisions of "Hessen" and "Saarland/Rheinland-Pfalz."
The then 38-year old Gökmen Ç had served in his position from late June 2017 until June 2019 and was arrested on January 2, 2020 at the train station of Frankfurt International Airport (Generalbundesanwalt, May 26, 2020; Generalbundesanwalt, January 3, 2020). Gökmen Ç's area of responsibility overlapped with that of Abdullah Ö. Therefore, it is likely that his arrest led to Abdullah Ö taking over his responsibilities.
In addition, Gökmen Ç's predecessor faced German justice. The 60-year old Kurdish Turkish citizen, Mashar T, received in August 2020 a two years and six month jail sentence for his activities as the PKK regional manager for "Mainz." Mashar T was arrested on June 25, 2019 in Hessen after an investigation concluded that he collected 223,000 euros for the PKK during his leadership period in 2018-2019 (Oberlandesgericht Koblenz, August 18, 2020). Separately, in April 2021 in Lower Saxony, the higher regional court sentenced a 50-year old man also of Kurdish origin to a one year and six months jail sentence for serving as the local PKK leader for Wesermarsch (Oberlandesgericht Celle, April 13, 2021).
PKK's Resilient Structures in Germany
The efforts to disrupt PKK activities in Germany seem to be especially successful in the states of Hessen and Rheinland-Pfalz, which have a track record of strong cross-state border law enforcement cooperation in their investigations. Law enforcement authorities and the prosecution have been successful in those two states in collecting evidence and securing sentences against PKK regional leadership figures. However, it is also evident that the PKK structures are robust and able to cope with successive regional-level leadership losses.
The German internal security service Bundesamt für Verfassungsschutz (BfV) in the state of Hessen, for example, reported in its 2020 yearbook that the state counted approximately 1,500 PKK activists out of 14,500 in all of Germany (Hessisches Ministerium des Innern und Sport, Verfassungsschutz in Hessen Bericht, August 10, 2021). The activities of the PKK have mainly consisted of protests against the so-called "fascist Turkey," demonstrations for the release of the overall PKK leader Abdullah Öcalan, who has been jailed in Turkey since 1998, and protests against the ban on PKK activities in Germany.
While these activities, together with the fundraising activities for PKK, can easily be classified as minor political activism, the PKK is also involved in recruiting fighters and constituting violence in Germany. According to the German security services, since June 2013 at least 290 persons travelled from Germany to Syria and Iraq or Turkey to take part in the PKK's guerrilla training and armed militancy. Out of these individuals, 150 have returned to Germany and around 30 have died, with the rest still in the region (Bundesamt für Verfassungsschutz, Webpage, 2022). Indeed, in November 2021, fearing further recruitment of fighters, authorities in Hamburg banned a "Cultural and Music Event" organized by the PKK youth wing Tevgera Ciwanên Şoreşger (Patriotic Revolutionary Youth, TCS). The group advertised the event on Intagram, featuring videos of PKK attacks against Turkish military forces (Die Welt, November 28, 2021).
Notably, while the PKK's armed activities against Turkey take place outside Europe, the organization has not shied away from violence against their own people in Germany either. In May 2021, five 25- to 37-year-old PKK supporters, including then PKK regional leader for Baden-Württemberg, Veysel S., were sentenced to three-to-four-year sentences for kidnapping former PKK member and local leader for Karlsruhe, Ridvan Ö. They used coercion and  blackmail in an attempt to force him into continuing his activities for the PKK (Generalbundesanwalt, January 15, 2019; der Spiegel, May 5, 2021).
Conclusion
In Germany, PKK activities were banned in 1993 as a reaction to terrorist attacks against Turkish interests both in and outside of Germany (Bundesministerium des Innern, Bulletin 106-93, December 1, 1993). In 2010, the German federal high court stated that the PKK constituted a "foreign terrorist entity." Since then, high-ranking PKK functionaries have been sentenced to jail after thousands of criminal investigations against PKK members, activists, or sympathizers. In 2017, Germany added PKK emblems to the list of forbidden symbols.
Meanwhile, the EU added the PKK to its list of terrorist groups in 2002. However, the developments in Turkey and Syria, where several Western states allied themselves with the PKK's Syrian branch, Partiya Yekîtiya Demokrat (Democratic Union Party PYD), against the Islamic State (IS), boosted voices against the criminalization of the PKK. In January 2020, the Belgian higher court, for example, argued that the PKK was not a terrorist organization but a "party in an armed conflict" for the rights of Kurds and was reacting to the violence of the Turkish state (The Brussels Times, January 30, 2020). Not surprisingly, Turkey reacted angrily to the verdict and dismissed it as "ideological and political" (Euronews, October 13, 2020).
In Germany, politicians from the left have also argued for the lifting of the ban on PKK activities (Frankfurter Allgemeine Zeitung, March 28, 2022). It is, however, unlikely that Germany will change its stance on the PKK in the near future, with criminal investigations and court proceedings set to continue. As a result, the cycle of counter-terrorism operations to disrupt PKK activities, including its efforts to replace lost cadres with new functionaries, will continue, but it is questionable whether this will have a lasting impact on the PKK's overall activities in Germany.