Pakistani Taliban Launches Spring Offensive amid Political Turmoil in Islamabad
Publication: Terrorism Monitor Volume: 20 Issue: 8
By: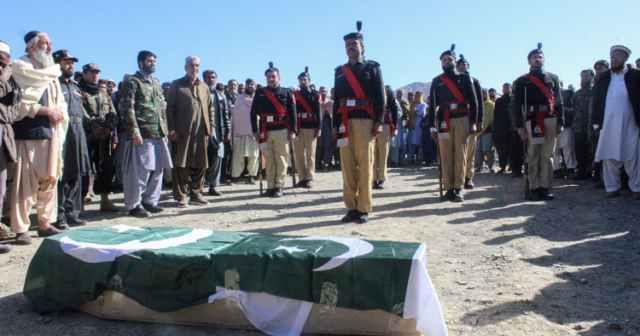 On April 11, five policemen were killed when their patrol vehicle was ambushed by militants in Dera Ismail Khan in Pakistan's northwestern Khyber Pakhtunkhwa province (The News , April 12). On the same day, in a separate incident, two soldiers were killed when terrorists attacked a military post in Angur Ada, South Waziristan in the same province (Express Tribune, April 13). The terrorist attacks were launched against security forces on the same day that Shehbaz Sharif of the Pakistan Muslim League-Nawaz (PML-N) was elected as Pakistan's new prime minister to replace Imran Khan, who was ousted from office as a result of a no-confidence vote brought by opposition parties against him on April 9 (The News, April 10).
The two attacks represented the beginning of the so-called Al-Badr spring offensive by the Tehrik-e-Taliban Pakistan (TTP), which is also known as the Pakistani Taliban. On March 30, the TTP announced it would launch the spring offensive during the Muslim holy month of Ramadan against security forces and their collaborators. According to the group's spokesman, Mohammad Khorasani, the offensive would include "martyrdom (suicide) operations, ambush attacks, mine operations, counter-attacks, target attacks, and laser and sniper operations." The announcement from the TTP also came at a time when Imran Khan was facing the no-confidence vote in Parliament (Arab News, March 30).
The uncertainty on the political front provides the TTP with the opportunity to operate with more freedom in Pakistan. Political stability has been vital to fighting the group in Pakistan, which borders Taliban-ruled Afghanistan – a country that harbors the TTP. As a result, the TTP is set to exploit the political crisis and further entrench itself in Pakistan, as seen through the surge in attacks from the day "regime change" took place in Islamabad on April 11.
Terrorist Attacks amid Political Turmoil
After Shehbaz Sharif took the oath as the new Prime Minister of Pakistan and the two attacks on April 11, an army major and a soldier were killed during an encounter with militants in South Waziristan on April 12 (Dawn, April 14). After this, on April 13, a soldier was killed in another exchange of gunfire between troops and militants in North Waziristan on April 13. Finally, on April 14, eight soldiers were killed in two attacks in North Waziristan (Dawn, April 15).
This all took place after Imran Khan waved a cable in the air allegedly containing a threat from the U.S. during a large public meeting in front of a crowd in Islamabad on March 27. According to Khan, the U.S. called for a no-confidence motion by opposition parties against his government, and this represented a foreign conspiracy over his independent foreign policy (Dawn, March 30). Khan has been opposed to the U.S. war in Afghanistan, including Pakistan's role as a U.S. frontline ally in the war, and fiercely opposed U.S. drone attacks in Pakistan's tribal areas when he was in the political opposition before the 2018 election. Last year, he also refused to provide bases to the U.S. in Pakistan to target the Afghan Taliban (ndtv.com, June 22, 2021).
The basis of the alleged U.S. cable was a conversation between Pakistani Ambassador Asad Majeed and U.S. Assistant Secretary of State for Central and South Asia Donald Lu. Apparently, Lu conveyed to Majeed Washington's unhappiness with Pakistan's stance on the Russian war in Ukraine. The U.S. diplomat, as per the cable, threatened that Washington would get tougher on Pakistan if the no-trust vote against the Prime minister failed, but that Pakistan would be forgiven if the no-confidence vote succeeded (Express Tribune, April 8).
Khan, however, failed to convince the country's security establishment and Foreign Office that the diplomatic cable contained evidence of any foreign conspiracy against the Khan government. The country's Foreign Office instead voiced concerns over the Khan government's move to achieve its political objectives by using secret and classified communication (Express Tribune, April 6). Although the cable was real, the interpretation by the military and Khan was slightly different, with the former seeing it as interference in Pakistani internal affairs, but not conspiracy, whereas the latter, Khan, accused the U.S of hatching conspiracy against his government because the cable was received one day before the no-confidence motion was proposed on March 8.
Khan's Geopolitical Backers
Both China and Russia have accused the U.S. of interfering in Pakistan's internal affairs to topple the government led by Khan. China closely monitored Pakistan's political turmoil in the wake of Khan's allegation. According to the mouthpiece of China's Communist Party, Global Times, Western countries, and particularly the U.S., did not "want to see Khan remain in power since he has gotten tougher on them" (Global Times, April 6).
Moscow likewise vehemently condemned the attempt at "regime change" by Washington, which allegedly aimed to punish the "disobedient" Khan. The Russian Ministry of Foreign Affairs spokesperson, Maria Zakharova, stated, "This is another attempt of shameless U.S. interference in the internal affairs of an independent state for its own selfish purposes" (Dawn, April 5). The U.S. State Department has dismissed allegations about U.S. interference in Pakistan's internal affairs (Express Tribune, April 1).
Terrorism, however, still remains the main challenge for Pakistan even after Khan's ousting. Last year, Khan's government held peace talks with some TTP factions after the withdrawal of U.S forces from neighboring Afghanistan with the Afghan Taliban playing the role of mediator (Dawn, October 1). While the peace talks were underway, the TTP did not stop attacks on the country's armed forces and there was no decline in violence, which ultimately led to the failure of the peace talks (Express Tribune, October 2).
Conclusion
A stable government in Islamabad will be the first line of defense against the TTP threat, including for new Prime Minister Shehbaz Sharif's coalition government. It was under the PML-N government led by Prime Minister Nawaz Sharif, who is the brother of Shehbaz Sharif, that Operation Zarb-e-Azb was launched in 2014. This operation destroyed the TTP command-and-control structures and forced the TTP leadership to flee Pakistan and take refuge in Afghanistan (The News, June 20, 2016). Today, the Afghan Taliban are again reluctant to launch any crackdown on TTP militants orchestrating attacks on Pakistani security forces.
The major challenge for Sharif is, therefore, to convince the Afghan Taliban to take action against the TTP. But it is unclear whether the new leader will follow in the footsteps of his predecessor, Khan, and engage in dialogue with the TTP. How the new government under Sharif deals with the TTP and Afghan Taliban remains to be seen. Whatever counter-terrorism strategy the new government formulates will be implemented amid this political stability in the country, especially in the wake of the Khan-led countrywide protests against the current government and Khan's demands for fresh elections (Dawn, April 11).
Less than two weeks after Islamic State's (IS) March 10 announcement of its new caliph, Abu Hassan al-Hashimi al-Qurashi, al-Qaeda's leader, Aymen al-Zawahiri, released a new audio speech (alarabiya.net, March 10). Unlike the significant attention given to IS's caliph announcement in both mainstream media and IS propaganda outlets, al-Zawahiri's speech went under the radar, with little mainstream or jihadist attention to it. This contrast demonstrates that while al-Zawahiri is alive and remains al-Qaeda's leader, he lacks the charisma to galvanize jihadists' attention towards al-Qaeda even while IS's own leadership has been in turmoil and transition.
Al-Zawahiri's speech appears to lack any mention of current events, so it was unclear whether the video was current or recorded several months earlier. The purpose of the video was dawa (proselytization) and he discussed the history of Islam, challenged the theories of atheism, communism and capitalism, promoted the righteousness of Islam, and mentioned thinkers ranging from Malcolm X to Egyptian academic, Abdel Wahab El-Messiri, who were notably not jihadists (Twitter/@minaallami, March 21). His avoidance of an explicitly jihadist tone comes at the same time the most successful al-Qaeda-allied group, the Taliban, is distancing itself from overt jihadism. This suggests that al-Qaeda and its allies' future success may depend on minimizing the violent rhetoric of al-Qaeda's past and focusing more on diplomacy and intellectualism.
Such an approach has already been employed by the formerly al-Qaeda-allied Hayat Tahrir al-Sham (HTS) in northeastern Syria, which now is officially organizationally separately from al-Qaeda (mei.edu, June 24, 2021). It has attempted to appear as a 'normal,' albeit authoritarian, state actor in areas that it controls in Syria. Al-Qaeda's Sahelian affiliate, Group for Supporters of Islam and Muslims (JNIM), still engages in asymmetric warfare, but has tended to avoid attacks specifically on foreign interests, except for on mines and kidnappings, and remains open to negotiations for autonomous jihadist rule and is loyal to the Taliban (aljazeera.com, October 19, 2021). JNIM could possibly follow the Taliban and HTS path in the future.
In contrast to the unheralded video from al-Zawahiri, IS's announcement of the new "caliph" received great fanfare from all of IS's provinces, which, in turn, led to widespread international media reporting on it (Telegram, March 14). Nevertheless, Abu Hassan al-Hashimi al-Qurashi himself is unable to be any more of a "public" figure than al-Zawahiri because, as the announcement of his appointment indicated, security reasons necessitate his remaining in hiding. Thus, although his becoming "caliph" inspired IS provinces more than al-Zawahiri's video inspired al-Qaeda affiliates, it does not appear that either of these leaders will dramatically influence the operations of either group.
Further, it is speculated that IS's new caliph may have obtained his position amid internal divisions with IS (aawsat.com, March 2). This could make it more difficult for him to unite IS at a time when it is no longer holding territory in the heartland of Iraq and Syria. It may require a highly skilled leader to keep IS fighter morale high, and it remains to be seen whether Abu Hassan al-Hashimi al-Qurashi will become such a leader.
At the organizational level, however, it appears he may already be having an impact. For example, Islamic State in West Africa Province (ISWAP), which previously included Nigeria-based "Boko Haram" and Sahel-based "Islamic State in Greater Sahara (ISGS)," for the first time is now claiming attacks in the name of "ISWAP" and a separate new "Islamic State in Sahel Province," the latter referring to what previously was ISGS (Twitter/@SimNasr, March 23). Evidence suggests the two groups had virtually no overlap and that this will result in more provinces statistically existing under the new caliph's leadership. Moreover, IS's renewed focus on attacking Israel could also reflect the new caliph's strategy (jpost.com, March 28).