Germany Sidelines Ukraine, Negotiates With Russia on the Kerch Strait
Publication: Eurasia Daily Monitor Volume: 16 Issue: 5
By: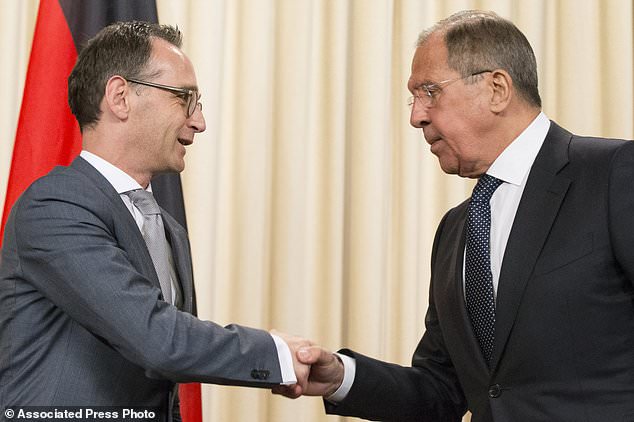 On January 18, German Foreign Minister Heiko Maas submitted to his Russian counterpart, Sergei Lavrov, in Moscow a freshened-up German proposal for Russia to "ensure" unimpeded shipping through the Kerch Strait. In that case, a German-French group would monitor the traffic to certify that it is free (Interfax, RIA Novosti, January 18, 2019).
Maas flew from Moscow directly to Kyiv to inform the Ukrainian side, after the fact. No indication exists that Berlin had consulted with Kyiv before going to Moscow; and indeed, the Ukrainian side has taken post-factum note of Berlin's proposal with caution and palpable misgivings (Ukrinform, Interfax-Ukraine, January 18, 2019). Maas had pre-consulted with Ukrainian Foreign Minister Pavlo Klimkin on the top German diplomat's previous proposal to Lavrov last December, but evidently felt that his new proposal should go directly to Moscow. Unusually, the German Ministry of Foreign Affairs website shows no readout of Maas's talks in either Moscow or Kyiv (Auswaertiges-amt.de, accessed January 21, 2019).
This and other recent developments in and around the Kerch Strait confirm the anticipation (see EDM, December 3, 5, 10, 2018) that Russia does not aim simply to block the Kerch Strait outright to Ukrainian and Ukraine-bound international shipping. Blocking it outright, even for a short term (as Russia did after its November 25, 2018, unprovoked assault on Ukrainian naval vessels) would only result in prolonging international sanctions on Russia. Nor does Russia need to block the Kerch Strait for any reason or purpose (see below).
Instead, Moscow intends to leverage its ability to allow or disallow shipping through the Kerch Strait, set the rules there uncontested, and have those rules de facto accepted by third parties. Rather than blocking, the aim is to wrest some international expressions of deference to Russia's control of the Kerch Strait and the Russian-imposed navigation regime there. Such deference, if forthcoming, would advance Moscow's goal to elicit de facto acceptance of Russia's 2014 seizure of Crimea, which gave Russia full territorial control of the Kerch Strait.
On this logic, Russia began in mid-December "allowing" shipping through the Kerch Strait and the Sea of Azov without significant impediments. As of January 15, the obstructions had already been lifted, according to Ukraine's Infrastructure Minister Volodymyr Omelian (Ukrainian TV Channel One, January 15, 2019). Moscow intends thereby to encourage a process of negotiation that would acknowledge Russia's consent to freedom of shipping at Russia's own discretion, and reward it with acceptance of Russia's de facto control over the Kerch Strait. Such a reward could be either tacit or, even better for Russia, through some international document.
While Ukraine would give no hint of de facto acceptance, German diplomacy is trying to finesse the issue. The German government has (again) no European Union mandate to negotiate with Russia about Ukraine, in this case about the Kerch Strait. Instead, Berlin counts on France and the Organization for Security and Cooperation in Europe (OSCE) to endorse a creative formula that Germany has already started negotiating directly with Russia on the Kerch Strait. The Ukrainian government has not mandated Berlin either, and is looking at the latest Berlin-Moscow negotiations warily.
Minister Maas is negotiating with Moscow on his own track, parallel to that of Chancellor Angela Merkel, regarding the Kerch Strait and Sea of Azov. To what extent are the two German tracks coordinated, if at all, is hard to tell (controlled by different political parties, the Chancellor's Office and the Ministry of Foreign Affairs have a spotty track record on coordination). Merkel had initiated personal negotiations with Russian President Vladimir Putin in late November 2018; and Merkel's top foreign policy advisors held secretive talks with unnamed Russian counterparts in Berlin in December, about which Merkel made some limited disclosures while Moscow revealed nothing. For his part, Maas initiated negotiations with his Russian counterpart Sergei Lavrov in December (see EDM, December 13, 2018) and has now followed up on January 18 (see above).
Both German proposals are, in their essence, on the table for active negotiation with Russia. Basically, both proposals envisage: 1) that Russia would "allow" Ukrainian and Ukraine-bound international shipping through the Kerch Strait, and 2) that OSCE monitors—or, alternatively, a German-French monitoring team—would watch to "ensure" that shipping proceeds without further disruption. This latter proposition would, willy-nilly, accept the physical constraints that Russia's newly built Kerch Strait Bridge has, unnecessarily but deliberately, imposed on shipping.
International (OSCE) or third-party (German-French) monitoring, as implied in the German proposals, would in no way internationalize the Kerch Strait as such, nor the navigation regime in that Strait. Such monitoring is, instead, likely to result in acceptance and confirmation of Russia's rules of the game. In return for unimpeded shipping (which Russia could again obstruct or interrupt at its discretion), the proposed monitoring could reward Moscow with tacit or explicit acceptance of Russia's control over the Strait, and implicitly over Crimea.
In pursuit of that goal, Russia would "allow" traffic through the Kerch Strait, under Russian-imposed terms and regulations de facto accepted by third parties. Moscow has even indicated that it would "allow" Ukrainian naval passage through the Kerch Strait on a case-by-case basis (i.e., on Russian-imposed and Ukrainian-accepted terms in each case of naval passage), at Moscow's discretion.
Denial of passage through the Kerch Strait would also be unnecessary for Russia to strangle Ukraine's Azov Sea commercial ports. Russia is suffocating those ports through the impact of the newly-built Kerch Strait Bridge. The bridge precludes the passage of large-tonnage vessels underneath its arch; and moreover, it enables Russia's authorities to manipulate the tempo of the limited traffic through the bottleneck between the pillars of the bridge (in addition to manipulating the Kerch-Yenikale channel bottleneck). For these reasons, shipping to and from Ukraine's ports on the Azov Sea has already declined, and seems set to shrink further at an accelerating rate. Thus, Russia is comfortably positioned to "grant" commercial passage through the Strait under Russia's own supervision, even as Russia's other measures forced the volumes and scope of that passage sharply down.
The Ukrainian side has indicated to Maas during his visit that Kyiv is preparing its own proposals, to more reliably protect Ukraine's interests in this matter.