Globalizing Leninist Institutions: Trends in Overseas Party Building
Publication: China Brief Volume: 21 Issue: 12
By: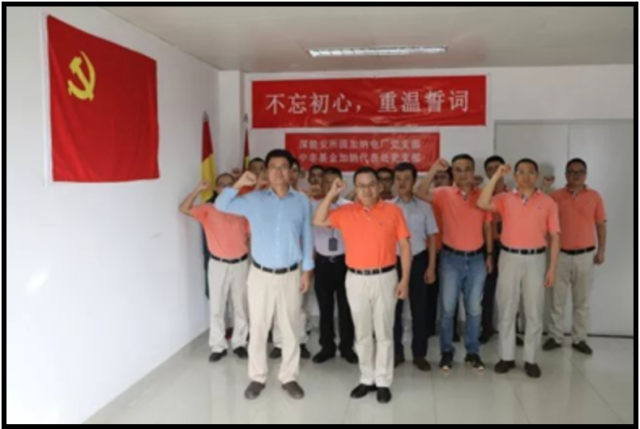 Introduction
The Chinese Communist Party (CCP) Organization Department's initiatives to build an organizational infrastructure with global reach evoke China's revolutionary tradition, drawing lessons from history as the CCP prepares to celebrate its centennial this year. In the early 20th century, overseas party branches of both the Kuomintang (KMT) and the CCP supported the Chinese Revolution. We see KMT overseas headquarters in cities such as San Francisco as remnants of this era. The CCP also boasted international branches early on: a CCP Tokyo Cell (中共东京支部, zhongdang dongjing zhibu) was most active in the 1930s, and its precursor was created four months before the CCP itself.[1]
Under General Secretary Xi Jinping (习近平), the CCP has re-discovered the potential of exterritorial party-building, part of a larger trend to resuscitate ostensibly outdated recipes for party-state governance and control. After the "Leninist extinction" of the 1990s (to use a term by the political scientist Ken Jowitt), who could have imagined that a rising world power would use quintessentially Leninist party cells as building blocks to exert authority at home and abroad? Such institutional bricolage, defined as a deliberate, piecemeal, and continuous activity of remodelling an organization that draws resourcefully on a toolbox of ostensibly incompatible devices, including brand-new practices alongside ostensibly outmoded and temporarily neglected ones,[2] allows the CCP to harness the revolutionary potential inherent in Leninist organizing and deploy it to new ends for the modern era.
The multi-pronged enterprise of overseas party building has gained new momentum since 2016, when the National Work Conference on Party Building in SOEs (全国国有企业党的建设工作会议, quanguo guoyou qiye dang de jianshe gongzuo huiyi) triggered a wave of party building centered on Chinese companies. While public statements by General Secretary Xi did not explicitly call for extraterritorial initiatives, the term "overseas party building" (海外党建, haiwai dangjian) or its variant "extraterritorial party building" (境外党建, jingwai dangjian) were prioritized at that time.[3] One widely circulated article published in that year summarized a new consensus: "Companies investing abroad, both SOEs [State-Owned Enterprises] and private ones, certainly have party members among their workforce; and where there are party members, there should also be party organs" (People's Daily Online, August 25, 2016). The call for party cells abroad contrasted with earlier practices of letting CCP members lapse their membership while away from the People's Republic of China (PRC).
Adaptable Structures
Overseas party networks are extraordinarily malleable, combining transient and permanent structures. Auditors from Beijing on overseas missions, such as inspectors visiting the UN Geneva headquarters or UNICEF field offices, set up temporary party cells (临时党支部, linshi dang zhibu) to facilitate their investigations, ceremoniously passing on the party flag to those cells (People's Daily Online, July 6, 2012). Overseas party cells are more lasting structures that include those set up on university campuses,[4] in SOEs and in private firms around the world. Overseas party committees are the most permanent form of the CCP's overseas presence. The symbiosis of transient and permanent structures can be observed at Sinohydro (中国水电, Zhongguo shui dian), a state-owned hydropower engineering and construction company. In 2020, its Tanzania project had 26 party members among the 132 Chinese citizens (19.7%). A party cell was set up for this project with a planned lifespan of 42 months, which works closely with the more permanent overseas party committee of Sinohydro's headquarters in Africa.[5] Applying lessons learned from the revolutionary turmoil prior to the Communist takeover in 1949, the robustness and maneuverability of the CCP's network comes from anchoring transient cells to lasting organs.
Over time, the CCP's party building has been notable for its steady innovation. Project-based party building (项目党建, xiangmu dangjian), which the party carries out on overseas construction sites, has gradually emerged over at least a decade. Although analyses from 2012 are skeptical about the party's ability to mobilize overseas members and create a viable international network, the party's long history gave reasons for at least some confidence.[6] Since then, project-based party building has become routine.
Yet the CCP did not stop there, inventing a new type of party-cell that deviates from the earlier principle that each party cell must be affiliated with one work unit. Joint party cells (联合党支部, lianhe dang zhibu), first created in Shanghai, now widespread throughout China and exported abroad, bring together party members from different workplaces based on geographic or sectoral proximity. This new form of organizing solves a series of problems: following the decline of the work unit system in the 1990s, many modern work units were too small and transient to warrant the creation of a party cell, especially since it takes time for new cells to internalize procedures and assert authority. More importantly, if all members of a party cell share the same employer, then that employer has more leverage over the cell. By contrast, joint party cells consisting of members working for different companies are more independent from their employers, which benefits party control.
The flexibility of overseas party building is also reflected in country-specific differentiation in institutional design. There is no single global model for overseas party building, but instead multiple competing models involve distinct approaches to organizational setup, ideological training, and practical functions. One example, the "Angola model for extraterritorial party building" (境外党建的安哥拉模式, jingwai dangjian de angela moshi), is promoted by the state-owned China Harbor Engineering (中国港湾, Zhongguo gangwan). Since this SOE has the privilege of running a fully-fledged party committee in South Africa and employs most of the party members in Angola, it leads party building there. The Angola model combines the conventional approach of building party cells on large construction projects (支部建在项目上, zhibu jianzai xiangmu shang) with a joint party cell approach so as to incorporate party members who do not belong to the company.[7]
Different models of party building are usually developed by the same company. For example, a work committee in the international arm of Yunnan Energy Investment Group (云南能投, Yunnan neng tou), a provincial SOE operating in Southeast Asia, has 56 party members across six branches: two at the headquarters in Kunming, and one each in Beijing, Hong Kong, Laos, and Myanmar. While targeting countries as different as Singapore, Nepal, and Indonesia—the latter with traumatic memories of Chinese influence in the 1960s— for party building, the company developed a "Country-by-Country Manual for Extraterritorial Party Building," realizing that one size does not fit all.[8]
Competing Hierarchies
Overseas party organs in companies find themselves under competing authorities. In theory, China's diplomatic missions carry responsibility for operations in their jurisdiction. Yet as state agencies, embassies have no formal authority over party organs—even the party cell within the embassy typically has no command over party branches in the embassy's jurisdiction. Nevertheless, the Foreign Ministry creatively seeks influence over party cells: for example, in 2018 a delegation from the Foreign Ministry's Department of North American and Oceanian Affairs visited the SOE China Harbor Engineering for an exchange on overseas party building in politically difficult settings. Those with sway over overseas party organs within China Harbor Engineering participated, including leaders of the party committee (who are the overseas organs' superiors) and the workforce from the Division for the Relations Between the Party and the General Public (党群工作部, dang qun gongzuo bu), who interact with the overseas party organs on a regular basis (China Harbor Engineering, March 22, 2018). The formal hierarchies ultimately continue up beyond the company to the PRC State Council State-owned Assets Supervision and Administration Commission (SASAC), but SASAC largely delegates companies to handle overseas party building initiatives, presumably because of limited bandwidth.

Competition for control over party cells has also included a digital element. To keep close tabs on party cells in Chinese businesses throughout Morocco, the PRC embassy in Rabat advances digital innovation in the form of a cloud-based party-building app. Launched in 2018, the multi-function platform broadcasts information to party members in dozens of Morocco-based work units, provides bottom-up reporting channels and facilitates consular services (Xinhua, July 2, 2018). Installed as an application on the mobile phones of CCP members, the party maintains a real-time connection to its rank and file. Based on analysis of similar apps, one would expect the back end of this app to provide visualizations of the party members' movements on a map (see above).[9] Thus the embassy not only builds a reputation of diligently following Xi Jinping's call for innovative party-building, but also gains a foothold in Chinese companies based in Morocco. Paralleling such embassy initiatives, in 2019 SASAC worked with the developer of the Morocco party-building app to buy a program allowing real-time access to information about SOE party members, meeting information and communication (Rxianfeng.com, accessed June 11). Taking the perspective of employees on the ground, these competing digital initiatives by the embassy and by SASAC result in a more detailed and robust party-state presence in workplaces. Not so long before, the party's relationship with its members abroad could have been better described by the common saying "heaven is high and the emperor is far away."
Public Relations
Depending on the permissiveness of local authorities, the CCP pushes the envelope more in some countries than in others, including when it comes to questions of publicity. Party building is carried out in the open in some countries but concealed in others. Tactics range from covert underground organizing to selective advertising of overseas party building activities. Contrasting with secretive approaches in OECD countries, activities on the African continent tend to be more public.[10] For example, the party cell of a Sino-Africa Joint Research Center in Kenya invited a senior propaganda official for a joint event with party officials of Kenya's ruling Jubilee Party in early 2018. In attendance were party official representing local chapters from throughout the country (Sinafrica.cas.cn, January 30, 2018). The primary goal of making party building activities public may be to normalize the presence of the CCP, although the event with the Jubilee Party could also indicate a vision to advertise the party's grassroots activities as part of the China model, to be emulated by Africa's governing parties.
The rhetoric on overseas party building consistently emphasizes activity in countries along the Belt and Road Initiative (BRI).[11] But this by no means implies that party building is limited to BRI countries. Companies engage in party building around the globe, pursuing the goal of full coverage (全覆盖, quan fugai), so that all party members living abroad are affiliated with overseas CCP organs. In practice, companies set up cells in all countries where they have enough party members to do so and otherwise create regional party cells. The Aviation Industry Corporation of China (AVIC) has 200 party members in 50 countries covered by 15 party cells, including national ones in the UAE and Zambia as well as continental ones for the rest of Africa and for Europe (Cannews.com.cn, January 2, 2018). Companies involved in the BRI in general face greater scrutiny from the party-state. The BRI could also reinforce the party's message to its members: that their presence abroad serves a higher cause. Party members find new meaning in their work, learning to think of it as a contribution to a national project. After joining party members around the world to simultaneously watch the opening of the 19th Party Congress at 4 AM local time in Egypt, one party member at AVIC proclaimed: "Work overseas is part of the BRI and the great national rejuvenation — missions entrusted to us by the country" (Cannews.com.cn, January 2, 2018). The BRI thus helps to instill in party members the ethos of combat in the service of a grand vision, which traditionally has been central to Leninist organizing.
Conclusion
It is too early to tell whether overseas party cells will be an effective tool to grow the PRC's global influence, to give Chinese firms an additional competitive advantage, or to deal with international challenges to the party's authority. One does not have to agree with the sociologist Philip Selznick's claim, made half a century ago, that Leninist party networks amount to a potent organizational weapon. Still, the increasingly international presence of a political organization that has cut its teeth in the Chinese revolution and mastered considerable crises at home invites curiosity. The party certainly deploys considerable resources to build a tight global network, characterized by purposeful complexity, nimble adaptability, and innovation driven by stiff competition. It is quite a spectacle to see Leninist structures from early 20th century Russia perform a formidable comeback in the 21st century, as the CCP becomes a complex and global organism adroitly incorporating new technologies into tried and tested practices.
Daniel Koss is a research scholar and lecturer at Harvard's Department of East Asian Languages and Civilizations. He works on political parties and their history, with regional expertise in East Asia. His first book was published in 2018 and is entitled Where the Party Rules: The Rank and File of China's Communist State.
Notes
[1] Xu Zhimin (徐志民), "On the CCP Tokyo Branch (中共东京支部考论)," in Chinese Social Science [中国社会科学], vol. 5, May 2019, 186-203, https://www.cssn.cn/index/index_focus/202008/t20200827_5174977.shtml.
[2] Daniel Koss, "Party-Building as Institutional Bricolage: Asserting Authority at the Business Frontier," China Quarterly (forthcoming).
[3] The term made its first appearance in People's Daily on 22 October 2009 (p.8), but was not used again until June 12, 2017, in an article about party building by the Bank of Communications (People's Daily Online, June 12, 2017).
[4] Bethany Allen-Ebrahimian, "The Chinese Communist Party Is Setting Up Cells at Universities Across America," Foreign Policy, April 18, 2018, https://foreignpolicy.com/2018/04/18/the-chinese-communist-party-is-setting-up-cells-at-universities-across-america-china-students-beijing-surveillance/. 
[5] Xiong Yuwei (熊玉位), "On Party Building by the Overseas Project Departments of National SOEs, (央企海外项目部党建工作研究与思考)", Dangjian Gongzuo, vol. 10, 2020, pp.40-42.
[6] Chen Liexiong (陈烈雄), "Strengthening Party Building in Overseas Projects: Need and Method (加强海外项目党建的需要性和途径)," Shijie Youse shu, vol. 10, 2012, pp.33-34.
[7] Liang Tao (梁涛), "The Angola model for extraterritorial party building by SOEs (国有企业境外党建的安哥拉模式)", Qiye Dangjian 2020/11, pp.100-101.
[8] Yunnan Provincial Energy Investment, https://www.cnyeig.com/gggs/201901/t20190126_43631.html, accessed May 2021.
[9] Tianjin Tianfang Technology (company), https://www.dangjianwang.com, accessed May 2021.
[10] Zheng Xuexuan (郑学选), "Reinforcing party building in SOEs under deepening reform (全面深化改革背景下加强国有企业党的建设研究)," PhD diss., Wuhan University, p.132. The author does not specify which countries need secrecy, only the continents where party building can be carried out in the open.
[11] For more on party building and the BRI, see: Yang Yu (杨彧), "Overseas Party Building—the Motivation for Building 'One Belt One Road,' (海外党建—'一带一路'建设的强大动力)" People's Daily Online, August 25, 2016, https://dangjian.people.com.cn/n1/2016/0825/c117092-28666127.html.