Growing Frustration in Moscow at Trump's Inability to Deliver US-Russia Rapprochement
Publication: Eurasia Daily Monitor Volume: 15 Issue: 164
By: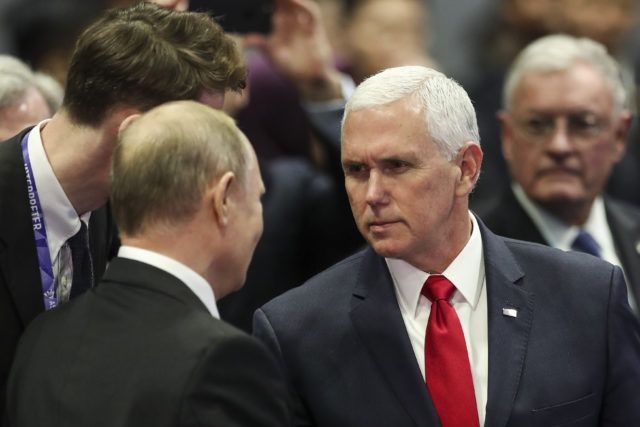 Presidents Donald Trump and Vladimir Putin had a brief encounter in Paris (a handshake and a short collective chat during lunch with other world leaders) on November 11, 2018, during the commemoration of the 100th anniversary of Armistice Day that ended World War One. The encounter was apparently friendly, and overall both leaders seem to still have good personal rapport with one another. But relations between the United States and Russia are not improving at all, and frustration in Moscow over this fact is growing. Both Moscow and Washington have announced that the next planned Trump-Putin summit has been rescheduled from Paris to Buenos Aires, to happen on the sidelines of the G20 summit in Argentina, on November 30–December 1, 2018. But this arrangement is not ironclad, and both sides are reportedly still working out the agenda and logistics of the coming summit. The Kremlin spokesperson, Dmitry Peskov, has complained, "There are difficulties ironing out the details, and the American position is constantly shifting." According to Argentinean sources, continued Peskov, Trump is planning to limit his attendance at the G20 in Buenos Aires to only one day, and it is not clear how a full-scale summit with Putin may be fitted in (TASS, November 11).
Serious problems are constantly building up in US-Russian relations, while the postponement of a Trump-Putin summit is further eroding mutual trust and is simply exasperating, according to Peskov. Differences fester over the 1987 Intermediate-Range Nuclear Forces (INF) Treaty and what to do after Trump announced the US intent to withdraw from the Cold War–era arms control agreement. Moreover, further punitive US sanctions loom, in accordance with the 1991 US Chemical and Biological Weapons Control and Warfare Elimination Act (see EDM, November 8). The Trump administration has accused Russia of violating the Act by poisoning, in Salisbury, England, on March 4, a former Russian double agent and military intelligence GRU colonel, Sergei Skripal, and his daughter Yulia by a nerve agent known as Novichok, which later also killed a British woman. A package of preliminary sanctions was enacted under the Act in August 2018, and a second "draconian" wave of is pending as the State Department has notified Congress of Russian noncompliance. The Kremlin is denying any wrongdoing and is predicting a further worsening of relations if new sanctions, which it deems illegal, are imposed (Interfax, November 14).
In November 2016, after Trump won the presidential election, Russian elites uncorked champagne bottles in celebration (see EDM, November 10, 2016). The future of US-Russian relations was seen as rosy, but the realty turned out to be quite frustrating for the Kremlin. Both Trump and Putin are seen in Moscow as ideologically close: self-proclaimed nationalists, putting the interests of their respective nations "first" while rebuking ideological quests to promote democratic change abroad. The two men could probably have found common ground on avoiding collisions of interests, say in Ukraine or Syria. The belief that Trump and Putin could strike a grand deal is still alive in Moscow, despite all the disappointment and frustration of the past two years since the 2016 US election (Kommersant, November 13).
On November 15, at the East Asia Summit, in Singapore, Putin had an encounter with US Vice President Michael Pence and National Security Advisor John Bolton (they sat next to each other and chatted briefly). Later Putin told Russian journalists the talks with Pence were a rehearsal of the possible topics of future talks with Trump in Buenos Aires at the G20: strategic stability, the future of the New START arms control treaty, which expires in 2021, the INF, Iran, North Korea and Syria, where US and Russian forces are fighting parallel military campaigns in dangerous proximity to each other. Mutual economic ties and sanctions were also discussed. According to Putin, "We are ready to fully restore a working relationship and dialogue with the US on the political and expert level inasmuch as Washington is ready" (Kremlin.ru, November 15).
During the Armistice Day celebrations and later, while speaking aboard France's only nuclear-powered aircraft carrier, the Charles de Gaulle, French President Emmanuel Macron warned that Europeans must create a "true European army" to protect themselves. According to Macron, the US is a "historical ally, but we must not be vassals." Chancellor Angela Merkel supported the proposal, while Trump denounced it on Twitter, implying the US gained nothing of value in return for spending hundreds of billions of dollars on helping its allies (Vesti.ru, November 15).
Macron's call for a "European army" was much reported by Russian state-controlled TV, and Putin unequivocally endorsed the idea: "This is good—it will strengthen the multipolar world order." Putin recalled that the "European army" project was described to him previously by former French president Jacques Chirac (in power from 1995 to 2007) and that Macron has "reanimated the idea." Though Macron implied the "European army" would be needed to defend against possible Russian encroachments, Putin seemed happy: "Our position [on the European army] coincides with the French" (Militarynews.ru, November 11).
A European corps (or "Eurocorps") involving some ten European countries was established in the 1990s, based on the Franco-German brigade together with an international staff. Other member-countries have pledged contingents; but the Eurocorps or the Franco-German brigade were never deployed for any action as separate units. Canada, Austria and Finland have left the Eurocorps over the years. The French and German contingents of the joint brigade are mostly deployed on their national territories and incorporated into the French 1st Armored division and the German 10th Panzer division, respectively. Still this "European army" prototype is seen as basically a good idea in Russia, where it is hoped it could develop and expand into a new military bloc that could possibly undermine transatlantic links Trump has already strained (Militarynews.ru, November 13). A security arrangement in which the US is "out" (of Europe) while Russia is "in" (Europe) as a close partner of Germany, the latter of which would increase ("up") its role, is a future Moscow would clearly want to see and help build.