Growing PLA Transparency as a Means of Employing Soft Power Part 2: PLA External Signaling since the 18th Party Congress
Publication: China Brief Volume: 16 Issue: 12
By: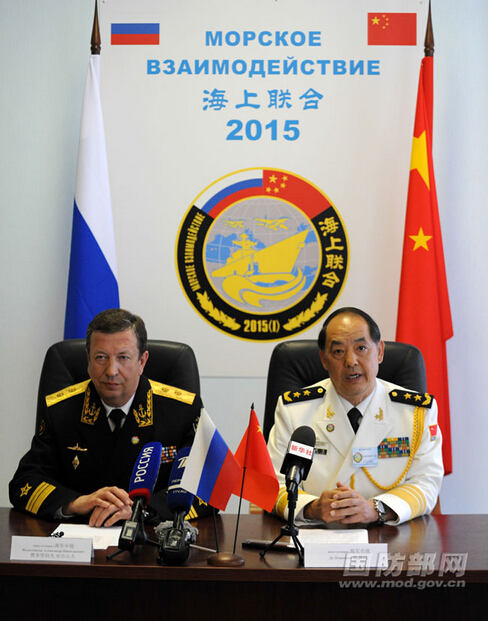 This article, the second of a two-part series, examines the PLA's use of soft power for external signaling. The first article, available, here examines Chinese military soft power as part of internal signaling.
As noted in part one of this series, China has made major improvements in its military transparency. Though much of it is focused on a domestic audience, the increasingly number of English-language materials and programs, such China Armed Forces magazine—not to mention China Daily and English editions of the Ministry of Defense's website, CCTV, and the Global Times all highlight PLA activities as a matter of course. Specifically, one of the common PLA themes since the 18th Party Congress in November 2012, concerning transparency is that the PLA is becoming more open and confident as a result of engaging in more combined arms, joint, and combined exercises. [1] Highlighting the Chinese military's progress, and even its shortcomings, have important roles in both helping the PLA improve and as a deterrent to potential enemies.
Zhang Junshe, a researcher at the Naval Military Academic Research Institute, reflecting on 2014's accomplishments noted that all of the training and exercises that year allowed the PLA to make remarkable achievements, while also exposing some weaknesses in operational command and information technology application. He also noted that improvements were needed in strategic delivery, rapid reaction and joint operations. According to Hou Xiaohe, an associate professor with the PLA's National Defense University, all of the drills and exercises address problems that could be resolved in order to be able to fight real battles (China Military Online, December 17, 2014).
Combined Training, Meetings, and Agreements with Foreign Militaries
Since the 18th Party Congress, the PLA has been actively involved in bilateral and multilateral combined training with foreign militaries, including Russia and the United States. [2] Russian and Chinese forces held the "Maritime Joint Exercise 2013" (海山联合2013) in the waters and airspace near the Peter the Great Gulf from July 5–12, 2013. Meanwhile, their forces held the "Peace Mission-2013" (和平使命2013) combined anti-terrorism exercise in Russia's Chelyabinsk Region from July 27 to August 15, 2013. Subsequent exercises the following years, the mechanized combined "Peace Mission-2014" exercise with the Shanghai Cooperation Organization in August 2014 and "Maritime Cooperation-2014" [Joint Maritime-2014] exercise, yielded new breakthroughs with notable progress in coordination and real-combat capacity. 2014 also saw the PLA Army (PLAA) and PLAAF compete in separate international competitions (Tank Biathlon-2014, Aviadarts-2014) in Russia in July and August 2014, respectively, which was the first time that the PLA had ever competed in an international competition. China has continued to attend these events in 2016 (Reference News, July 16; China Air Force Online, July 26).
Military exercises have also formed an important part of building trust between the U.S. and Chinese militaries. There was a breakthrough in China-U.S. practical cooperation at the 9th seminar on Humanitarian Assistance/ Disaster Relief (HA/DR) drill held from November 10–20, 2013 in Hawaii. Although the PLAN attended the biennial Rim of the Pacific (RIMPAC) exercise as an observer in 1998, it was a full participant in the 24th exercise in June to August 2014 for the first time, "an important step toward building the new-type major-country relationship and military relationship between China and the United States. It will play a positive role in pushing China's friendly cooperation with the U.S. and other Asian-Pacific countries and enhancing the PLAN's capability to carry out diversified military tasks." The Chinese and American presidents jointly announced on November 12, 2014 that the two sides had signed Memorandum of Understandings (MOUs) establishing "two mutual trust mechanisms," namely the mutual reporting and trust mechanism on major military operations and the code of safe conduct on naval and air military encounters between the two sides.
The Chinese military has also taken a more active role in international search operations, including the PLAN and PLAAF's unprecedented efforts to search for the missing Malaysia Airlines MH370 passenger plane beginning in March 2014. China also assisted Vietnam's search for missing military aircraft in the South China Sea (Sina, June 20).
The PLA also appears to have seized on the importance of international for a as a method of presenting its ideas. In November 2014, the 5th biennial Xiangshan Forum was held in Beijing. Compared with the previous four forums, 2014's Xiangshan Forum was upgraded from a track-2 unofficial event for exchanges to a track-1.5 high-level security and defense forum integrating both official and unofficial features. It was the first time that the PLA organized such a high-level multilateral security dialogue. Notably, there are indications that China made this move to compete with the annual Shangri-la Dialogue in Singapore, which itself has featured important speeches by senior PLA figures in recent years.
Additionally, two in high-profile events, China showcased its military at home and abroad during the September 3, and May 9, 2015, parades in Beijing and Moscow celebrating the 70th anniversary of end of World War II.
Joint and Combined Arms PLA Exercises and Training
Besides combined training, the PLA has been expanding its joint (e.g., two or more services) and combined arms (e.g., two or more branches within the same service) training under actual-combat conditions. During 2014, the PLA conducted numerous exercises and training events under actual-combat conditions, including an exercise that was held at the Zhurihe training base in Inner Mongolia during May to June and was observed by foreign military attaches. In 2015, the entire military expanded the development of actual-combat strategic and campaign training, including joint and combined arms training, night training, training in a complex electromagnetic environment (CEME) and difficult terrain and weather conditions, as well as combined training with foreign militaries.
PLA Navy Activities
Since the 18th Party Congress, the PLAN has been at the forefront of showing the flag overseas, to include combined exercises, Peace Ark hospital ship visits, round-the-world voyages linked with escort task force missions in the Gulf of Aden, evacuation of Chinese and other citizens from Yemen, and hosting the Western Pacific Naval Symposium (WPNS). PLAN "Maneuver-5" (机动-5号) open-sea combat exercise involving all three fleets in the Western Pacific from October 18 to November 1, 2013. Ironically, although not a bilateral or multilateral combined exercise, this was identified as a military diplomacy event. The Peace Ark hospital ship (和平方舟号医院船) provided post-typhoon humanitarian medical aid to the Philippines from November 21 to December 15, 2013. From June 17–20, 2013, the Peace Ark and 110 personnel participated in a joint disaster relief and military medical science exercise in Brunei under the mechanism of the ASEAN Defense Ministers' Plus (ADDM-Plus).
During a voyage through the Western Pacific from September 3 to December 11, 2013, three PLAN South Sea Fleet (SSF) vessels (Lanzhou guided missile destroyer, Liuzhou guided missile frigate, and Poyanghu comprehensive supply ship) passed through the Strait of Magellan for the first time and visited Chile, Argentina, and Brazil. [1] They then passed back through the Strait on their way home. Following the commissioning of the Liaoning aircraft carrier into the fleet in 2012, the PLAN established the first flight group (航空兵部队) in May 2013. In April 2014, the PLAN hosted the 14th biennial WPNS for the first time, which was joined by more than 150 naval leaders and representatives from 25 countries. To help celebrate the 50th anniversary of establishing diplomatic relations with several African countries, three vessels from the PLAN's 13th Gulf of Aden escort task force sailed all the way around Africa from September to December 2014 for the first time and visited eight countries. During March 2015, the PLAN evacuated 613 Chinese plus 279 foreign nationals from 15 countries out of Yemen thus emphasizing the PLA's ability to respond to emergencies abroad.
PLA Air Force Activities in the East China Sea ADIZ
Aircraft of the PLA Air Force also continue to play an important role in highlighting growing Chinese strength. The PLAAF sent seven J-10s from the August 1st (Bayi) Aerobatics Team to the PLAAF's first airshow abroad in Russia on August 21, 2013. On November 23, 2013, China established an ADIZ in the East China Sea. Besides being involved in search efforts for the Malaysian airliner, it has also been actively involved in implementing the Air Defense Identification Zone (ADIZ) established in the East China Sea in November 2013. On November 27, 2015, PLA Air Force H-6K bombers and other aircraft flew through the Miyako Channel past the first island chain into the Western Pacific for the fourth time to conduct training. It also sent multiple fighters, bombers, and airborne early warning aircraft to conduct patrols in the East China Sea ADIZ. Together, these activities have increased the PLAAF's far seas deployment and combat capabilities (Xinhua, November 28, 2015).
United Nations Peacekeeping
Although the PLA first became involved in United Nations Peacekeeping Operations (UNPKO) in 1990, it has gradually expanded its participation over the past three years, including dealing with the Ebola outbreak and deploying its first infantry units. Since the 1990s, China's UNPKO participants included engineering, transportation, medical support, and police (警察) units. In December 2013, China sent its first peacekeeping task force to the Republic of Mali, which included the first small group of PLA security forces (警卫/安全部队) consisting of infantry troops. In September 2014, the PLA assigned troops to aid West Africa in fighting Ebola for the first time. It successively assigned about 300 people in multiple medical teams to Sierra Leone and Liberia, areas in West Africa that are seriously hit by Ebola, since mid-September. In April 2015, China deployed its first PLA Army infantry battalion to a UNPKO in South Sudan, whose mission was to protect China's own non-combat troops. Both groups have subsequently taken casualties due to terrorist attacks and domestic unrest (SOURCE).
Understanding Chinese Exercises
After reviewing Chinese military exercises, one of the key questions, remaining is how much has the PLA shaped the view of itself in the international arena and to what affect? The simple answer is that PLA writings about itself have clearly affected how the foreign press views it, whether positive or negative. One of the problems, however, is that very few articles provide a comparison of the PLA and the U.S. military in terms of international relations. Because most U.S. military relations activities are "normal," they do not receive as much press as when the PLA does something for the first time. For example, from 2002 through 2012, the PLA held 28 combined exercises and 34 combined training sessions with 31 countries in accordance with relevant agreements or arrangements (MOD, April 16, 2013). However, this pales in comparison with the U.S. Pacific Command that participates in more than 1,500 exercises and other engagement activities with foreign military forces each year, and the U.S. Navy component is involved in 700 training events and 170 exercises each year in the Asia-Pacific region (China Brief, May 1, 2015). In 2015 alone, Pacific Fleet ships sailed about 700 combined days in the South China Sea (Navy Times, March 3).
What does draw attention to individual U.S. and Chinese military activities, however, are certain single events. For example, in May 2015, PLAAF H-6 bombers flew their first ever mission in the Western Pacific after transiting the Bashi Channel (CRI, January 4). It then flew three additional missions during 2015 through the Miyako Strait and Bashi Channel. On the U.S. side, much press attention was given to freedom of navigation operation (FONOP) missions in the South China Sea by the U.S. Navy destroyer USS Lassen (DDG-82) in October 2015 and by two U.S. Air Force B-52 bombers in November (The Diplomat, January 6; The Diplomat, November 13, 2015).
Conclusion
As Chinese military exercises continue to grow and expand, they deserve to be closely monitored. However, such analyses should keep the exercises purpose and frequency in perspective. China, as with all countries that participate in them, use such exercises to practice real world skills, improve domestic and foreign interoperability and signal resolve.
Kenneth W. Allen is a Senior China Analyst at Defense Group Inc. (DGI). He is a retired U.S. Air Force officer, whose extensive service abroad includes a tour in China as the Assistant Air Attaché. He has written numerous articles on Chinese military affairs. A Chinese linguist, he holds an M.A. in international relations from Boston University.
Notes
1. Joint exercises involved two or more services. Combined arms exercises or drills involve two or more branches.
2. Of note, whereas the international community refers to this as combined training, the PLA refers to it as joint training.
3. Zeng Xingjian and Hong Yihu, "Passing the Strait of Magellan," China Armed Forces, No. 24, Vol. 6, 2013, pp. 80–83. Official Chinese English-language publications, such as the biennial Defense White Paper, refer to the South Sea Fleet as the Nanhai Fleet.