Gulf States Consider Political and Military Union to Counter Iranian Security Threat
Publication: Terrorism Monitor Volume: 10 Issue: 5
By: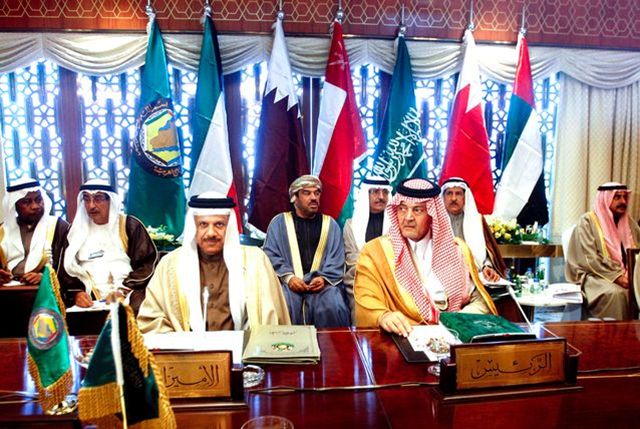 With growing talk of a political confederation of the Arab states of the Gulf Cooperation Council (GCC), Saudi Arabia's Defense Minister, Prince Salman Bin Abdul Aziz, has raised the possibility of transforming the existing Peninsula Shield Force [PSF] into a "unified Gulf army" able to respond to external and domestic security threats. The Saudi prince made it clear that inspiration for this suggestion was the perceived threat from Iran: "Iran is our neighbor, but we draw a line when it comes to intervention in our internal affairs as 'Gulf Cooperation Council' countries. Whenever we feel that anybody is interfering in our internal affairs through internal mercenaries or people from outside, we will resist it appropriately" (Al-Seyassah [Kuwait], March 3; Arab Times, March 3). The PSF, with a permanent base in Saudi Arabia, was successfully deployed in March, 2011 to end violent street protests by Bahrain's Shiite minority (see Terrorism Monitor Brief, March 24, 2011).
The long-strained relations between Iran and Saudi Arabia resemble an updated replica of the U.S.-Soviet Cold War, including the involvement of both nations in geopolitical and economic conflicts, proxy military conflicts and covert intelligence operations. Saudi Arabia and Iran currently leads two ideologically, politically and religiously opposed regional blocs that could at any moment slip into lethal Sunni-Shiite confrontation, one whose impact would be magnified by the membership of both nations in larger competing world camps.
Sunni Saudi Arabia has close and long-standing political and economic ties with the United States and most other Western nations. Shiite Iran has ties with Russia and China despite certain ideological differences. Perhaps the most recent illustration of the on-going regional geopolitical row is Saudi king Abdullah's statement that "unnamed hands" targeting Islam and the Arabs are behind the political turmoil in Sunni-dominated states in the region (Saudi Press Agency [SPA], February 25). Saudi officials have long accused Iran of meddling in the internal affairs of the GCC and other Arab states without actually naming the Islamic Republic. Saudi Arabia has already lost one of its long-standing and staunchest allies in the Middle East, meaning former Egyptian President Hosni Mubarak. The Saudi rulers are now facing two key challenges that might impact the kingdom's near-to-medium term outlook: the so-called "Arab Spring" and Iran's alleged nuclear ambitions.
But Iran is also following with concern the Syrian turmoil and the potential weakness of its key regional ally, President Bashar Al-Assad. The Saudi government, however, fears that if the Syrian turmoil escalates further it might develop into a civil war pitting the majority Sunni population against the ruling Alawite minority. In this scenario both the Syrian regime and Iran may try to destabilize the Saudi regime by empowering the two million strong Saudi Shiite minority. The latter is concentrated mainly in the Eastern Province (al-Sharqiyah), which holds the world's largest oil fields. Claiming institutionalized discrimination by the kingdom's Sunni rulers, the Shiite minority continues to wage sporadic street protests that are gradually turning into deadly clashes with the Saudi security forces. Last month, Saudi Arabia's Interior Ministry vowed to use "an iron fist" to end what it called Shiite violence in the Eastern Province (SPA, February 21; Reuters, February 21). The ministry reiterated claims that "foreign-backed troublemakers [read Iran]" were attacking its security forces and instigating violence. "Some of those few [who attacked security forces] are manipulated by foreign hands because of the kingdom's honourable foreign policy positions towards Arab and Islamic countries" (Kuwait Times, February 21).
The sensitive Eastern Province is of great importance to the Saudi government due to the strategic oil reserves and related infrastructure. On March 1, a report by Iran's state-run Press TV of an explosion on a pipeline in the Eastern Province sent crude oil prices to a four-year high of $126 a barrel. The next day, however, the Saudi Interior Ministry denied the report, saying "there were no acts of sabotage in the kingdom" (Reuters, March 2). The Saudi government suspects that Iran is using the Shiite minority in Saudi Arabia and Bahrain as part of a regional proxy war to improve its negotiation position once the time for a deal involving Iran's nuclear program and the region's geopolitical power balance arrives.
The official U.S. position advocating a peaceful and negotiated solution to the Iranian nuclear issue may limit the force of Saudi rhetoric targeting its Iranian rival, but this does not mean that Saudi Arabia won't develop its own "peaceful" nuclear program (see Terrorism Monitor, February 23). Saudi Arabia plans to build 16 nuclear power plants by 2030 worth $100 billion in a bid to generate at least 20% of its electricity needs from nuclear energy. By 2021, Saudi Arabia is scheduled to have two nuclear reactors up and running. Two plants will then come on stream annually through 2030, each costing $7 billion. In December, 2011 Prince Turki al-Faisal, a former Saudi intelligence chief and ambassador to the United States, said that his country might seek to acquire nuclear weapons to help counterbalance regional rivals Israel and Iran (AFP, December 5, 2011). Saudi Arabia has failed to convince Israel to abandon its nuclear weapons and now that Iran may be seeking to possess a nuclear bomb, the kingdom has to protect its people through all possible options, noted Faisal.
Developing its own nuclear power program is not Saudi Arabia's sole move to counter Iran's growing power in the region. In December, 2011 Saudi King Abdullah called on leaders of the GCC states to consolidate their alliance into a united "single entity" in order to confront what he called threats to national security. "No doubt, you all know we are targeted in our security and stability," said Abdullah at the opening session of a GCC meeting in Riyadh (SPA, December 20; Arab News, December 20). More recently, the GCC called on Iran to cease its "hostile" policies and interference in the affairs of the Gulf States (Bahrain News Agency, March 4; Gulf Daily News, March 5). Jordan and Morocco have also asked to join Saudi Arabia, Kuwait, Bahrain, Qatar, Oman and the United Arab Emirates in the six-nation GCC. Such a potentially large alliance of Sunni Monarchies falls within Saudi Arabia's medium-term aim of creating a unified regional front against Iran.
Iranian rhetoric promising "not a single drop of oil will pass through the Hormuz Strait" is part of the regional geopolitical row and related bickering about Iran's nuclear power program (Iran State News Agency, December 27, 2011). The question is whether Iran can close the strategic maritime route through which nearly 17 million barrels of oil per day transited in 2011. The answer is not that simple; Iran has likely drafted various case scenarios to deal with a potential Israeli attack on its nuclear sites. From using conventional war methods to small but highly effective suicide speed-boats, Iran could certainly succeed in blocking all kinds of navigation through the Hormuz Strait for at least several days. In the meantime, Iranian missiles would likely hit strategic oil infrastructure in the UAE and Saudi Arabia. Such an apocalyptic scenario would most likely prompt the U.S. Fifth Fleet to intervene to re-open the Hormuz Strait. The mere thought of this scenario would send crude oil prices soaring, based on the spike in prices that resulted from fear of even a temporary closure during Iranian war games in January. Mounting threats to the regional political and religious status quo from "Arab Spring" resistance movements and Iran's aggressive nuclear program will continue to fuel moves towards greater political and military unity in the GCC states.
Elie Issa is a Lebanese analyst focusing on the Middle East and North Africa regions for the past eight years. His interests include geopolitical, security and macroeconomic topics.