His Master's Voice: Lavrov Tours Latin America
Publication: Eurasia Daily Monitor Volume: 12 Issue: 65
By: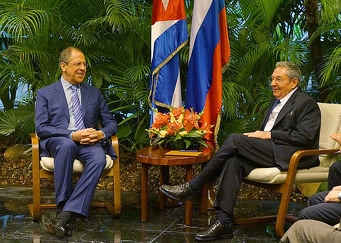 Russian Foreign Minister Sergei Lavrov's recent tour of Latin America aimed to build on Moscow's previous successes among pro-Russian regimes there—Cuba, Nicaragua, Venezuela—as well as to establish stronger ties with pro-US countries like Colombia. But beyond bilateral relations, Lavrov also endeavored to enhance Russia' standing in Western Hemisphere organizations as an equal pole to the United States. Thus, the Russian foreign minister traveled to Guatemala, normally a state of marginal importance to Moscow. He attended a conference of foreign ministers of the Central American Integration System (SICA) to obtain the status of an extra-regional observer, a move in concert with earlier Russian efforts to insinuate itself into the memberships of other continental Latin American organizations. This tactic promises Russia increased regional standing but also may open up a vehicle for obtaining international recognition of the Eurasian Economic Union, President Vladimir Putin's major foreign policy initiative, which aims to recreate a new version of the Russian empire (Politkom.ru, March 27).
Apart from attending the SICA ministerial, Lavrov held meetings in Cuba, Colombia and Nicaragua. Nowhere did he miss an opportunity to criticize the United States for maintaining its earlier sanctions on Cuba or to attack the more recent imposition of sanctions on Venezuela (Ministry of Foreign Affairs of the Russian Federation, March 26; Interfax, March 25). Lavrov reiterated Moscow's view that Cuban-US talks on ending the blockade and resuming relations was to be welcomed. At the same time, he expressed complete confidence that nothing would break the old ties between Moscow and Havana (Politkom.ru, March 27; Nezavisimaya Gazeta, March 25).
In Colombia, Lavrov publicly appreciated his host country's "measured" position on the situation in Ukraine. Lavrov also welcomed Bogota's role in South American integration efforts, which Moscow presumably supports in an effort to intrude on this intra-regional process (Interfax, March 25). Lavrov even declared that Moscow supported Bogota's efforts to resolve its domestic conflicts—leaving unsaid the fact that up to a decade ago, Russia was actively selling arms to Venezuela and stoking regional and crime-related conflicts to a boiling point (see EDM, February 16, 2005; March 10, 2010; October 28, 2013; Interfax, March 25). Also in Colombia, as in all of his other stops, Lavrov advocated increased trade and bilateral economic deals in energy, pharmaceuticals and infrastructure projects (Interfax, March 25). Undoubtedly, Latin American states are seeking to expand their trade with Russia, especially as Russian boycotts of European foods have allowed the countries of the Western Hemisphere to expand their trade with Russia during 2014–2015 (Government of Guatemala, March 26; Ministry of Foreign Relations of the Republic of El Salvador, March 26); Interfax, March 27).
However, developing trade links and enhancing Russia's regional profile were not the only purposes of Lavrov's visit—although these certainly have served as the basis upon which Russia has steadily built momentum to augment its status in Latin America. On March 22, Alexei Pushkov, the head of the Duma's (lower house of the Russian parliament) Committee on Foreign Relations, tweeted that Crimea is much more deservedly a part of Russia than the Falkland Islands are part of the United Kingdom. Immediately this inflamed the UK government, which promptly warned against Russian rearming of Argentina (Thetrumpet.com, March 26). Since Putin, in 2014, openly supported Buenos Aires against London, it is clear that Pushkov's message was a signal to Latin America and Argentina, as well as an implied threat to the UK (Merco Press, March 26, 2014).
But even more telling was Lavrov's visit to Nicaragua. From the increase of ties between Nicaragua and Russia over the past several years, it seems clear that this Central American state is replacing Venezuela—which has descended into near-chaos under the presidency of Nicolas Maduro—as Russia's mainstay on the Latin American mainland. Lavrov made it crystal clear that Russia and Nicaragua share a similar orientation on many outstanding issues of world politics, as well as a common anti-US orientation. He thanked the Nicaraguan government for supporting the deepening of ties between Russia and other Latin American countries and regional integration associations, including SICA and the Community of Latin American and Caribbean States (CELAC). Moreover, the Russian foreign minister highlighted the growing forms of economic and police cooperation between the two states (Ministry of Foreign Affairs of the Russian Federation, March 27). Lastly, Lavrov discussed new arms sales to Nicaragua. The Nicaraguan army chief confirmed that his country is seeking fighter jets and naval craft in order to detect violations of Nicaragua's air space (La Prensa.com.ni, March 25).
During the course of his trip, Lavrov built on all the key points of previous Russian forays into Latin America: anti-Americanism, expanded trade and commercial ties (mainly, but certainly not exclusively, in energy), Russian interest in joining or obtaining observer status at any and all Latin American integration associations, as well as arms sales. It should be clear that Russia believes it has won at least a beachhead (in diplomatic terms) in Latin America. Henceforth, Moscow will likely not desist from trying to expand its status, presence, and political influence in Latin America for its own sake as well as to reduce US leverage there and incite areas of friction wherever possible—as in the case of the Falkland Islands. Thus, in all these respects, Lavrov echoed Putin's and Dmitry Medvedev's previous policies and continues to trumpet them throughout the region.