Historic Chinese Flooding Highlights Outstanding Infrastructure Problems
Publication: China Brief Volume: 21 Issue: 15
By: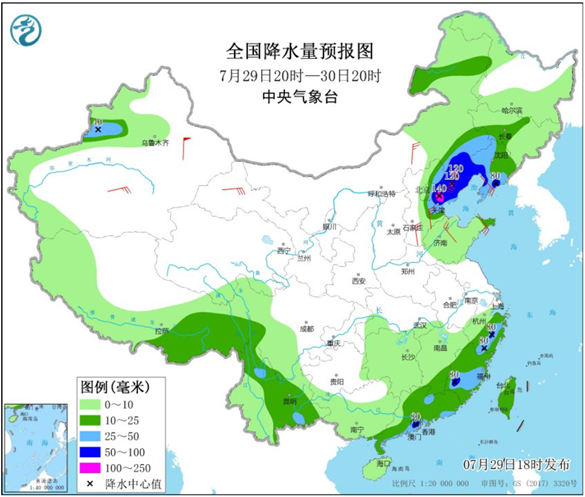 Beginning on July 18, Henan Province saw record levels of flooding that state officials described as a "once in 5,000 year event," (PRC Ministry of Water Resources, July 21). Road tunnels and subways flooded in the provincial capital of Zhengzhou (郑州), which also experienced Internet, power and water shortages as well as disruptions to air and rail transit links. Smaller cities such as Weihui (卫辉), Xinxiang (新乡), Hebi (鹤壁) and Anyang (安阳) also faced historic mudslides and flooding (Yicai, July 26). The heavy rains followed flooding in central and southern China during June and early July that displaced thousands (South China Morning Post, July 11; PRC Ministry of Emergency Management, July 12). Chinese Communist Party (CCP) General Secretary Xi Jinping issued "important instructions" (重要指示, zhongyao zhishi) for flood prevention and disaster relief work on July 21 (Xinhua, July 21), and Premier Li Keqiang hosted a video conference to coordinate flood relief and prevention efforts on July 26 (Gov.cn, July 26).
As Typhoon In-fa (烟花, yanhua) made landfall in China on July 26, the National Development and Reform Commission (NDRC) issued an "Emergency Notice on Strengthening the Safety Protection of Important Urban Infrastructure" ([关于加强城市重要基础设施安全防护工作的紧急通知], Guanyu jiaqiang chengshi zhongyao jichu sheshi Anquan fanghu gongzuo de jinji tongzhi) (Beijing Evening News, July 27). On July 26, the Ministry of Water Resources warned that "the flood control and flood fighting situation is grim" along the Yangtze River as In-fa was anticipated to move south from China's northeast provinces over the weekend, sparking concerns that the heavy rainfall that has now affected 27 of China's 31 provinces could lead to a "black swan" disaster (Mwr.gov.cn, July 26; SupChina, July 27).
On July 29, state media reported that more than 13.9 million people across 150 counties in Henan had been affected. Ninety-nine people were reported killed in the ongoing disaster, with more still missing as of the time of writing. At least 1.47 million people were resettled and the area of affected crops grew to 1.05 million hectares (2.6 million acres). Estimated direct economic losses reached 91 billion RMB ($14 billion) (Chinanews.com, July 29). Experts worried that the historic flooding could affect corn and vegetable harvests (but not grain harvests, which were already completed), as well as impacting pig farming in the heavily agricultural region, although Chinese analysts remained sanguine that consumer prices would remain stable in the long run (South China Morning Post, July 27). Some also raised concerns about the possibility of disease outbreak after the rains killed more than a million animals across 1,678 large scale farms throughout Henan Province (Agriculture.com, July 29).
Response
In what has now become a familiar playbook for disaster response, state propagandists took pains to emphasize the leading role of the CCP and especially Xi Jinping in coordinating flood prevention and relief efforts (People's Daily Online, July 28; China Youth Daily, July 29). David Bandurski of the China Media Project observed that early party-state media coverage of flood response reporting tended to foreground Xi's "important instructions" (重要指示, zhongyao zhishi), and almost entirely sidelined Li Keqiang's "written comments" (批示, pishi), marking a potentially significant break from tradition that underscores Xi's growing centralization of power (China Media Project, July 21).
By July 20, the Central Theater Command had dispatched 3,200 troops, including armed police and militia, to aid in emergency relief efforts across 10 locations throughout Henan Province (Global Times, July 21). As of July 28, a total of 46,000 personnel from the People's Liberation Army and the People's Armed Police had been mobilized, along with 61,000 militia members. An additional 4,000 firefighters and other rescue personnel from 12 provinces had arrived in Henan to assist in disaster relief efforts, along with more than 1,800 personnel from state-owned enterprises such as China Aneng and China Power Construction (Global Times, July 29). The Ministry of Finance announced that it would allocate 3 billion RMB ($464.2 million) from central government funds for recovery and reconstruction efforts (Gov.cn, July 28). Private enterprises—including technology companies such as Alibaba, Tencent, ByteDance and Meituan— also rushed to donate more than 1.5 billion RMB ($232.1 million) to aid disaster relief efforts in Henan (Cppcc.china.com.cn, July 22).
Both foreign and domestic media documented the creative grassroots responses to flooding in Zhengzhou. A Tencent Docs spreadsheet that allowed users to post the locations of those in need of aid went viral and quickly evolved to provide information about emergency shelter locations as well as safety tips and a section where netizens could share encouragements (Tencent, accessed July 29). State media also emphasized the novel use of technology in rescue efforts, in particular noting how emergency pontoon bridges and amphibious rescue vehicles; satellites phones; and drones aided disaster relief efforts. Following power outages in Mihe (米河) town, which was severely affected by flooding, the Wing Loong 2-H (翼龙-2H) emergency relief drone manufactured by the Aviation Industry Corporation of China (AICC) were used to temporarily restore 4G and 5G telecommunications services (Protocol, July 22; Xinhua, July 27).
'Urban Waterlogging'
Discussions in the wake of the week's disasters quickly zeroed in on the growing risks of "urban waterlogging" (城市内涝, chengshi neilao), in which cities with insufficient drainage systems or too much underground construction are particularly susceptible to flood risks (Xinhua, July 1). To combat this, China piloted so-called "sponge cities" (海绵城市, haimian chengshi) that could theoretically absorb more water and ameliorate flood risks. Following the development of a "Zhengzhou Sponge City Special Plan (2017-2030)" ([郑州市海绵城市专项规划 (2017-2030年)], Zhengzhou shi haimian chengshi zhuanxiang guihua) the city aimed to invest 53.4 billion RMB ($8.26 billion) to improve water absorption, storage, purification and release capabilities (RFA, July 26). However, after the heavy rainfall last week, one emergency management expert concluded that in Zhengzhou, "underground spaces not only failed to absorb the excess water, they were also among the biggest sources of casualties and property damage" (Sixth Tone, July 23). Flood prevention smart city projects in Zhengzhou also came under criticism after they failed to work as expected (South China Morning Post, July 28). Investigations found that nationally mandated early warning systems either failed or were outright ignored, leading experts to conclude that sponge city programs absent unified urban management and emergency alert systems cannot adequately address the "waterlogging" problem (Caixin, July 27).  
Threats to Water Infrastructure
The flood damages were not restricted to Henan Province. On July 1, severe rainfall overflowed first the Yongan (永安) Dam and then the downstream Xinfa (新发) Dam in Morin Dawa Daur, Inner Mongolia, causing more than 16,000 people to be evacuated (Mwr.gov.cn, July 19). The dams had last been reinforced in 2016 (Sixth Tone, July 19). Yihetan (伊何滩) Dam in Luoyang, Henan Province was breached on July 20; state media reported that 75 personnel and 15 vehicles from the 83rd Group Army were dispatched to blast the structure and safely divert the water flow (Global Times, July 21). Five hundred officers and soldiers along with 28 vehicles and 9 emergency flood prevention vessels from the Henan People's Armed Police were also dispatched to aid dam reinforcements and rescue efforts near Zhongmou County (中牟县), Henan Province, after a tributary of the Yellow River overflowed on the afternoon of July 20 (Xinhua, July 21).
On July 21, state media reported that the reservoirs at Changzhuang (常庄) and Guojiazui (郭家咀) experienced dangerously high conditions but did not collapse (People's Daily Online, July 21). Notably, Guojiazui sits on the central route of China's massive South-to-North Water Transfer project; while the Ministry of Water Resources reported that the main canal was safe, it added that it had sent warnings to Beijing, Tianjin and Hebei Province, anticipating additional heavy rainfall to come across northeastern, central, southern, and southwestern China (South China Morning Post, July 21; Xinhua, July 21). An embankment along the Weihe river (卫河) in the Haihe (海河) river system collapsed on July 22 and was not repaired until July 26 (Xinhua, July 26). As of July 28, provincial authorities reported that 4 large reservoirs and 27 medium-sized reservoirs had overflowed (Chinanews.com, July 29). In order to protect downstream areas, Henan Province opened 7 out of 9 flood storage and detention areas (蓄滞洪区, xu zhi hong qu), using a strategy that one expert describe as "sacrificing local interests [to] preserve the overall situation" (Yicai, July 26).
Some of these rivers and reservoirs were included in the 150 water conservancy projects due to be improved in the 2020-2022 period with state investments of 1.29 trillion RMB (Xinhua, July 29, 2020). Shen Jixian (申继先), a local water management leader, told reporters that although the regional flood prevention system had been improved in recent years, it had not yet been completed, and thus "the expected standard [of flood prevention] has not yet been reached" (Yicai, July 26). A commentary in the state tabloid Global Times was a little blunter, arguing, "we cannot build super infrastructure for every city to get prepared for a so-called 'once in a thousand years' flood," and that cities should instead focus on improving their preventive response and disaster relief efforts (Global Times, July 21). Much of China's water management infrastructure is more than four decades old, and the Ministry of Water Resources said earlier this year that updated safety assessments had not been completed on nearly a third of the nation's 98,000 flood management reservoirs due to a lack of funding (South China Morning Post, July 19).
Conclusion
Scientists predict that China—and especially its key urban centers—will face growing risks of both summer heatwaves and rainy season floods as climate change continues (Aljazeera, July 14). This year's flooding has already exceeded the damages from 2020's historic rainy season (China Brief, July 29, 2020), and it is likely that it will continue to worsen in the coming days. The widespread disasters exposed major issues in local early warning systems and flood prevention measures, as well as raising concerns about the sustainability of older water conservation projects and new urban infrastructure that were never built to withstand floods "unseen in a millennium." The Zhengzhou tragedy also underscored that costly technological solutions alone are insufficient to solve this and other developmental problems—they must also be coordinated with robust preventative warning and emergency response systems, which are hindered by China's restrictive information controls and top-down system of centralized power.
Research and editing support for this brief was provided by China Brief Program Assistant Anouk Wear. 
Elizabeth Chen is the editor of China Brief. For any comments, queries, or submissions, feel free to reach out to her at: cbeditor@jamestown.org.