The PLA Is Mobilized for Flood Relief in Eastern China
Publication: China Brief Volume: 20 Issue: 13
By: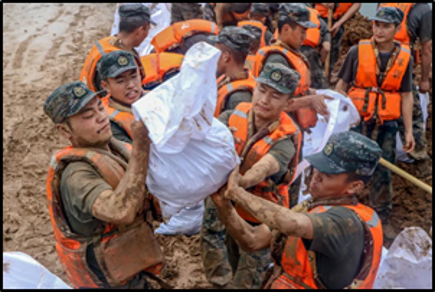 Introduction
Throughout June and July, much of the People's Republic of China (PRC) has experienced heavy rainfall from the annual late spring – early summer East Asian rainy season, a phenomenon sometimes called the "plum rain" (梅雨, meiyu). This year, the rainfall has brought severe flooding to vast areas of the central, eastern, and southern regions of the country—with the worst-affected regions including Jiangxi, Anhui, Hubei, and Hunan Provinces, as well as the municipality of Chongqing. Official PRC sources have cited this as China's worst flooding in more than two decades: per state media coverage on July 17, "Since June, 141 people have died or are missing, 37.89 million have been affected and over 2,246,000 relocated due to floods in 27 provincial-level regions in China, including eastern Anhui and Jiangxi provinces" (CGTN, July 17).
Some of the worst flooding has been seen on the upper reaches of the Yangzi River, in what PRC state media has termed the "Yangzi 2020 Number Two Flood" (长江2020年第2号洪水, Changjiang 2020 Nian Dierhao Hongshui) (Xinhua, July 17). One particularly hard-hit region has been Poyang Lake (鄱阳湖, Poyang Hu) in northern Jiangxi Province. The area of the lake averages approximately 1,385 square miles, although its size varies considerably from year-to-year based on rainfall and other factors; in 2019 the lake's size shrunk considerably due to drought, but this year's heavy rains have brought it to its highest water levels ever (NASA, July 14). Per official PRC figures, "Poyang Lake, the country's largest freshwater lake, saw its water level rise to 22.6 meters at 10 a.m. on [July 13], breaking the 22.52-meter record set in 1998" (CGTN, July 17). As of mid-July, fourteen flood levees in Poyang County had reportedly been breached (Xinhua, July 14).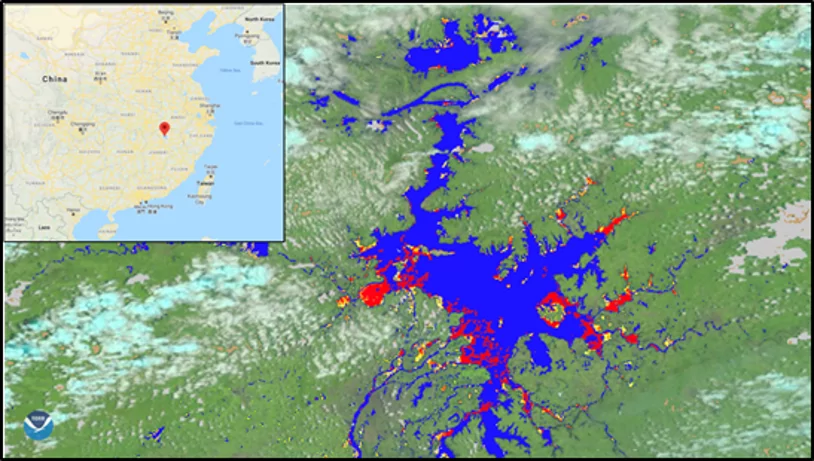 Asserting the Party's Leading Role in Disaster Relief Operations
Throughout the COVID-19 epidemic in Hubei Province, official PRC spokespersons and media outlets have taken great pains to depict the national-level authorities of the Chinese Communist Party (CCP) as directly engaged and concerned for the welfare of China's common citizens—and in particular, to depict the party center as giving firm direction to local officials (China Brief, February 28). Similar messaging has accompanied the flood response effort, such as the reported admonitions made by Wang Yong (王勇), a PRC State Councilor and director of the State Flood Control and Drought Relief Headquarters, that local officials take "strict precautions against dike and reservoir breaches, torrential floods, [and] waterlogging," and that they "properly relocate affected people and promptly allocate relief supplies to ensure basic living standards of people hit by floods" (Xinhua, July 14).
The CCP Politburo Standing Committee reportedly held a meeting on July 17, which was dedicated to the flooding crisis. As has become de rigueur for reporting on Politburo meetings, state media indicated that CCP General Secretary Xi Jinping "chaired the meeting and delivered an important speech" (主持会议并发表重要讲话, zhuchi huiyi bing fabiao zhongyao jianghua). Per this coverage, Xi stated that, since heavy rains and flooding commenced in June, "Under the resolute leadership of the party center [and] party committees at various levels… the People's Liberation Army and People's Armed Police have brought into action shock teams, [and] bravely fought with the unity of cadres and the masses" in providing flood and disaster relief to affected areas (China Youth Daily, July 17).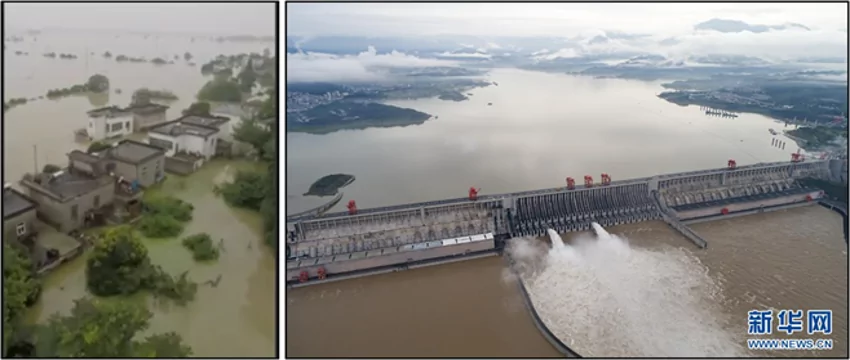 Mobilization of the PLA and PAP for Flood Control Operations
The People's Liberation Army (PLA) has traditionally played a leading role in civil defense and disaster relief operations, in a dual sense: it possesses manpower, logistical, and medical resources unmatched elsewhere in Chinese society, and its role as the "Party's army" also makes it a potent propaganda tool for the CCP amid domestic crisis situations. The PLA was front-and-center in relief efforts for this year's COVID-19 epidemic in Hubei Province, where it played major roles in providing augmentation medical personnel and logistical support to civilian hospitals, as well as staffing new medical facilities rapidly constructed for coronavirus patients (China Brief, April 13).
The response to this summer's floods have been no exception. As of July 15, state media indicated that 29,000 troops from the PLA and the People's Armed Police (PAP), as well as 5,000 militia personnel, had been dispatched to "fight on the anti-flooding front lines" by reinforcing dikes, plugging levee breaches, and providing medical services. PLA Ground Force components under the Eastern Theater Command (东部战区, Dongbu Zhanqu) have had a particularly prominent role in these efforts, with the 71st, 72nd, and 73rd PLA Group Armies all receiving specific mention in state media coverage. For example, in mid-July the PLA Daily stated that:
A certain brigade of the 71st Group Army quickly assembled more than 1000 officers and men, and by motorized transport hurried to Anqing [安庆] City to throw themselves into relief operations. After receiving the mission, a certain brigade of the 73rd Group Army promptly activated its emergency plan, dispatching 3,700 officers and men hundreds of kilometers across provincial boundaries at top speed, rushing to the rescue of the Yugan [余干] region of Jiangxi. The Wuxi [无锡] Joint Logistics Center transferred 160 personnel from the Eastern Theater General Hospital, the Number 901 Hospital, and the Number 908 Hospital… sending them to Jiangxi and Anhui to join rescue and relief work (Peng Pai News, July 15).
Such statements also hint at one of the less obvious advantages that such deployments hold for the PLA:  the improvement of its own logistical and mobilization capabilities to function in wartime environments. Improving transport and logistical capabilities across longer distances has become a focus of many recent PLA exercises, on both land and sea (China Brief, January 29; China Brief, April 13). Furthermore, the recent COVID-19 relief effort in Hubei Province provided the PLA with the opportunity to demonstrate previously untested logistical capabilities, such as the use of newer-model PLA Air Force heavy transport aircraft for the rapid movement of personnel and supplies (China Brief, April 13). Many of the skill sets needed for peacetime disaster relief overlap with those needed for logistical and civil defense operations in wartime.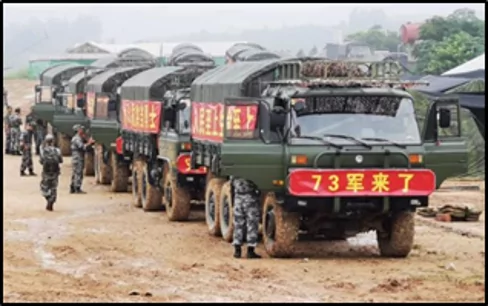 Conclusion
Response to natural disasters has long been a focus of the senior leadership of the Chinese Communist Party (CCP)—and particularly in the era of CCP General Secretary Xi Jinping, active efforts have been made to leverage the propaganda value of disaster relief to build both the party's image and the cult of personality around Xi. The image of Xi and some other CCP senior officials may have taken a hit during the course of the COVID-19 epidemic (China Brief, February 13), but the flooding response effort has offered another opportunity for the CCP to seize proactive control of the narratives surrounding the state response to natural disasters. The PLA, as the armed branch of the CCP, may be expected to continue its vanguard role in disaster relief operations—both in terms of presence on the ground, as well as its propaganda value for the CCP in demonstrating the "unity of cadres and the masses."
John Dotson is the editor of China Brief. For any comments, queries, or submissions, feel free to reach out to him at: cbeditor@jamestown.org.