Hizb ut-Tahrir Takes Advantage of Ethnic Fault Lines in Tatarstan, Kyrgyzstan
Publication: Eurasia Daily Monitor Volume: 9 Issue: 218
By: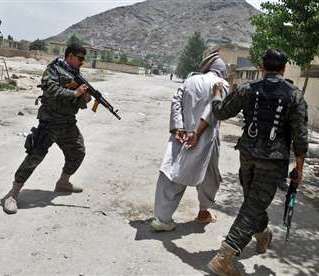 On November 16, Russian prosecutors charged nine citizens of Tajikistan and Russia with membership in Hizb ut-Tahrir and possession of grenades, rifles, TNT, millions of dollars' worth of counterfeit money, and written materials promoting extremism (Interfax [Moscow], November 16). In the months prior, there were also several incidents in which Hizb ut-Tahrir members and other religious extremists were arrested in the Ural region oblast of Chelyabisnk. Chelyabinsk borders Kazakhstan as well as the Republic of Bashkortostan whose population is more than half composed of Muslim Tatars and Bashkirs.
Chelyabinsk is more than 90 percent ethnic Russian, but has recently shown signs of extremist influence. On October 20, counter-intelligence officers searched an office where a female citizen was suspected of storing Hizb-ut-Tahrir materials on her computer. And in August, five Hizb ut-Tahrir members were arrested by the Federal Security Service (FSB) for using material from Islamist websites and Hizb ut-Tahrir propaganda to "brainwash" worshippers at religious classes about "toppling non-Islamic governments" and "establishing a global caliphate" (Interfax [Chelyabinsk], October 22; Interfax [Chelyabinsk], August 2).
According to the Russian Council of Muftis, the influence of Hizb ut-Tahrir among Muslims in Russia, such as Bashkirs, Tatars, North Caucasians and Central Asians, who were the targets of the Hizb ut-Tahrir recruiters in Moscow, undermines security and stability and furthers the ethnic divide between ethnic Russians and Muslims (RT Network, November 16). In the majority Muslim Republic of Tatarstan, for example, Hizb ut-Tahrir has tried to hijack the agenda of separatist nationalists, even though Hizb ut-Tahrir's call for a global Islamic caliphate contradicts the idea of political self-determination for the Tatar nation.
In July, flags with Hizb ut-Tahrir slogans were seen during protests over allegations of spetsnaz's (Russian Special Purpose Forces) "mass detention of Muslims" in the days following assassination attempts on the two leading muftis in Tatarstan by Islamist militants in which Ildus Faizov was seriously injured and Valiulla Yakupov died (see EDM, July 26). There are concerns that Tatar separatists are now mimicking the attire of Muslim militants from the Caucasus and that the spread of Salafist ideology in Tatarstan has reinforced the increasing militarism of Tatar nationalists (Nezavisimaya Gazeta, July 19). There are reportedly more than 100 fighters in Afghanistan from Tatarstan and an estimated 3,000 Islamic extremists in Tatarstan (Nezavisimaya Gazeta, March 3, 2011).
Similar to Russia, in Central Asia, Hizb ut-Tahrir also exploits pre-existing ethnic fault lines. After the ethnic rioting in Osh and Jalalabad, southern Kyrgyzstan in 2010, which left an estimated 2,000 people dead—mostly ethnic Uzbeks—and forced 400,000 people to flee their homes, Hizb ut-Tahrir resurged in Kyrgyzstan (Sevodnya, January 15, 2010; UNHCR.org, June 17, 2010). The underlying tensions that sparked the riots, such as the country's minority ethnic Uzbeks' demands for greater linguistic and political autonomy, were viewed by the country's majority ethnic Kyrgyz as a threat to Kyrgyzstan's unity—a parallel to Tatar nationalists' demands in Russia.
Before 2010, Hizb ut-Tahrir was based in Osh and Jalabad, which are the only parts of Kyrgyzstan where ethnic Uzbeks constitute a plurality. Ethnic Uzbeks, who were traditionally farmers and traders, tend to be more religiously conservative than the ethnic Kyrgyz, who were traditionally engaged in animal husbandry and whose religious practices are flavored by local traditions and customs and tend to be moderate, resembling the Kazakhs' and the Tatars' religious practices. This is one reason why Hizb ut-Tahrir first emerged in places like Osh and Jalalabad. Similarly, Hizb ut-Tahrir is active in northern Tajikistan's Sughd Province, where ethnic Uzbeks form approximately 30 to 40 percent of the population, and Andijan, Uzbekistan, which, like Osh, Jalalabad and Sughd, is in the Fergana Valley and is where Hizb ut-Tahrir reportedly formed its first cell in Central Asia in 1986 (RFE/RL, May 14, 2005).
Since 2010, Hizb ut-Tahrir has operated in northern Kyrgyzstan. A number of the internally displaced people from Osh and Jalalabad who held grievances against the government for its failure to prevent the ethnic riots became the most susceptible recruits for Hizb ut-Tahrir. The string of arrests of Hizb ut-Tahrir members in Kyrgyzstan's northern provinces of Chuy, where Bishkek is located, and Issyk Kul between April and July 2012 has continued from August to November 2012 (see EDM, July 16):
• On August 30, three members of Hizb ut-Tahrir reportedly robbed the currency exchange office at a local market in Bishkek, seizing $80,000 and fleeing in a car stolen by other members (24.kg [Bishkek], September 11).
• On September 25, an imam of a mosque in Ivanovka, Chuy province, was arrested with Hizb ut-Tahrir leaflets in his possession.
• On September 26, a 28-year-old Hizb ut-Tahrir member was detained for passing out his organization's leaflets in Naryn, central Kyrgyzstan. He was sentenced to a six-year prison sentence on November 19 (24.kg [Bishkek], September 26; RFE/RL [Kyrgyzstan], November 19).
• On October 29, a 21-year-old Hizb ut-Tahrir member from Tyup was arrested in Issyk Kul for disseminating extremist materials (Interfax [Bishkek], October 29).
• On November 14, in a reflection of Hizb ut-Tahrir's shift from "paper rebellion" to "digital rebellion," USB storage drives containing extremist materials were seized at the house of a Hizb ut-Tahrir member in Karakol, Issyk Kul (Interfax [Bishkek], November 14).
A number of other Hizb ut-Tahrir members have also been detained in southern Kyrgyzstan during the same time period, including the leader of Hizb ut-Tahrir in Jalalabad (Voice of Russia, August 27). The common denominator between the Muslims from the Russian Federation and the Kyrgyz Republic who have recently turned to Hizb ut-Tahrir is that they see in Hizb ut-Tahrir's promotion of Islamic identity as an alternative political option to governments that, they feel, do not adequately promote and protect their distinct ethno-national identity.