Russia's Ever Friendlier Ties to Vietnam—Are They a Signal to China?
Publication: Eurasia Daily Monitor Volume: 9 Issue: 219
By: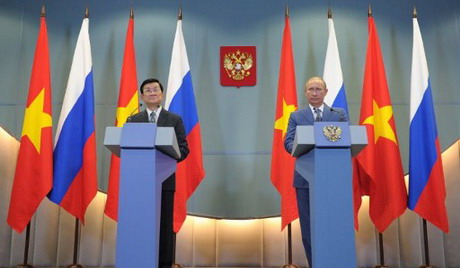 The regional tensions precipitated by China's demand to incorporate virtually all of the South China Sea into its territorial waters are well known and acute. China has previously warned the United States to leave the region and not interfere in China's "core interests." What is less commonly known is that Beijing has told Moscow the same thing. In April, China advised Russia to abandon its energy and other ties with Vietnam (Global Times, April 12). Moscow remained silent on this issue for some time, no doubt to avoid antagonizing Beijing further. But Russia never left Vietnam. Moreover, since the summer it has doubled down in support of the Southeast Asian country, both with regards to energy exploration in the South China Sea and, perhaps more ominously from China's standpoint, in arms sales and defense cooperation.
In a series of high-level visits of foreign and defense ministers and high-ranking military officers to each other's capitals, the two sides have reaffirmed their strategic partnership. Russia and Vietnam have also increased their cooperation on trade and energy exploration in the South China Sea, as well as on atomic energy—Russia is building Vietnam's first of eight projected nuclear reactors. The two sides agreed that territorial issues should be solved only by peaceful measures without the use of force and according to international law, particularly the United Nations Charter and the 1982 UN Convention on the Law of the Sea (UNCLOS) (www.nhandan.or.vn, July 30). Russia has duly become only the second state to sign a comprehensive partnership with Vietnam, the first being China in 2001 (Global Times, September 24; Russia Behind the Headlines, July 27; www.nhandan,org,vn, July 30).
This bilateral cooperation, though not loudly proclaimed, is a direct rebuff to Beijing and reaffirms Moscow's position that it will not allow China to dominate Asia, deprive Russia of millions if not billions of dollars in energy revenues, or marginalize Russia in its quest for great power influence in Southeast as well as Northeast Asia. In this respect, Russia's moves parallel its growing rapprochement with Japan in the face of the Chinese-provoked crisis over the Senkaku Islands (see EDM, November 14). Indeed, as a further sign of its growing close ties to Vietnam, the Russian government dispatched Prime Minister Dmitry Medvedev at the head of a large and high-ranking official delegation to visit Vietnam on November 7, in conjunction with his attendance at the Asia-Europe Meeting (ASEM) (Vietnam Net Bridge, October 27; RIA Novosti, November 7).
Not surprisingly Medvedev utilized this opportunity to again refer to the growing economic, energy and defense cooperation between the two states (Vietnam Net Bridge, November 7). Medvedev further announced that talk with Vietnam about Russia again using Cam Ranh Bay as an overseas naval facility are continuing. Additionally, Russia would invest $10 billion in Vietnam's nuclear power project, and Vietnam would have access to hydrocarbon projects in Russia's energy-rich Yamal-Nemets Autonomous district (Interfax, Interfax-AVN Online, November 7). Other deals included an inter-governmental agreement on cooperation on research and peaceful use of space; a joint declaration on setting up a high-ranking taskforce to speed up Vietnamese-Russian priority projects; a memorandum of understanding on renewable energy co-operation; an exchange of diplomatic notes on time-limited labor cooperation; and exchange of diplomatic notes on opening Russia's trade representative agency in Ho Chi Minh City (formerly Saigon) (Talk Vietnam, November 7).
Prime Minister Nguyen Tan Dung said the two governments decided to heighten bilateral ties in economics, trade, and investment and agreed to begin negotiations on signing a free trade agreement between Vietnam and the Russia-Kazakhstan-Belarus Customs Union (Talk Vietnam, November 7).
The most striking aspect of these agreements is the defense cooperation. In July, Russia's navy announced that it seeks maintenance and supply facilities at Cam Ranh Bay, the Seychelles Islands and Cuba. Since then, Putin has broadcast Moscow's intention to broaden arms sales cooperation with BRICS members, including China, as well as with Vietnam (Interfax, October 18). In subsequent meetings between high-ranking members of Russia's General Staff and Vietnam's Ministry of Defense, it became clear that such cooperation will expand (www.nhandan.com.vn, October 25). It also is clear that the weapons that Moscow has already sold to Vietnam—a large and growing customer for these weapons since 2009, having purchased, for example, Kilo-class submarines—represent a deterrent to the Chinese navy. The arms sales also underscore Russia's determination to prevent China from dominating the South China Sea and Southeast Asia, thus marginalizing Russia's presence there (Chinh's News, August 22).
These actions, similar to Russia's relations with Japan, signify several key points. First, Russia is ever more determined to play a major independent role in Asia—and not just Northeast Asia but also the continent's southeast. Second, it is clearly committed to pursuing an independent policy that it understands will bring it into conflict (at a diplomatic level) with Beijing over Chinese efforts at aggrandizement throughout both Northeast and Southeast Asia. Third, Moscow's gambit in Asia revolves around the provision of energy and arms sales, and it must necessarily resist every effort to curtail its presence in those areas of endeavor. Fourth, rhetoric about a congruence of views with Beijing notwithstanding, there exist visible and possibly growing differences between Russia and China concerning regional security issues in East Asia. These disparities open a door for the United States not only to strengthen its ties with Russia in Asia, given their mutual interests in preserving an Asian equilibrium, but also to jointly support the peaceful resolution of issues like the South China Sea territorial disputes on the basis of long-standing diplomatic and legal precedents. Fifth, Hanoi's activities demonstrate, as does its growing closeness with India, the ability of Vietnam and of other Asian states to fend off China with the support of partners, coalitions or, in some cases, allies (i.e. in the US alliance system). From this vantage point it is difficult to see what China has gained by its belligerent statements and behavior other than to bring into stronger relief the emergence of a blocking coalition, which, to some degree, includes Russia. Clearly Russia's relations with all of East Asia, including the hitherto neglected Southeast Asian area, merit careful scrutiny and analysis in the foreseeable future.