How Developments in Ukraine Affect Belarus
Publication: Eurasia Daily Monitor Volume: 11 Issue: 52
By: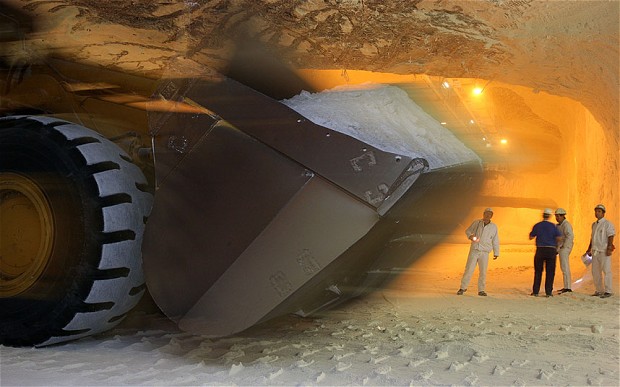 The hottest issues for Belarus these days are prospects for further economic growth under new conditions—in part informed by Russia's annexation of Crimea and Belarus's official position with regard to this groundbreaking event. Even before the crisis in Ukraine, Belarus faced dwindling economic growth, an international trade deficit, an overvalued national currency, and high inflation.
The 2013 rate of inflation in Belarus (16.5 percent) was one of the highest in Europe, and its trade deficit for that year amounted to $5.7 billion. Moreover, since the beginning of this year, the Belarusian ruble's (BR) value has declined by 3.15 percent to the US dollar, whereas the Russian ruble (RR) has lost 11.7 percent of its value. Because 40 percent of Belarus's international trade revenue is received in Russian rubles, the effective growth in the BR's relative value with respect to RR makes Belarusian industrial goods less competitive on the Russian market. Already in 2013, Belarus's export of tractors to Russia was 10.5 percent below that in 2012, and the export of other agricultural machinery declined by 9.6 percent. The rate of economic growth for 2014 is expected to reach only 3.3 percent (https://normativka.by/news/show/10984/; https://naviny.by/rubrics/finance/2014/03/14/ic_articles_114_184887/; https://naviny.by/rubrics/economic/2014/03/12/ic_articles_113_184869/).
Some good news has been reported as well, however. For instance, potash exports, which plummeted following last year's breakup of the Belarusian Potassium Company, a joint Russian-Belarusian potassium trader, are finally rebounding. The growth in the volume of exported potash has been such that it offset a significant (by 25 percent) decline in world potash prices. Thus in January 2014, Belarus earned $142.3 million from potash export—$5.2 million more than in January 2013 (https://naviny.by/rubrics/economic/2014/03/13/ic_articles_113_184874/). Also, according to Belarusian Economy Minister Nikolai Snopkov, 2013 was the third year of positive dynamics in foreign investment; as a result Belarus has reached the Russian level of $240 per capita (Author's interview, March 14). In January 2014, Belarusians sold $74.5 million more hard currency than they bought, whereas in December 2013 the opposite was the case. A change of this nature usually signifies a lowering of social tensions (IISEPS Infofocus No. 2, 2014). Also, in January 2014, Belarus's trade deficit amounted to just $68.9 million, one half of that in January 2013 (https://gtk.gov.by/ru/stats/itogi_vnesh_torgovli2014/yanv2014). This, however, is a mixed blessing as the reduction of imports was achieved due to diminished purchases of industrial components, and those are usually integral to finished products intended for the Russian market whose demand for Belarusian products has shrunk.
A separate but related issue is the continuation of trade with Ukraine, Belarus's second most important trading partner. In 2013, the volume of that exchange amounted to $6.34 billion, including $4.2 billion of exports to Ukraine and $2.14 billion of Ukrainian imports. The largest component of Belarusian exports to Ukraine has been refined oil (70 percent of all exports). In fact, Belarus's share of Ukraine's domestic gasoline consumption is 26 percent, and that of fuel oil is 33.7 percent. It is a necessity for Belarus to retain these significant market shares (https://naviny.by/rubrics/economic/2014/03/08/ic_articles_113_184827/).
So far, besides Foreign Minister Uladzimir Makei's statement regarding Belarus's support for Ukraine's territorial integrity—a statement made prior to Russia's annexation of Crimea (see EDM March 4)—Belarus has refrained from formulating its stance concerning this crucial development. According to some voices in the opposition-minded analytic community, for Belarus to refrain from endorsing the annexation of Crimea is even more important than it was to refrain from supporting the statehood of Abkhazia and South Ossetia, because Belarus's ties with Ukraine are so much closer (https://naviny.by/rubrics/politic/2014/03/18/ic_articles_112_184928/).
Yet another potential implication of the ongoing crisis is the growing significance of Belarus in the eyes of Russia. In December 2013, the Anti-Crisis Fund of the Eurasian Economic Community actually delayed the remittance of the sixth tranche (worth $440 million) of its loan to Belarus by six months due to Minsk's non-compliance with ten obligations stipulated by the loan program, most importantly the privatization obligation (IISEPS Infofocus No. 2, 2014). Yet, despite this development, Belarus fully expects that in January 2015 Russia will annul its requirement for Belarus to pay export duties (to the Russian treasury) on refined Russian oil sold to third parties. This will save Belarus $3.5 billion. Also, the long-delayed but nearly finalized sale of Belarusian enterprises such as the Grodno-based Azot (Nitrogen) plant and the Mozyr-based refinery to Russian tycoons is not without strings attached (by the seller), the most important of which is the buyer's commitment to invest in the modernization and expansion of these enterprises. The investment program of Russian Gazprom alone is worth $2 billion and includes the construction of a new gas storage facility and of a new pipeline—Yamal-2 (Author's interview with Centre for European Integration Problems Director Yury Shevtsov, March 10).
There are, however, two other aspects of Belarus's stance vis-à-vis developments in Ukraine. For one, Alyaksandr Lukashenka's trademark pithy saying that "European politicians have no balls" (https://news.open.by/politics/68849) may now be receiving additional validation in view of the West's relatively weak reaction to the Crimean crisis. Hence, a personal rapprochement between Lukashenka and Vladimir Putin is possible even without the Belarusian president issuing formal support to his Russian counterpart.
The value to Russia of Belarus's role in staving off the perceived military threat by the North Atlantic Treaty Organization (NATO) is also worth noting. By the end of this year, a Regiment of Su-27SM3 Russian aircraft must be deployed in Baranovichi. And if the circumstances so require, S-400 "Triumph" aerospace defense systems could be deployed in Belarus in order to shoot down Ballistic Missile Defense interceptor missiles taking off from Poland in the initial phase of their trajectory. Moreover, the latest S-500 systems, which offer even more advanced capacities in the field of missile defense, may be deployed as well. Their combat capabilities are reportedly greater than those of either the S-400 or of its US analogue—THAAD. According to information from public sources, the target detection range of the S-500 system will be 200 miles more than the S-400, which is about 500 miles (https://naviny.by/rubrics/politic/2014/03/18/ic_articles_112_184921/).
In summary, an ambiguous set of impacts on Belarus is expected. A sense of suspense is building in Minsk, but precisely how the Ukrainian crisis affects the future economic, political and security development of Belarus may not become clear until the situation in Ukraine reaches some form of resolution.