How the Armenian-Azerbaijani Conflict Could Affect Georgia
Publication: Eurasia Daily Monitor Volume: 17 Issue: 141
By: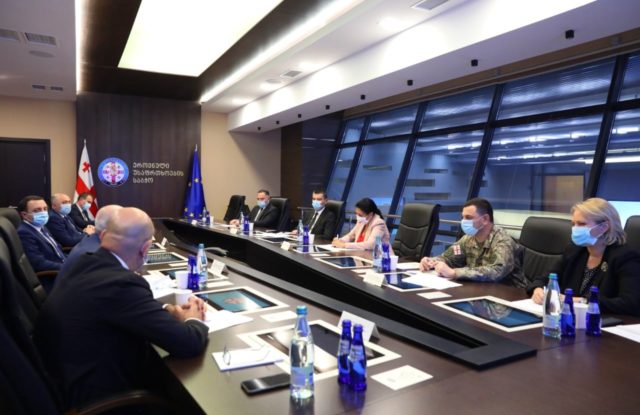 The resumption of Azerbaijani-Armenian hostilities over the Karabakh region, located only 560 kilometers from Georgia's capital of Tbilisi, has raised concerns within the Georgian government about the consequences of this conflict for the country, which faces tough parliamentary elections on October 31.
On October 3, following a week of intensive military clashes up and down the occupied districts of Azerbaijan, the National Security Council (NSC) of Georgia, an advisory body chaired by the prime minister, announced a temporary ban on transiting military cargos through Georgian territory to Azerbaijan and Armenia. The ban, which Tbilisi communicated to both belligerents, covers transit via air as well as land routes. However, the NSC emphasized that civilian goods can continue to be delivered to Armenia and Azerbaijan via Georgia without any restrictions. The Armenian-Azerbaijani fighting has been a rare occasion when the ruling Georgian Dream (GD) and the major opposition parties actually agree on what Georgia's stance should be—neutrality and seeking a swift de-escalation of the conflict (Agenda.ge, Civil.ge, October 3–4).
The Georgian government has, so far in vain, attempted to offer Tbilisi as a venue for international peace negotiations. On September 30, Prime Minister Giorgi Gakharia suggested that the capital host a meeting of Azerbaijani and Armenian representatives and members of the Minsk Group (main body responsible for Karabakh conflict resolution)—France, Russia and the United States (JamNews, September 30). None of the key interlocutors formally responded to the invitation. And some Russian officials panned it as unworkable (Rossiyskaya Gazeta, October 5).
Georgia hosts sizeable Armenian (4.53 percent) and Azerbaijani (6.27 percent) diasporas (Geostat.ge, accessed October 7). Thanks in large part to a strict, long-term adherence to neutrality regarding the conflict to its south, Georgia has managed to avoid Azerbaijani-Armenian interethnic clashes on its own territory for decades. But each new escalation reverberates inside Georgia, raising tensions between the local Armenian and Azerbaijani groups.
As the Armenian-Azerbaijani hostilities continued to escalate, Georgia became targeted by a well-coordinated disinformation campaign, evidently designed to try to pit the country against one or more of its warring neighbors. On October 4, the Georgian Ministry of Foreign Affairs vehemently denied allegations that Georgia was shipping arms to Azerbaijan, and it called on the Armenian population not to believe the false stories circulating in the media (Facebook.com/mfageorgia, October 4). Tbilisi also repudiated claims that Syrian militants were being infiltrated into Azerbaijan from Turkey via Georgia (Civil.ge October 4). In turn, the Armenian embassy in Tbilisi twice refuted "information" widely disseminated by some Georgian-based but pro-Armenian media outlets that the Georgian authorities were blocking the transit of fuel and humanitarian aid to Armenia while delivering arms to Azerbaijan (Netgazeti.ge, October 2, 6).
Meanwhile, Georgia's ethnic-Armenian community protested the "pro-Azerbaijani" statement of former Georgian president Mikheil Saakashvili, who emphasized that Karabakh is the sovereign territory of Azerbaijan (Civil.ge, 1tv.ge, October 1; Resonance daily, October 7). The Georgian Ministry of Interior reported on multiple instances of damage done to segments of transnational fiber-optic internet cables in Kvemo Kartli—a region neighboring both Armenia and Azerbaijan and densely populated by ethnic Azerbaijanis (Police.ge, October 2) Although Georgian-Azerbaijanis have not resorted to any mass protest or violent actions so far, the situation remains highly conflict-prone; any external or internal trigger could ignite inter-ethnic conflict.
Georgia's decision to ban the transfer of military supplies to Armenia and Azerbaijan aroused annoyance from Russia, which has long supplied weapons to both sides. Pro-Kremlin media and Russian experts hinted at the possibility of using military force against Georgia as way to secure the transit of Russian military cargos to its regional ally, Armenia (Apsny.ge, October 1; Vzglyad, October 5; Vesti.ru, October 6). It is worth underscoring that well-equipped Russian troops are stationed only 40 kilometers from Tbilisi, on territories occupied by Moscow following the 2008 Georgian-Russian war.
Despite Georgia's friendly ties with both Armenia and Azerbaijan, the relative quality of these relations differs based on several significant factors. Armenia is a member of the Russia-led Eurasian Economic Union (EEU) and Collective Security Treaty Organization (CSTO), while Georgia is a North Atlantic Treaty Organization (NATO) and European Union aspirant country. Its relations with Azerbaijan are more strategic. Economically, Georgia is more extensively linked to Azerbaijan than Armenia. About 95 percent of Georgia's natural gas comes from Azerbaijan (Factcheck.ge, June 17, 2019). If the war sharply intensifies or becomes protracted, it could cause problems for Georgia's energy supplies. A prolongation of the conflict could also jeopardize the security of important regional oil and gas pipelines, including Baku–Supsa, Baku–Tbilisi–Ceyhan and the South Caucasus Pipeline. That said, Georgian-Azerbaijani relations are not cloudless. The Christian Orthodox monastery complex David Gareja (Keshikchidag to Azerbaijanis), which is located along both sides of the conditional Georgian-Azerbaijani borderline, has become a subject of a border dispute leading to several localized incidents and clashes (Agenda.ge, October 10, 2019; see EDM, May 14, 2019, June 6, 2019, July 30, 2019). Currently, the issue is being discussed by a bilateral commission, and the parties claim they will be able to resolve it based on consensus (Agenda.ge, September 24). However, Baku's future attitude to this matter may very well depend on the outcome of the ongoing conflict in Karabakh.
The transformation of hostilities over Karabakh into a full-scale war between Armenia and Azerbaijan, with the possible involvement of Russia and conceivably Turkey, is highly likely to damage the Georgian economy and lead to a collapse of foreign investments, thus further worsening the country's socio-economic, financial and security situation. The consequences of this downturn would certainly translate to negative political implications for the ruling party on the eve of the elections. Additionally, the risk of violent clashes between Georgian Azerbaijani and Armenian populations may grow (Report.ge, Resonance Daily, October 5).
Other challenges and threats that Georgia might anticipate will heavily depend on whether the conflict continues for an extended period or if international and regional stakeholders manage to broker a credible ceasefire and bring the parties back to the negotiation table.
The current Armenian-Azerbaijani conflict is drawing greater international attention to the often-ignored South Caucasian region, which also hosts two other unresolved conflicts, in Georgia's secessionist regions of Abkhazia and South Ossetia. Like Karabakh, these conflicts have also been awaiting resolution for nearly three decades.