How Uzbekistan Views the Russian War Against Ukraine
Publication: Eurasia Daily Monitor Volume: 19 Issue: 40
By: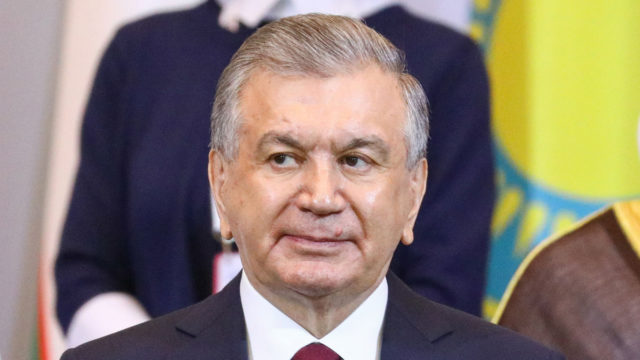 Uzbekistan chose not to take sides in Russia's war against Ukraine, as first announced by the Uzbekistan presidential administration when the war started and later demonstrated by Uzbekistan's avoidance of voting on the United Nations' resolution condemning the invasion of Ukraine. A neutral posture was taken not only by all government officials but also by the nascent independent media in Uzbekistan, which was "asked" not to side with either conflicting party in their publications. At the same time, Tashkent recognizes the dire humanitarian situation in Ukraine and shows its support by sending medical supplies to the country. Overall, Tashkent's current ties to Moscow proved to be of high importance and appearing neutral was the only way for Tashkent not to destroy relations with Russia.
On February 25, the day after Russia started its attack on Ukraine, Uzbekistan's President Shavkat Mirziyoyev and President Vladimir Putin held a telephone conversation. The Kremlin stated that President Mirziyoyev "expressed understanding of Russia's activities in Ukraine" (Ferghana News Agency, February 25). It is unclear whether such a statement was actually made or if it was the interpretation of the Kremlin press service. The press service of Uzbekistan's President rebuffed any intimated pro-Russia leaning by stating that Uzbekistan was neutral in the conflict and supported the primacy of international norms in regulating and de-escalating the situation in Ukraine (Kun.uz, February 26).
Tashkent reiterated its neutrality or rather ambiguity toward Russia's aggression against Ukraine by being absent at the United Nations General Assembly voting on the March 3rd resolution that condemned the Russian attack on Ukraine (Al Jazeera, March 3). None of the other four Central Asian countries approved the resolution and similarly either did not appear for the voting (Turkmenistan) or abstained from choosing a side (Kazakhstan, Kyrgyzstan, Tajikistan).
Attempts to present events from Kyiv's perspective have been silenced in Uzbekistan several times. Uzbekistan's principal security agency, the State Security Service (SSS), has been serving as an enforcement body of this policy, indicating that pro-Ukrainian media reports are viewed as a national security matter. SSS has reportedly requested several independent media to erase information and interviews with pro-Ukrainian views and "advised" them to accept a neutral position when writing about the war. Furthermore, the same reports described these meetings as civilized conversations and consultations where the security agency "recommended" how the news outlets should report on the situation in Ukraine—clearly indicating pressure for self-censorship (Ozodlik, March 4, 10).
While pro-Ukrainian sentiment is silenced in Uzbekistan, Kremlin-controlled pro-Russian views are aired widely without any obstacles, as observed by Ukraine's Ambassador to Uzbekistan, Mikola Doroshenko. He expressed his concerns that broadcasts about the war in Ukraine are exclusively based on Russia's perspective and sent a diplomatic note to the foreign ministry asking Uzbekistan to cease broadcasting Russian channels. According to the ambassador, all Russian TV channels have been airing propaganda that disseminates Moscow's view exclusively to the population in Uzbekistan and portrays Russia's war against Ukraine as a mere local conflict (Ozodlik, March 10).
In the meantime, the Uzbekistani government is not indifferent to the situation in Ukraine, which was displayed by Tashkent sending 28 tons of medical supplies and medicine to Kyiv (Ozodlik, March 10). This indicates that Tashkent recognizes the suffering of Ukrainian citizens and does not support the ongoing destruction and human casualties, but politically it avoids taking sides in this conflict.
Uzbekistan's participation in Eurasian Economic Union (EEU) initiatives in the past several years indicates Tashkent's dedication to the organization. Only a day after Russia launched its attack on Ukraine and before the imposition of Western economic sanctions on Russia, Tashkent announced joining several EEU economic projects, further strengthening its economic ties and desire to expand its cooperation with Russia (Gazeta.uz, February 25). The economic projects included climate issues, digitalization of freight rail transportation, e-commerce, and the implementation of the Eurasian Agroexpress project to increase transportation of agricultural products outside of the EEU. Uzbekistan is not ready to jeopardize its economic relations with Russia at the cost of taking a pro-Ukrainian stance, condemning Russia's aggression, and exposing itself to Moscow's political repercussions.