HuJI Operations Expand Beyond the Indian Subcontinent
By: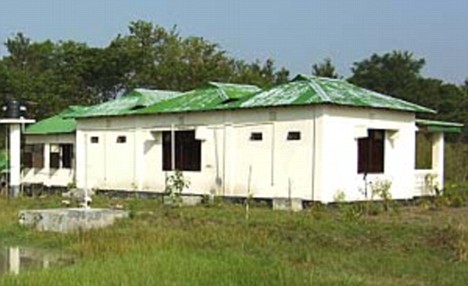 Formed in 1984, the Harkat-ul-Jihad al-Islami (HuJI – Movement of Islamic Holy War) has fought Soviets in Afghanistan and Indians in Kashmir before expanding to Bangladesh. From its focused beginnings, HuJI has developed into an international jihadi group that appears ready to demonstrate its global reach. Recent HuJI activities display the group's intention to expand beyond its traditional operational zone in Bangladesh, India and Kashmir.
Raja Lahrasib Khan, a suspected HuJI operative, was arrested in Chicago on charges of providing material support to al-Qaeda in late March 2010. Khan, a U.S. citizen of Pakistani origin, is suspected of planning a terrorist strike this August on a "big stadium" in the United States along with Pakistan based HuJI chief Ilyas Kashmiri, the notorious former Pakistani army commando who now commands the deadly 313 Brigade he created within HuJI. The 313 Brigade has operational ties with al-Qaeda (Chicago Tribune, March 30; Times of India, April 6). It is alleged that Khan transferred approximately $950 from a currency exchange in Chicago to an unidentified recipient in Bimbur in Pakistan administered Kashmir (PAK). According to the charges, Khan believed Kashmiri was working directly for al-Qaeda and made efforts to deliver the money when Kashmiri indicated he needed funds to buy explosives (Huffington Post, April 5). Khan is believed to have met with Kashmiri at least once in Pakistan (Reuters, March 27).

Elsewhere, Golam Mostafa, a Bangladeshi-born British citizen and the U.K. HuJi unit chief, was arrested in Sylhet, Bangladesh for his alleged involvement in financing militant groups and attempts to reorganize terrorist organizations in the region, including Hizb ut-Tahrir and Jama'tul Mujahideen Bangladesh (New Nation [Dhaka], April 18; for Hizb ut-Tahrir, see Daily Independent [Dhaka], April 29). Mostafa, a veteran of the anti-Soviet Afghan jihad and a fund raiser for the Bosnian mujahideen, was re-arrested almost 14 months after he came out of jail on a High Court bail order. According to Dhaka police authorities, the security agencies back in London have also leveled various money laundering charges and seized various incriminating documents from his Birmingham residence. He escaped to Bangladesh in 2007. A restaurateur by profession, Mostafa used to send funds from Birmingham through informal channels to further militancy in Bangladesh until 2007 (Daily Star [Dhaka], April 18).
In early December 2007, Mostafa was arrested while in possession of arms, ammunition and literature on explosives and jihad. He was convicted and sentenced to 17 years in prison. However, he was released on bail on February 23, 2009 and later confessed to having bribed a politician to obtain his bail.
Dhaka's Metropolitan Police Commissioner, AKM Shahidul Hoque, described the case against Mostafa:
Coming out of jail on bail, Mostofa was carrying out militant activities in the country and tried to get other arrested militant leaders freed…During his stay in Birmingham, U.K., until 2007, Mostofa had sent thousands of taka [the currency of Bangladesh] to militants active in Bangladesh. So, London police filed a case against him under the terrorist financing act of that country (Daily Star, April 17).
Continuing investigations revealed that Mostafa had close relations with other detained HuJI commanders, including Abdus Salam, Mufti Hannan and Faisal Mostafa. Faisal Mostafa is another British citizen and chief of the U.K.-based Green Crescent NGO and was allegedly involved in setting up an arms factory inside a madrassa (Islamic school) complex in Bhola. Golam Mostafa had served as an advisor to the Bhola Madrassa (Daily Star, April19).
HuJI was founded by Qari Saifullah Akhtar in the early 1980s. A close associate of Talban chief Mullah Omar, Akhtar maintained operational ties with al-Qaeda. Under his leadership, HuJI became active in Afghanistan, Pakistan, India and Bangladesh. Suspected of masterminding the 2007 Benazir Bhutto assassination and the 2008 Marriott hotel bombing, Akhtar remains an elusive figure. In his absence, Illyas Kashmiri is believed to have held the reins of HuJI in the Afghanistan-Pakistan region.
Identifying itself as the "second line of defense for every Muslim," HuJI now has a significant, established presence in Central Asia, Africa and the Middle East. HuJI's presence in the United Kingdom and the United States came to the forefront with the recent arrests in Chicago and Sylhet. Well before the arrest of Raja Lahrasib Khan, the United States designated HuJI's Bangladesh franchise as a foreign terrorist organization in March 2008.
HuJI-Bangladesh (HuJI-B, a.k.a. Islami Dawat-e-Kafela – IDeK) is considered the most active of the group's franchises, having emerged in 1992 with direct support from Osama bin Laden and Pakistan intelligence agencies. The HuJI-B leadership endorsed Osama bin Laden's February 1998 "World Islamic Front for Jihad Against the Jews and Crusaders" fatwa that declared U.S. citizens to be legitimate targets for attack. In response, U.S. Executive Order 13224 criminalizes the provision of material support to HuJI-B by U.S. citizens or people living under U.S. jurisdiction, and freezes all HuJI-B property and interests in the U.S. and in areas under U.S. jurisdiction. [1]
HuJI has grown over the years into one of the most powerful militant groups in South Asia, perhaps next only to Lashkar e Taiba, and its network is strongly embedded in the region. The development of a British-based fundraising network and a terrorist plot in the United States are evidence of HuJI's international designs and indicate the movement's jihad is spilling out of the Indian subcontinent.
Notes:
1. See, https://www.state.gov/s/ct/rls/other/des/102878.htm and https://www.ustreas.gov/offices/enforcement/ofac/programs/terror/terror.pdf