HUNGARY'S MOL WINS FUEL MARKET SHARE IN CENTRAL EUROPE
Publication: Eurasia Daily Monitor Volume: 5 Issue: 195
By: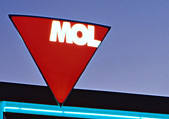 Hungary's MOL energy company is advancing its organic development and regional consolidation in the gas and oil product sectors. The privately owned MOL is now free to focus on those strategies after defeating a hostile takeover attempt from Austria's partly state-controlled OMV conglomerate. OMV finally abandoned its attempt in August, following the European Commission's negative assessment of that takeover bid under European competition law (see EDM, August 7). In late September the Austrian company sold a large part of its own shares in MOL, reducing its stake from 21.3 percent to 11.7 percent (Die Presse, Nepszabadsag, September 29). This move amounts to an acknowledgement of defeat by OMV and implicit tribute to MOL's successful corporate defense.
OMV's state-supported attempt had primarily targeted MOL's oil-refining and product-retailing business. Meanwhile, MOL is actually expanding its own share in Austria's retail market in open competition. It will increasing the number of its filling stations in Austria from the current 47 to 70 by the end of this year and to 100 by next year, amounting to a 10 percent market share in Austria, which MOL now regards as one of its core markets. The company is also expanding its retail network in Romania (MTI, September 26, 29).
This week, MOL raised its stake in Croatia's INA oil-processing and fuel-distribution company (Industrija Nafte, the country's largest business entity) to nearly 50 percent and is set to surpass that mark shortly. MOL acquired at least 22 percent of INA's shares (the final reporting may show a somewhat higher figure) through a public offer on the stock exchange from October 3 to 9. Those shares add to the 25 percent plus one share that MOL owned already. The Croatian government, owner of 44 percent of INA's shares, plans to hand over a block of 19 percent to MOL in a share-swapping agreement, which would raise MOL's stake in INA to 66 percent.
MOL will also be entitled to exercise the operating rights under an earlier agreement with the Croatian government. Croatia would retain a 25 percent stake in INA until the country's accession to the European Union. The conclusive valuation of shares and precise swap ratio are yet to be finalized. INA's two oil refineries are long overdue for modernization and ecological cleanup, which MOL is expected to provide. Earlier this year MOL had acquired Tifon, Croatia's second-largest network (after INA) for fuel-retailing (Vjesnik, October 6; Vilaggazdasag, MTI, Index, October 8-9).
MOL's oil-refining performance is internationally rated as the most efficient in Central Europe. The Hungarian company won against OMV and other regional companies in the competition for privatization of INA, after winning the earlier contests for acquisition of the Slovnaft (Slovakia) and Mantua (northern Italy) refineries (see EDM, July 11). In the gas transport business, MOL and its subsidiary FGSZ are moving forward with the New Europe Transmission Systems (NETS) initiative to interconnect and ultimately integrate the gas pipeline networks of Central and southeastern European countries. Launched by the Hungarian company last December, the initiative is now being officially considered by seven countries in the region (see EDM, December 10, 2007; March 19, July 11).
MOL's gas subsidiary, Romania's Transgaz, signed a memorandum of understanding on September 29 with Croatia's Plinacro gas transport company to finance a feasibility study for NETS and create a company for that purpose. On October 7 and 8 in Budapest, the American Chambers of Commerce (AmChams) from eight Central and East European countries, including potential NETS partners, hosted an energy forum in Budapest, which highlighted the NETS initiative. The AmChams's forum reflects U.S. support for opening this region's energy markets to competition and enhancing energy security through supply diversification. The European Commission also welcomes the NETS initiative, in line with EU directives and proposals to "unbundle" gas transmission from production and to unify energy markets through interconnections. Interconnectivity enhances the importing countries' security of supply through risk-sharing. This would strengthen an otherwise weak national hand vis-à-vis Gazprom.
NETS, if achieved, could unify the national markets into a massive regional market and link up with non-Russian supply routes, such as the planned Nabucco pipeline or the proposed liquefied-natural-gas (LNG) reception and regasification terminal in Croatia. As reported at the Budapest conference, the Hungarian, Romanian, and Croatian gas transmission companies are already constructing pipeline connections from Szeged in Hungary to Arad in Romania and from Varosfold in Hungary to Slobodnica in Croatia (MTI, Vilaggazdasag, October 7, 8).
The two connections will make it possible to transmit gas via Hungary throughout the area between the Black Sea and the Adriatic Sea. The three countries, and any neighboring countries that may decide to link up, would be able to trade gas among themselves at any time, whether on a regular seasonal basis or in emergencies.
Thus, Caspian gas reaching Romania and Hungary through Nabucco could be pumped to Croatia or other nearby countries, if the Nabucco project is implemented. By the same token, regasified LNG can enter Central Europe from Croatia's Adriatic coast, if Croatia goes ahead with the LNG project on Krk Island. Once connecting links are in place, a consolidated market becomes more attractive to Western-backed gas transport projects and makes such projects more bankable.