Hybrid, Homegrown and Transnational: The Indian Mujahideen and the Islamist Terror Matrix
Publication: Terrorism Monitor Volume: 8 Issue: 3
By: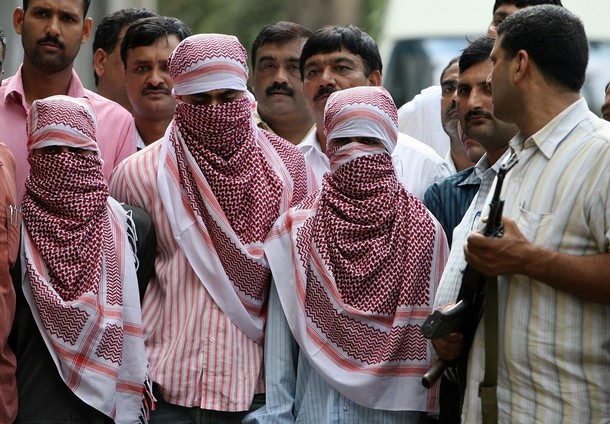 Following a series of urban terror attacks in 2008, including the three-day long Mumbai siege, terrorist groups maintained a low profile throughout 2009. Jihadi groups like Lashkar-e-Taiba (LeT), Harkat-ul-Jihad-al-Islami (HuJI) and the homegrown Indian Mujahideen (IM) remained surprisingly inactive as they regrouped in the face of a continuous crackdown on terror infrastructure across the country. Investigating agencies have managed to arrest a number of IM, LeT and HuJI operatives and have neutralized their support structures, mostly comprised of outlawed Student Islamic Movement of India (SIMI) cadres.
However, in a twist of events, the intelligence agencies issued an alert this January about a novel threat emanating from the supposedly weakened Indian Mujahideen. According to intelligence inputs, the IM have been planning to carry out major terror strikes using hijacked airliners. India's Intelligence Bureau (IB) has identified a pair of IM militants who have undergone pilot training in recent years, namely Shahzad Ahmed (a.k.a. Pappu) and Mirza Shadab Baig, a senior IM operative. Both are suspected of spearheading a planned 9/11-style terror event on Indian soil.
Shahzad, who hails from Uttar Pradesh, has been on the run since the September 2008 Batla House encounter in the national capital of Delhi. Shahzad's online profile and activities on a social-networking website (Orkut) exposed IM's future designs. (India Today, January 6).
The Intelligence Bureau Discovers a Massive Plot
IB officials achieved a breakthrough on January 17 when they arrested a self-styled HuJI commander identified as Mohammad Abdul Khwaja (a.k.a. Amjad) from Chennai, in Tamil Nadu. The 27-year-old native of Andhra Pradesh had intended to strike major installations in South India during the forthcoming Republic Day (January 26) celebrations. According to his confessional statements he planned to target the Indian Oil Corporation (IOC) depot on the outskirts of Hyderabad city as well as refineries in Visakhapatnam and Chennai. Besides these installations, he also plotted to carry out assassinations in Hyderabad, mostly targeting police officials involved in past terror investigations. For these activities, Khwaja scouted at least 25 other Muslim youths from south India and reportedly sent them for terror training in Pakistan (Daily News and Analysis [Mumbai], January 19).
The most disturbing aspect of Khwaja's activities is the transnational linkages he has established over the years. Khwaja was found to be operating in and out of India, Sri Lanka and Bangladesh in the past few years, coordinating with  the LeT, Jaish-e Muhammed (JeM) and IM leadership and establishing close ties with IM's elusive mastermind, Riaz Bhatkal (a.k.a. Ismail Shahbandri). Khwaja, who had worked closely with HuJi's slain operative Shahid Bilal and underwent terrorist training in Pakistan, was found to be using three passports—Indian, Bangladeshi and Pakistani—in three different names (Times Now TV, January 20).
Transnational Ties of the Indian Mujahideen
Though IM, a relative newcomer to the South Asian jihadi landscape, claims to be an indigenous terror group, IM's working relations with transnational terror groups (primarily Pakistan and Bangladesh-based) calls for close scrutiny. Even if the indigenous tag of IM is well suited, it is becoming clearer by the day that IM is a hybrid terrorist group with militants from a number of other terrorist outfits (including SIMI, LeT and HuJI) comprising the group's core. Recent Gujarat police investigations established the existence of this lethal combination when they concluded that IM operatives had carried out blasts under the direction, guidance and assistance of Pakistan-based HUJI operative, Amir Raza Khan (Ahmadabad Mirror, January 12). Khwaja's confession has now substantiated that assertion.
Following the countrywide crackdowns and the well-executed September 2008 Batla House encounter in Delhi (in which two IM members were killed by police), many IM militants are in custody while others are still evading arrest. A number of IM operatives with obvious SIMI backgrounds were arrested from Gujarat, Maharashtra, Madhya Pradesh, Rajasthan, Delhi and Uttar Pradesh. Others, including Zahid Shaikh, Yunus Mansuri, Abu Bashar Kazmi, Qayamuddin Kapadia, Abdul Raziq, and Asghar Peerbhoy, were arrested in the southern states of Karnataka and Kerala. However, the top leadership and the masterminds of the attacks, Iqbal Bhatkal, Riyaz Bhatkal, Abdul Subhan Qureshi (a.k.a. Taqueer), are still at large, with as many as 29 others who have been identified by the investigating agencies (Indian Express, January 9).
A Record of Terrorist Attacks
IM has claimed responsibility for a  number of terrorist acts across India between 2006 and 2008, including the Mumbai commuter train blasts (July 2006); the serial blasts in Uttar Pradesh (November 2007); serial explosions in northeast India's Assam and Tripura states, (October 2008); and attacks in Jaipur city (May 2008), Bengaluru (July 2008); Ahmadabad (July 2008); and Delhi (September 2008). The Assam and Tripura (Agartala) attacks were claimed by the previously unknown Islamic Security Force-Indian Mujahideen (ISF-IM), which appeared to be IM's northeastern franchise. Lastly, investigations into the November 2008 Mumbai episode reveal tell-tale signs of IM's footprint, though the evidence is not yet conclusive. According to intelligence sources, a huge amount of money was sent from the Gulf through IM's Riyaz Bhatkal to execute the Mumbai carnage. The recent probe into LeT's Chicago conspiracy (which is directly linked to the Mumbai terror events) revealed that prime suspect David Headley and Tahawwur Rana received logistical support from IM operatives while they were in India. IB believes that Bhatkal knew about the Mumbai attack plan and helped arrange local logistics through his underworld links in the city.
Connections to Lashkar-e-Taiba
IM's LeT connection is much deeper than previously thought. IM-LeT operations in South India (mainly in Kerala state) were looked after by Tadiyandavede Nasir (a.k.a. Ummer Haji) and his brother-in-law Shafaz Samsuddin, with direction from Pakistan-based Amir Raza. Both IM operatives hail from the Kannur district of Kerala and masterminded the July, 2008 Bengaluru serial blasts with funding and instructions from the LeT. Both Nasir and Shafaz were believed to be part of IM's Shahbuddin Gohuri Brigade as well (See Terrorism Monitor, March 3, 2008). Nasir's arrest in late 2009 also revealed IM's recruitment tactics and operational secrets. According to his disclosure, SIMI/IM and LeT operate under the guise of a Sufi sect known as Noorisa Tariqat, which has branches in many parts of southern India, including Kerala and Andhra Pradesh. Nasir and his fellow cadres reportedly indoctrinated many Muslim youths in the jihadi ideology with anti-Hindu diatribes and by focusing on alleged atrocities against Muslims in Afghanistan, Lebanon and Palestine. (Indian Express, December 21, 2009; Express Buzz, December 5, 2009)
Al-Qaeda Infiltration?
The threat from this hybrid but loosely knit terror group called IM now seems to be going in a more lethal direction.  Recent reports suggest that SIMI/IM will give way to al-Qaeda, Harkat-ul-Mujahideen (HuM) and the anti-Shi'a Lashkar-e-Jhangvi (LeJ) of Pakistan as these groups set up bases on Indian soil. Intelligence Bureau officials suspect that international terror groups are thinking seriously about revamping IM, which is now in a state of disarray. There are terrorist sleeper cells across South India and a well entrenched SIMI network, primarily in Kerala, Karnataka and Andhra Pradesh. It has been reported that SIMI has at least 12 front organizations in the above-mentioned states which not only facilitate the establishment of an al-Qaeda led conglomerate, but also provide ample operational advantages (Rediff.com, January 12).
The IB believes that al-Qaeda and its affiliates have already started their operations with IM/SIMI by setting up sleeper cells, giving a breather to LeT and JeM, whose activities came under international scrutiny following the 26/11 Mumbai events.
Though al-Qaeda's foray into the region's Islamist terror scene came as a bit of surprise to many, the recent capture of Afghan national Ghulam Rasool Khan (a.k.a. Mirza Khan) has cleared the picture.  Ghulam Khan, associated with the Hyderabad-based Indian Muslim Mohammadi Mujahideen (IMMM), has admitted to associating with al-Qaeda and the Taliban in the past. He also revealed his activities in Pakistan's Swat Valley and Afghanistan's Kandahar province during 2004-05. He was arrested while attempting to sneak into Bangladesh through the India-Bangladesh border at Purnia, Bihar state (Press Trust of India, January 19; Hindustan Times, January 20). The IMMM in question seems to be the same group headed by the LeT's Azam Ghauri prior to his April 2000 death in Andhra Pradesh. However, there are still lots of dots to be connected before the police figure out the actual extent of the activities of Ghulam Khan's organization and its purported ties with al-Qaeda and the Taliban.
Conclusion
Undoubtedly, the terror trajectory in India perhaps will take a sharp turn with al-Qaeda's formal entry into the region by bringing the existing terror groups under one umbrella.  However, the most pressing threat to India in the long term comes from none other than the hybrid and homegrown Indian Mujahideen, as the IM/SIMI combined will provide the necessary space and foot soldiers to the sub-continental terror strategy of the larger LeT and al-Qaeda organizations.