Igor Sutyagin's Imminent Release
Publication: Eurasia Daily Monitor Volume: 7 Issue: 131
By: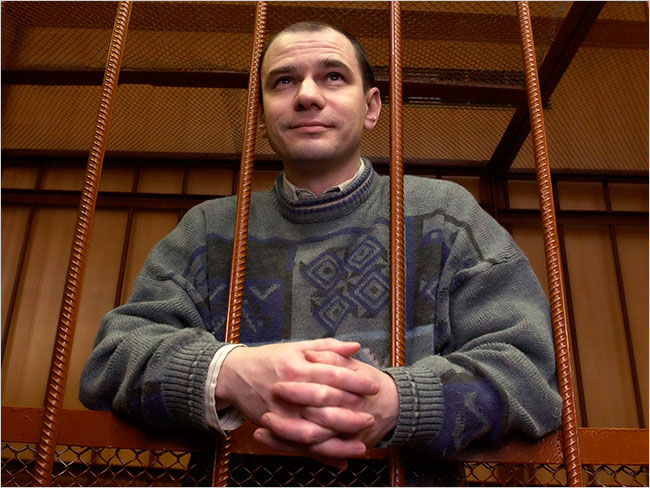 The ten alleged Russian spies arrested in the US by the FBI that had used falsified identities to infiltrate the country embarrassed Moscow and became an irritant in the process of the "reset." There are growing indications that the Kremlin and the US President, Barack Obama's, administration are working closely to resolve the case as soon as possible. As a result, a Russian nuclear arms control scientist, Igor Sutyagin, who has served more than ten years in prison for alleged espionage for the US, may be immanently released and expelled from Russia in something reminiscent of a Cold War spy exchange. Of course, Sutyagin was not actually a spy and the ten alleged undercover Russian agents or "illegals," planted in the US by the Foreign Security Service (SVR) –the successor of the First Main Directorate of the KGB, known as PGU– did not apparently manage to gather any truly sensitive information in the US (EDM, July 1). Equally, in the Cold War not all the imprisoned or exchanged agents were actual spies.
Human rights activists from the Public Committee in Defense of Scientists, who were campaigning for Sutyagin's release, his mother Svetlana Sutyagina and his lawyer, Anna Stavitskaya, told journalists on July 7 that Sutyagin was suddenly transferred from a labor camp in the Arkhangelsk region in northern Russia to the high security Lefortovo prison in Moscow. Sutyagin, says his mother, signed a confession of guilt –a formality to allow President, Dmitry Medvedev, to promptly grant a pardon before exiling him to Vienna and then to London –the exact procedure is not yet clear (Interfax, July 7).
It seems that on this occasion there will be no direct exchange of prisoners as occurred during the Cold War on a bridge on the border between West Berlin's US-controlled sector and East Germany (GDR). Taking into account the present atmosphere of détente, it may be conducted in a more gentlemanly manner: Sutyagin pleads guilty, then pardoned and sent to the West. Other alleged spies may follow Sutyagin out of Russia: Sergei Skripal –a former Federal Security Service (FSB) colonel sentenced in 2006 to serve 13 years for spying for Britain– has been mentioned as a possible candidate (Rosbalt, June 7). As detainees are released in Russia, the SVR spies in the US will plead guilty to lesser charges and will be deported in due course. The embarrassing scandal will end, allowing the "reset" to continue.
Sutyagin was arrested in October 1999 and has been in detention ever since. In 1999 as democracy was being wound down in Russia, there was a flurry of cases about the disclosure of state military and technical secrets. In 1999, this author was twice called to Lefortovo prison by FSB investigators, for questioning about alleged cases of disclosure in newspaper publications of state military secrets concerning intercontinental ballistic missiles (ICBM's) and ballistic missile defense. I was lucky, the cases were, apparently, closed: at least the FSB did not call me to Lefortovo prison again. Sutyagin was not so lucky.
Sutyagin worked in 1999 as an arms control researcher in the USA and Canada Institute of the Russian Academy of Science –a government-funded think tank. The FSB accused Sutyagin of writing an analytical report about submarine-based ICBM's and missile attack early warning under a contract with a little-known British consulting company, Alternative Futures. The FSB alleged Alternative Futures was a cover for US military intelligence (Interfax, July 7). Sutyagin argued that he did not have access to state secrets, could not disclose them to commit espionage and wrote his report using open sources. However, in April 2004, a jury found Sutyagin guilty and he was sentenced to 15 years in a labor camp for treason in the form of espionage.
In the Moscow scientific and arms control analytical community it was well understood that Sutyagin did not do anything criminal. In 2005, Amnesty International declared Sutyagin a political prisoner. In 2007, the Parliamentary Assembly of the Council of Europe demanded his immediate release. In 2007, Sutyagin wrote an open letter to the then President, Vladimir Putin, asking for clemency, but did not receive it. Last April, a court in Arkhangelsk denied Sutyagin's release on parole (Interfax, June 7). Now the tables seem to have turned at last for Sutyagin because of the bizarre spy scandal in the US. The Obama administration in its desire to quickly resolve the case demanded from Russia some symbolic concession, which represented a breakthrough for Sutyagin.
The arrest of alleged Russian "illegal" agents in the US and the fact that Moscow was forced to de facto admit their guilt by promptly organizing a spy swap is a severe blow to the SVR. Putin, during the Cold War, served for many years in the GDR as a PGU (SVR) recruiting officer. It is well known in the Moscow analytical community that Putin does not like his old service, though many of Putin's personal friends from the PGU KGB are rich and in high places in Moscow today. Putin made it only to the rank of Lieutenant-Colonel in the PGU and was virtually kicked out in 1992 as an unsuccessful spy, despite his good knowledge of foreign languages, especially German. Putin has since adamantly disliked Soviet Communist ideology and is trying to rebuild an empire on a different capitalist founding. The public disgrace of the SVR at the hands of the FBI may lead to serious changes in personnel and possibly to the reorganization of the intelligence community in Moscow.