Will Clinton's Baku Visit Produce Deliverables in Washington? (Part Two)
Publication: Eurasia Daily Monitor Volume: 7 Issue: 131
By: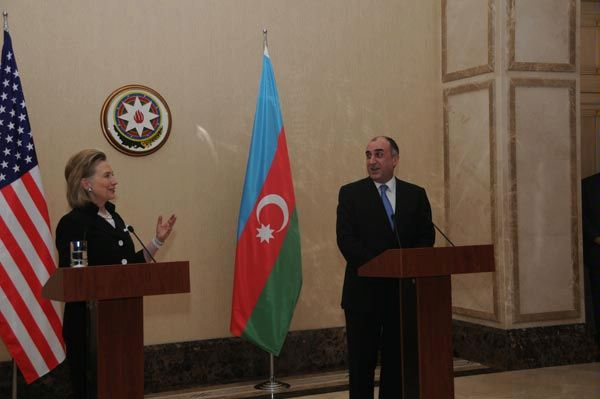 Secretary of State Hillary Clinton's introductory visit to Azerbaijan undoubtedly helped the Obama administration to form a clearer understanding of Azerbaijan's priorities and policies. With the administration approaching its mid-term point, and the US ambassadorship in Baku still vacant, such clarifications were overdue.
President, Ilham Aliyev, and Foreign Minister, Elmar Mammadyarov, explained that Azerbaijan continues to regard the US as a world power indispensable to the South Caucasus region's security and development. They called for a more pro-active, long-term US engagement in the region on the basis of mutual interests. And they reconfirmed the fact (seemingly under-appreciated in Washington recently) that resolution of the Karabakh conflict, starting with Armenian troops withdrawing from districts around the Armenian-populated Karabakh, is Azerbaijan's top national priority. Thus, Baku looks at its relations with other countries largely "through the prism of this issue" (www.day.az, July 4).
"This conflict is our biggest problem and a major threat to regional security," Aliyev told Clinton, adding "We want to resolve it as soon as possible." Furthermore, "this is not a frozen conflict" as long as Armenian troops occupy the ethnically cleansed Azeri territories, Mammadyarov reminded Clinton at the joint news conference. Azerbaijan reserves the ultimate resort to force under the UN Charter's Chapter 7 on the right of self-defense, as long as the ongoing negotiations have not exhausted their potential (www.day.az, State Department transcript July 4).
Clinton confirmed the US readiness to assist Baku and Yerevan in completing work on the basic principles of a settlement, drafting a final peace settlement, and ultimately implementing it. However, Washington thus far rules out any initiative of its own, outside the existing process under a triple Russian-US-French co-chairmanship. Moreover, the US (echoing Moscow's position) would "support the implementation of any agreement that Azerbaijan and Armenia would agree upon." This has proven to be a recipe for perpetuating the existing situation in the last 15 years. In the current phase, Baku has accepted, on the whole, the 2007 Madrid principles (in their latest redaction) while Yerevan avoids any clear answer, playing for time.
Owing, perhaps, to the visit's brevity, there was no public mention of energy issues and region-wide security concerns, although these form the core of the 15-year old US-Azerbaijan strategic partnership. There was also no public follow-up to the issues raised by Defense Secretary Robert Gates' emergency visit, related to the supply corridor via Azerbaijan for the US "surge" in Afghanistan. Publicly, Clinton endorsed Baku's wish for a larger number of Azeri students in the US and for more US academics and professionals to visit Azerbaijan (State Department transcript, July 4).
An introductory visit could not have produced immediate and tangible results. However, US deliverables are overdue in response to Azerbaijan's. The country has worked with the United States and Europe to spearhead Caspian energy development, prevent and combat terrorism, uphold the secular model of state development, contribute troops to US and NATO-led operations, and provide blanket transit and passage rights for coalition forces to Central Asia and Afghanistan.
These and many other Azeri decisions entailed calculated risks vis-à-vis Russia and Iran. It has become a commonplace observation in Baku and among external observers, however, that Washington ultimately took Azerbaijan for granted.
Until the Gates and Clinton visits, Washington had long failed to notice Azerbaijan's growing frustration with the lack of US reciprocity. Instead, Washington is often seen to favor the Armenian side at Azerbaijan's expense, in both symbolic and substantive ways.
In the aftermath of Clinton's visit, early US deliverables would be expected to include:
1. Matching the level of Russian and French involvement in the process of Karabakh conflict-resolution; and supporting a fully-fledged role for the European Union in the resolution process.
2. Reinstating the linkage between first-stage withdrawal of Armenian troops and the opening of the Turkey-Armenia and Azerbaijan-Armenia borders.
3. Accelerating the confirmation of the US Ambassador-designate for the vacant post in Baku.
4. Repealing section 907 of the Freedom Support Act, which penalizes Azerbaijan for Armenia's seizure of Azeri territories.
5. Discouraging the use of the Armenian genocide issue in the US Congress for counter-leverage on Turkey.
6. Reverting to a more pro-active US role in Caspian energy affairs, and raising the overall level of US attention and presence, which is seen to be declining in Azerbaijan.