IMU Crackdown Reveals Regional Dynamics in Tajikistan's Ferghana Valley
Publication: Eurasia Daily Monitor Volume: 10 Issue: 23
By: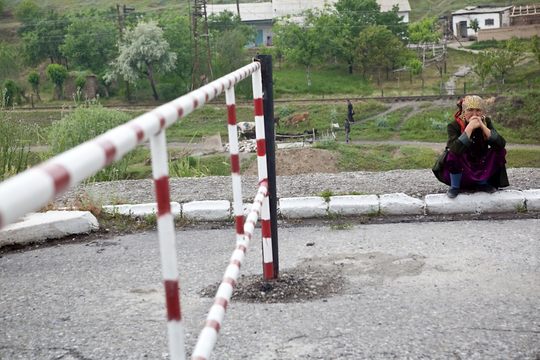 In January, security forces in Tajikistan arrested several suspected members of The Islamic Movement of Uzbekistan (IMU) in Tajikistan's northern Sughd province (BBC Tajiki, January 28). On January 14, police in Konibodom district pulled over a vehicle for a routine traffic stop. But the driver fired upon the two police officers, killing one and critically injuring another (BBC Tajiki, January 15). The shooter escaped, but provincial security forces identified him as a suspected member of the IMU. Five days later, on January 19, in the city of Istaravshan, police reportedly caught up with the suspect. However, in the course of the operation to arrest him, he blew himself up with a hand grenade (Ozodi, January 25).
Meanwhile, in the district of Mastchoh, six individuals with alleged ties to the IMU were apprehended in a special operation that resulted in the injury of a member of the elite OMON internal security unit (BBC Tajiki, January 10). According to Sharif Nazarov, the head of the Sughd province interior ministry, three of the suspects were charged with being members of the IMU, and the other three were charged with aiding and abetting the fugitives (Ozodi, January 29). Two of the charged men were natives of the Mastchoh region while another was a native of Isfara district. According to police, the trio had been wanted for several years (Ozodi, January 28). According to the public prosecutor's office in northern Sughd province, in 2002, 72 people were arrested for belonging to extremist and terrorist organizations (including the IMU), accounting for exactly half of the 144 arrest made nationwide (Tojnews, January 17; BBC Tajiki, January 28).
The recent arrests in northern Tajikistan reveal the complexity of the Central Asian republic's portion of the Ferghana Valley. As a region, Tajikistan's Ferghana Valley is often characterized in two, seemingly contradictory ways. Contrary to sections of the Valley in Uzbekistan and Kyrgyzstan, during Soviet times, Tajikistan's northern province of Sughd (Leninabad) played a leading role in governing the republic. Given its privileged status vis-à-vis Moscow, upon independence, the Leninabad region as a whole was better developed and more prosperous compared to other Tajikistani areas, such as President Emomalii Rahmon's home region of Kulyab. Despite being tentatively aligned during the country's civil war (1992–1997), there still exists considerable political tension and mistrust between the "northern Leninabadis" and "southern Kulyabis."
It is interesting, therefore, that the northern Ferghana region of Tajikistan, often stereotyped as consisting of a comparatively well-educated and economically prosperous population with an affinity for the bygone days of the Soviet Union and an eye toward Tashkent, should also be considered one of the country's hotbeds of Islamic extremism. The reason for this seeming incongruity is that that, like the Ferghana Valley as a whole, Tajikistan's portion is not homogenous and is affected by a patchwork of not only various ethnic groups, but distinct districts, each with its own internal dynamics and characteristics.
Tajikistan's section of the Valley consists of roughly ten different administrative districts—among them the more religiously conservative Istaravshan, Mastchoh and Isfara, the hometowns of the recently arrested IMU suspects. Isfara district in general and the exclave village of Chorkuh in particular have long been considered centers of Islamic extremism in Tajikistan (BBC Tajiki, December 28, 2008; Ozodi, March 9, 2007). Istaravshan had developed a reputation for fundamentalism even before a 2010 suicide bombing in the provincial capital of Khujand was traced back to a terrorist cell from there (BBC Tajiki, January 25). Similarly, Mastchoh is considered religiously conservative given its many family and clan ties to the "Kuhistoni" Mastchoh, a region in the Zarafshan Valley, deemed by some local experts to be a part of Tajikistan's "Islamic triangle."
Ethnically, Tajikistan's Ferghana Valley is comprised of a Tajik majority, a large Uzbek minority (up to 40 percent) and a small Kyrgyz minority living along the vaguely demarcated border abutting Kyrgyzstan's Batken province. Additionally, a small contingent of Yaghnobi people live in Zafarabad, having been forcibly resettled there from the mountainous Yaghnobi Valley in the 1970s to work on collective cotton farms. Likewise, the majority of the Tajik residents of Mastchoh district were similarly resettled from the mountains and forced onto collective farms. The institution of the collective farm has been widely cited as exacerbating regionalism in Tajikistan, a key culprit in the devastating civil war that wrecked the country in the 1990s, and continues to threaten political stability. In northern Tajikistan, considerable political rivalry still exists between districts such as Mastchoh and the provincial capital of Khujand, a tension that cannot simply be reduced to ethnic or religious factors (Asia-Plus, September 9, 2012; Tojnews, January 10).
In Soviet times, Tajikistan's portion of the Ferghana Valley was home to several key uranium mines and enrichment facilities (see EDM, April, 30, 2012). The facilities were built in planned, cosmopolitan cities such as Taboshar and Chkalovsk, which required many skilled technicians from all over the Soviet Union and which were closed off from surrounding towns. The result is that cities in close proximity to one another have drastically different sociological milieus and identities that go beyond ethnic affiliation and create various dichotomies in the region such as "Sovietski (predominant in cities such as Taboshar, Chkalovsk, Khujand, and Karakum) versus Islamic/traditional (the districts of Isfara, Istaravshan, and Mastchoh), and "indigenous" populations versus resettled groups (Mastchoh and Zafarabad districts). These internal dynamics (particularly the non-ethnic factors) complicate analysis of the Ferghana Valley as a whole and create often overlooked sources of instability in Tajikistan.