The Shift in Geopolitical Balance of Power in South Caucasus is Underway
Publication: Eurasia Daily Monitor Volume: 10 Issue: 23
By: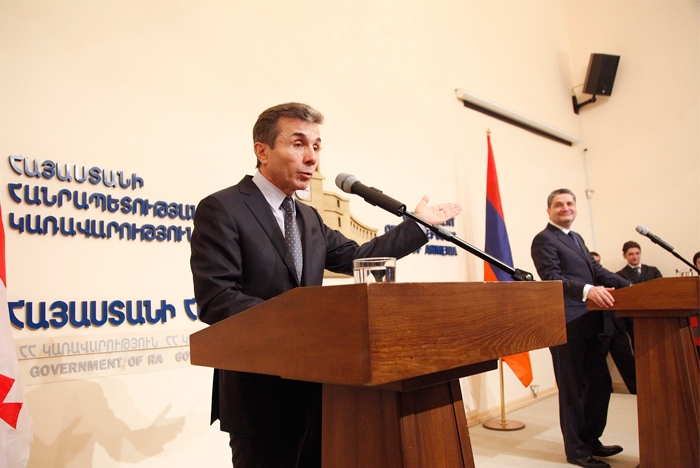 On January 17, during his visit to Armenia, Georgian Prime Minister Bidzina Ivanishvili stated that "Armenia provides a good example for Georgia, and it can be a source of envy in a positive sense," for managing to have good relations with Russia and at the same time with the United States and North Atlantic Treaty Organization (NATO) member states (www.civil.ge, January 18). Setting Armenia—a country which does not aspire to NATO membership and is widely considered to be Russia's satellite state in the South Caucasus—as an example was quite an alarming statement for Georgia, which already for more than a decade seeks to join the North Atlantic Alliance and distance itself from Moscow.
Ivanishvili, in a somewhat Machiavellian style, never misses an opportunity to pay verbal tribute to Georgia's Euro-Atlantic aspirations, while everything that he has done since becoming Prime Minister in October 2012, clearly shows that he is shifting the country's foreign policy orientation toward Georgia's former master, Russia. But this is not merely change in one country's foreign policy. As a result of Georgia's shift, there is greater change underway in the geopolitical balance of power in the entire South Caucasus region.
Georgia, because of its sheer geographic location, is a pivotal state in the entire Caucasus—it is the only country that borders all the states and political entities in the region (with the exception of Adygea). Against the background of the ongoing Armenian-Azerbaijani conflict and subsequent blockade of Armenia by Azerbaijan and Turkey, Georgia provides the shortest land connection for Azerbaijan to its ally Turkey and for Armenia to its ally Russia. Consequently, it does matter a great deal for the Caucasian states where Georgia stands. Georgia's foreign policy orientation largely determines which state becomes isolated in the conflict-ridden and divided South Caucasus.
As Georgia intensely moved toward the West since the 2003 Rose Revolution, Tbilisi actively cooperated with NATO-member Turkey and its Caucasian ally, Azerbaijan, in the economic, political as well as military spheres. Armenia has been left out of all major joint projects, becoming increasingly isolated in the region. Things are changing now for the benefit of Armenia, which may, this time, leave Azerbaijan isolated, indicating a shift in the geopolitical balance of power in the South Caucasus.
While Ivanishvili gradually reorients Georgia toward Russia, he simultaneously courts Moscow's closest regional ally, Armenia, addressing Yerevan's urgent needs and demands. Ivanishvili's statement in Armenia was not a mere diplomatic quip to please Armenians. He went further. Ivanishvili agreed to allow teaching Armenian history in Armenian schools in Georgia (www.iveroni.com.ge, January 20). Additionally, at the request of the Head of Armenia's Gregorian Church Karekin II, Ivanishvili's government released from prison Vahagn Chakhalian, a political activist associated with Armenian extremist groups in Georgia. He was serving a prison term for the illegal possession of weapons, armed hooliganism and public disorder in Georgia's predominantly Armenian-populated Javakheti region (www.civil.ge, January 25). Most importantly, Ivanishvili stated that the reopening of the Russia-Armenia railway—which passes through Georgia, including breakaway Abkhazia—would be possible (www.radiotavisupleba.ge, January 29). Currently, work is underway to address some technical problems for reopening the railway (www.armenpress.am, January 31; www.kvirispalitra.ge, January 31).
This railway has huge significance for isolated Armenia. As Armenia's jubilant President Serzh Sargsyan correctly noted, it would end the blockade of Armenia and have crucial importance for the country's economy and its exports (www.tert.am, February 4). However, the railway has even greater military and political significance, and not only for Armenia but also for Russia. If Moscow regains a direct rail link to its ally, Russia will be able to transport, without any obstacles, large amounts of military hardware to the Russian 102nd Military Base in Gyumri and to Armenia, in general. This will certainly further shift the military balance in the South Caucasus in Russia and Armenia's favor. In a related development, the Russian government already announced its intention to double the number of contract servicemen at the base (www.en.rian.ru, June 19, 2012).
However, the reopening of the Russia-Armenia (North-South) railway via Georgia seems to be just a piece in much larger scheme. On January 18, Armenia announced the launch of the Southern Armenian Railway (SAR) project, with the participation of Russia, Iran, China and the United Arab Emirates (UAE). The SAR will link Armenia with Iran and further with the Persian Gulf. Most importantly, it will connect regional Black Sea ports to the Gulf (www.regnum.ru, January 18). Considering that the Russia-Armenia railway can (and will) connect with the Armenia-Iran railway, it will create a long, north-south transport corridor, stretching from Russia to the Persian Gulf. This transport corridor will have tremendous economic and geopolitical importance first and foremost for Russia, expanding Moscow's reach all the way to the southern Middle East.
Georgia's steps to move toward Moscow and court Armenia are also isolating Azerbaijan on various issues. Georgia's proposal back in November 2012 to reopen the Russia-Armenia railway (see EDM, November 12, 2012) caused indignation in Baku (www.regnum.ru, November 12, 2012), which opposes any idea to break the blockade of Armenia. Nevertheless, the railway issue is already at the working stage. Moreover, in December 2012, the Georgian prime minister questioned the economic efficiency and profitability of the highly important Baku-Tbilisi-Kars (BTK) railway project, connecting Azerbaijan to Turkey via Georgia (www.geopalitratv.ge, December 22, 2012; see EDM, January 31). Although, he later recanted his statement (www.georgiatoday.ge, December 27, 2012), it showed that Georgia may no longer walk side by side with Azerbaijan. Such disagreements may grow, increasing Azerbaijan's isolation in the region. Some in Azerbaijan now even talk about a possible regime change in Baku by Russia (www.regnum.ru, February 1).
As Georgia shifts toward Russia, the geopolitical balance of power in the Caucasus is undoubtedly changing. This process will become even more visible in the months to come. The window is closing for the United States and the European Union to show political will and strength and to activate their policies in the region. Resolute action by the West will be necessary to salvage Georgia from sliding toward Moscow and hence avert further expansion of Russia's influence in the South Caucasus. Failure to act may result in a geopolitical picture of the region that will look quite different in couple of years.