In Face of Western Criticism, Georgian Authorities Adopt Trappings of 'Sovereign Democracy' Rhetoric
Publication: Eurasia Daily Monitor Volume: 18 Issue: 173
By: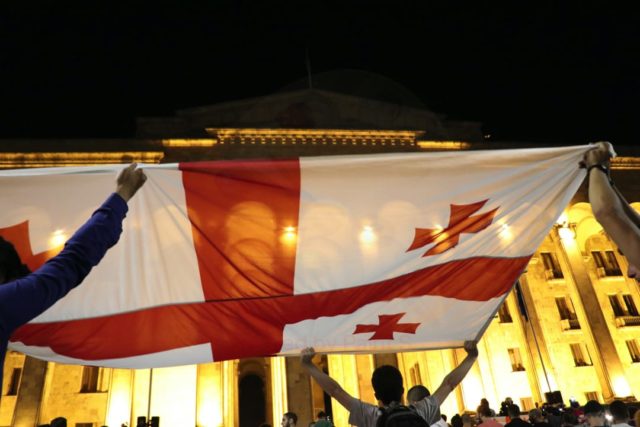 On November 13, one of the top leaders of the ruling Georgian Dream party, former parliamentary chairperson Irakli Kobakhidze, issued a statement, in which he referred to Polish member of the European Parliament (MEP) Anna Fotyga as a "patron of criminals" (Facebook.com, November 13). Fotyga, who briefly served as minister of foreign affairs of Poland in 2006–2007, traveled to Georgia on November 12 to meet with incarcerated former Georgian president Mikheil Saakashvili. The latter has been on a hunger strike since his arrest and imprisonment, on October 1, upon return to the country from exile (see EDM, October 4, 27). The Georgian authorities did not grant the MEP permission to see the former president behind bars, because Fotyga, in a letter dated November 9, requesting the visit, identified Saakashvili as a "political prisoner." In an official response to Fotyga's petition, Georgian Minister of Justice Rati Bregadze wrote, "Your letter mentions your past visits to 'political prisoners.' We would be grateful if you could explain what you mean by this term" (Interpressnews, November 13).
The arrest of Georgia's third president, who still enjoys significant support among many quarters in the West, has inflamed relations between the Euro-Atlantic community and the Georgian government. Former Swedish prime minister Carl Bildt sharply rebuked the current political regime in Tbilisi: "It's indeed outrageous that [Mikheil Saakashvili] is refused even the right to attend his own trial. Even the famous Moscow show trials in [Joseph] Stalin's Soviet days didn't go that far" (Twitter.com/carlbildt, November 11). Likewise, former president of Estonia Toomas Hendrik Ilves tweeted, "Georgia, with incidents like this and with the horrific film of abuse of president Saakasvili, is going down the well-trodden road of Central Asian despotisms. They don't care about Western or European norms. I don't see much need for [a European Union] presence in a country once important only because it stood out as a European exception among the Asiatic despotisms" (Twitter.com/IlvesToomas, November 13). While Anders Fogh Rasmussen, the former secretary general of the North Atlantic Treaty Organization (NATO) reacted somewhat more diplomatically, saying only that the current crisis in Georgia harms Georgia's Western prospects (Amerikiskhma.com, November 9).
The criticism and expressions of concern were not limited to previous or retired officials. For instance, Lithuanian politician and MEP Andrius Kubilius suggested that the Georgian people may have to "make a choice": either maintaining the Georgian Dream in power or seeing their country integrate further with the EU (Interpressnews, November 10). In turn, the spokesperson for the United States Department of State, Ned Price, reminded the Georgian authorities of their responsibility to uphold international standards: "We urge the Government of Georgia to immediately take steps to ensure that Mr. Saakashvili's urgent mental health and medical needs are addressed. We continue to urge the Government of Georgia to treat Mr. Saakashvili fairly and with dignity in accordance with international standards and Georgian law" (State.gov, November 9). And the non-governmental organization (NGO) Amnesty International called Saakashvili's forcible transfer to a prison hospital (after the fifth week of his hunger strike) "political revenge" (Twitter.com/amnesty, November 9).
For their part, the ruling Georgian authorities have increasingly responded to such censure with their own messages of reproach against the Western political elite, accusing the latter of interfering in the internal affairs of a sovereign country. And Kobakhidze's provocative statement demanding non-interference by the West, in particular, seemingly borrows the Russian concept of "sovereign democracy." He declares, "The guideline for us will be the main principle reflected in this letter—the Georgian state cannot cooperate with people who, due to political bias in favor of criminals [sic], do not recognize this state as a state" (Facebook.com/KobakhidzeOfficial, November 13).
The geopolitical dimension of the current political crisis in Georgia, which has deepened in connection with the arrest of the former president of Georgia, is underlined by the reactions not only from the West, but also from Moscow. Russian media outlets actively cover and report on Saakashvili's life in prison. And the elites in Moscow do not hide their satisfaction over the arrest of the former Georgian president, whom the Kremlin considers an enemy. Russian populist politician and leader of the Liberal Democratic Party of Russia, Vladimir Zhirinovsky (believed to regularly float ideas or narratives that the Kremlin itself may not wish to be directly connected to), reacted cynically to Saakashvili's arrest: "You could live in Moscow, meet with [deposed Ukrainian president Viktor] Yanukovych, play backgammon on the Old Arbat [a historic Moscow district]; but your excessive gluttony let you down" (Ekho Kavkaza, October 2).
As the leader of the 2003 democratic Rose Revolution, Saakashvili has since then been seen by Moscow as "a man of the West." And notably, on November 9, Russian television channel Rossiya 24's coverage (on its "60 Minutes" program) of Saakashvili's imprisonment included the TV presenters trampling the white-and-red five-cross state flag of the Republic of Georgia under their feet. The national symbol, while it has medieval roots, was adopted as the state flag in 2004; and so it is still strongly associated with not only the Rose Revolution but also with Saakashvili himself.
The inflammatory reaction from Moscow and the associated insult to Georgian state symbols sparked widespread anger in Georgian society, which has spilled over into other issues: even those who were not supporters of Saakashvili have begun to mobilize against the authorities in Tbilisi in defense of the rights of the arrested president. Within Georgia, there is a growing understanding that Saakashvili's fate is not only an internal political matter but has taken on international significance—surely one of Saakashvili's main goals in deciding to return to his native country from nearly decade-long exile in Ukraine (see EDM, September 21). Now an unfavorable situation has developed for the Georgian authorities: their actions have effectively turned them into situational allies of Moscow, thus uniting much of Georgian society and Western political elites sharply against them.