In the Age of the Internet Russia Races Several Strains of Radical Islam
Publication: Eurasia Daily Monitor Volume: 9 Issue: 58
By: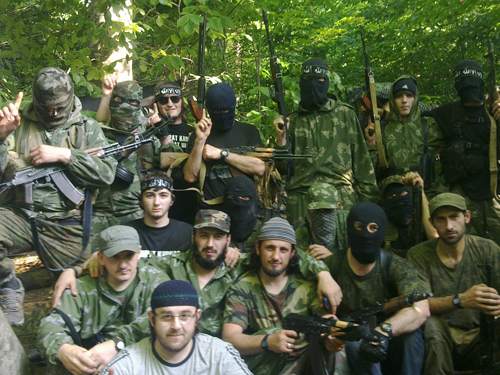 There has recently been a spate of news stories in Russia about the Hizb ut-Tahrir al-Islami organization (Party of Liberation). This organization is on the Russian Supreme Court's official list of terrorist organizations and thus its activities in the country are banned (www.rg.ru/2006/07/28/terror-organizacii.html). An international pan-Islamic Sunni organization, Hizb ut-Tahrir is outlawed in Egypt and Germany and all of the Central Asia states. One wonders what this organization has to do with the North Caucasus.

Still, Ingushetia's law enforcement agencies have found followers of Hizb ut-Tahrir in the republic (www.magastimes.com/news/press-reliz-mvd-rf-po-ri). The accountant of the rights organization Mashr, Murad Yandiev, was one of four suspected adherents of this Islamic organization who were arrested. In the house where the arrests took place, police found literature of the banned extremist "party." The head of Mashr stated that nobody in Ingushetia had heard of Hizb ut-Tahrir before (www.georgiatimes.info/articles/72867-1.html). However, as soon as the name Hizb ut-Tahrir was heard in Russia, some experts, such as Ahmed Yarlykapov and Roman Silantyev, hastily declared that the group was advancing its interests in the North Caucasus, challenging Salafism.

This conclusion is hardly accurate. Salafism and the ideology of Hizb ut-Tahrir al-Islami are not opposed to each other. On the contrary, they are both parts of the same platform of radical Islam. Thus, making rash statements founded only on two or three Russian-language books that are distributed in Moscow and elsewhere in the country with the authorities' consent is not justified, because there are no signs of major ideological changes inside Russian Muslim society. The fact that the Salafis are making use of Hizb ut-Tahrir's literature confirms that the two Islamic movements have much in common, starting from their aims and ending with their methods of capturing power in various countries. To consider them rivals competing to control territories has little to do with the actual reality.

Still, Russian authorities are haunted by the image of Hizb ut-Tahrir not just in the North Caucasus, but throughout the country. Initially, the authorities started to take notice of this organization at the time arrests of Muslims started in Tatarstan. Groups of Muslims appeared there that did not recognize the authority of the official Islamic clergy, and this immediately caught the attention of the Russian security services. A preacher from Tashkent, Alisher Usmanov, was one of the founders of the branch of the party in Tatarstan. In 2005, Usmanov was convicted of participating in an extremist organization and possession of explosives (www.intertat.ru/ru/criminal/item/2892-halifat-strogogo-rezhima.html). Trials of members of Hizb ut-Tahrir are not infrequent in Tatarstan. The same trend can be seen in neighboring Bashkortostan. On February 23, 2012, a local court in Bashkortostan's Davlekanovsky district convicted four local residents of being members of an extremist cell of Hizb ut-Tahrir. Prior to that, other people suspected of participation in Islamic organizations also were put on trial (www.vz.ru/news/2012/2/23/563484.html).

The authorities also reported they had arrested members of Hizb ut-Tahrir in Moscow itself (www.rosbalt.ru/moscow/2011/09/14/889741.html), so these events should be interpreted as links in a chain, and the groups should not be viewed as different organizations competing with each other for influence in Russia's Muslim community.

Several dozen people are serving prison terms in Russia under Article 282-2 of Russia's Criminal Code for participating in various extremist Muslim organizations (https://lenta2012.ru/pulsblog/263580_zakluchennie-ekstremisti.aspx). It should be noted that Hizb ut-Tahrir al-Islami's leaders in Russia are normally people originating from Uzbekistan, Tajikistan and other Central Asian states. Leaders of the armed North Caucasian resistance and their supporters normally come from the North Caucasus. North Caucasian jamaats can be encountered across Russia and include not only natives of the Caucasus, but also ethnic Russians who converted to Islam.

An example of this was the case of 11 members of a jamaat in Novosibirsk who were arrested earlier this month (https://news.ngs.ru/more/378917/). The jamaat members were accused of plotting attacks and of financing the North Caucasian armed resistance. Similar jamaats operate in other parts of the country – from Kaliningrad to Vladivostok. For the time being, these jamaats act as missionary-educational groups and are not militarized. However, when the authorities decide that they have become too dangerous because they are starting to influence young people, the jamaats are declared accomplices of the North Caucasian militarized jamaats. This has happened to jamaat groups in Nizhnekamsk and Naberezhnye Chelny, in Tatarstan; and in Nizhnevartovsk, in the Khanty-Mansisk autonomous district (https://news.rin.ru/news/150375/).

The two brands of radical Islam in Russia differ in some respects. Hizb ut-Tahrir puts an emphasis on attracting the maximum possible number of Muslims into its ranks to change the map of a region. The jamaats try to create structures in Russia that would contribute to the victory of the armed resistance in the North Caucasus. The supportive structures either turn into insurgent groups or financial support groups. At the same time, one should not clearly delineate these groups, inasmuch as they are not exact replicas of their maternal organizations in the North Caucasus and in the Middle East, respectively. The two brands of radicalism are still at the formative stage in Russia and the dividing lines between them are shadowy.

It is not surprising that Russia tries to point to Hizb ut-Tahrir's presence in the country as evidence confirming the official propaganda that all the tension and problems in the Muslim part of Russian society is connected to external influences. This was tried out in Chechnya, when the Russian government recast the members of the armed resistance as a branch of al-Qaeda in the North Caucasus. In fact, it was hard to agree with this conclusion, since al-Qaeda ignored the North Caucasus for a long time, discounting it as a region where it had no vested interest.

Thus, Islamic life in Russia is becoming more diverse than government authorities would like to admit. Stopping this process of integration of Russian Muslims into the world system of Muslim organizations in the age of the Internet is practically impossible now. While the Soviet Union managed to shut its borders and shield itself from external influences, this will not happen in today's Russia. The Russians, however, have not yet come to grasp the amount of Muslim influence on the country that will be exerted in the near future. The impact will not be a purely Russian phenomenon, but rather part of a worldwide trend.