India Boosts Its Presence in Kyrgyzstan
Publication: Eurasia Daily Monitor Volume: 8 Issue: 131
By: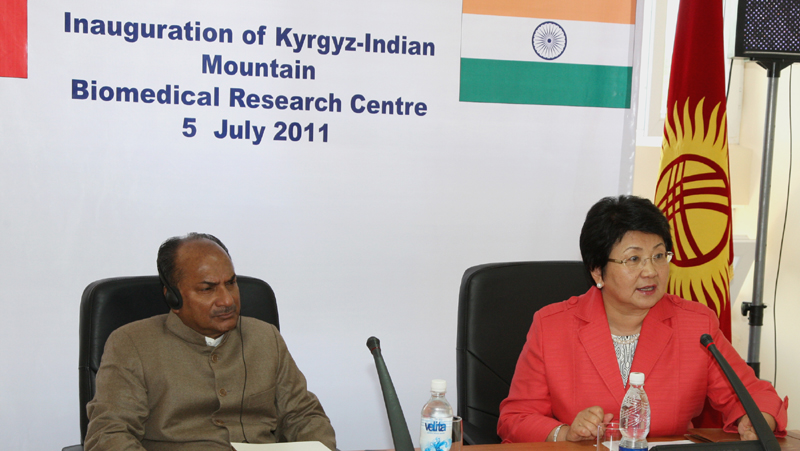 New Delhi's presence has suddenly expanded in Kyrgyzstan following Indian Defense Minister A.K. Antony visit to Bishkek on July 4-5 to meet with his Kyrgyz counterpart, Abibilla Kudayberdiyev, to discuss bilateral cooperation on security issues.
It was agreed that by the end of July, Indian peacekeepers will begin training Kyrgyz army conscripts to make them suitable to participate in UN operations. "India has offered assistance to Kyrgyzstan to strengthen its defense and security capabilities. The training team is the first step," Antony said in Bishkek (www.hindustantimes.com, July 5). India will also provide English language training to the Kyrgyz army.
Furthermore, India will open a joint Mountain Biomedical Research Center in Tuya Ashu village. The center will host 20 Indian soldiers and conduct research on the mechanism of short term and long term high altitude adaptation, Antony said (www.timesofindia.com, July 6). "We can explore areas for cooperation in research and development in high-altitude base agriculture, plantation, animal husbandry, poultry and food processing that would also help generate rural employment and remove poverty," the Indian defense minister added.
Kyrgyz President, Roza Otunbayeva, praised the growing cooperation with India, saying that "the new center must become a leader in Kyrgyzstan's sciences. National professionals will study genetic aspects of the formation and development of mountain diseases." She also said that the new center is a watershed in the 20-year history of cooperation between Kyrgyzstan and India (www.24.kg, July 5). Overall, however, unlike international media outlets, the Kyrgyz press largely ignored Antony's visit to Bishkek.
The potential to play a role in post-NATO Afghanistan is the major driving force behind India's expansion into Central Asia. India has already expressed strong interest in joining the Shanghai Cooperation Organization (SCO), which also recently unveiled its new Afghanistan policy. However, one difficulty the SCO faces is maintaining a balanced approach towards India and Pakistan.
For several years the heads of India, Iran, Mongolia, and Pakistan have held observer status with the SCO, while Belarus and Sri Lanka are SCO's "dialogue partners." The SCO plays a "constructive and forward looking role in contributing towards peace in Afghanistan," India's External Affairs Minister S.M. Krishna said during the SCO summit in Astana last month (www.hindu.com, June 16).
According to the Indian press, New Delhi has sought to strengthen ties with Kyrgyzstan since the reign of former President Askar Akayev. India's President A.P.J Abdul Kalam and Akayev met in November 2003 to discuss the possibility of launching a mountain medical center (www.economictimes.com, July 5).
India helped in the construction of the airbase in Ayni, Tajikistan, and is known for its lack of any practical use. New Delhi has also sought to build stronger ties with other Central Asian states on issues other than regional security. The Indian government is also planning to build a pipeline to import gas from Turkmenistan's Yoloten-Osman field (www.defensenews.com, July 5).
Kyrgyzstan is the only Central Asian state to provide both ground transportation and an airbase for the Northern Distribution Network that supplies the US and NATO campaigns in Afghanistan. The country also hosts a Russian airbase in Kant city. In the past Bishkek had to balance its relations between the United States and Russia. Since the regime change in April 2010, however, Kyrgyzstan has been more receptive to foreign influence. There is no one government body that is responsible for foreign policy decisions. Otunbayeva pursues a more Western leaning policy, while Prime Minister Almazbek Atambayev (a potential presidential candidate) favors cooperation with Russia. Individual members of parliament have also boosted ties with various foreign partners – ranging from Washington to Jakarta.
Against this background, India enjoys a special status of being on good terms both with the West and Russia. Any of India's advances into the Central Asian states might compete mostly with the interests of Pakistan and China. Kyrgyzstan's foreign policy is likely to become more focused after the presidential election scheduled for October 30.
India's indirect economic impact on Kyrgyzstan and in the wider Central Asian region has expanded mainly due to shuttle traders importing goods from India, as well as student exchange programs. However, despite the geographic proximity between India and Kyrgyzstan, India still remains a much more difficult place to travel to when compared to Russia. For now, there are far more routes connecting Bishkek with Moscow than New Delhi. This is unlikely to change in the coming years.