India to Build 24 Cargo Vessels for Russian Use in Caspian Trade
Publication: Eurasia Daily Monitor Volume: 20 Issue: 179
By: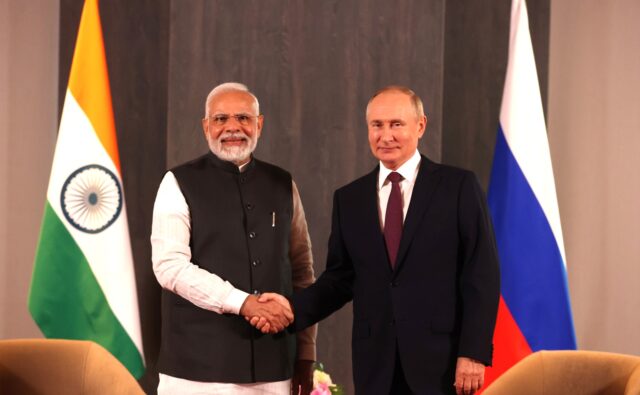 On October 26, Indian government-owned Goa Shipyard signed a substantial shipbuilding contract with Russia. The agreement calls for Goa to construct 24 river-sea class cargo ships for Russian clients in the Caspian Sea by 2027. The director of Caspian International Integration Club North-South, Dmitry Dubovik, publicly announced the contract during the Astrakhan International Forum. The conference brought together over 150 companies from Iran, India, Azerbaijan, Kazakhstan, Russia, and other countries to discuss development of the International North-South Transport Corridor (INSTC) running from Moscow to Mumbai (TASS, October 25). The INSTC is a 4,474-mile (7,200-kilometer) network of railroads, highways, and maritime routes connecting Russia and India through Iran via the Caspian. India, Iran, Russia, Türkiye, Azerbaijan, Kazakhstan, Armenia, Belarus, Tajikistan, Kyrgyzstan, Oman, Ukraine, and Syria are all members of the INSTC, with Bulgaria as an observer (The Business Standard, July 14, 2022). The Russian-Indian contract represents an important step in developing the capabilities to maximize the INSTC's potential and addressing Russia's decrepit shipbuilding industry.
Before the contract with Goa Shipyard, Russia detailed its intentions to construct containerships tailored to the INSTC's Caspian portion (The Maritime Executive, May 12). United Shipbuilding Corporation (USC) already began expanding Russia's indigenous Caspian shipbuilding options last December, when the keels of the first four container/bulk carriers were laid down at the Lotos Shipyard in the Astrakhan region. These vessels represent a new class of Russian domestic containership and are being built to specifications similar to the Volga-Don Max class (Korabel.ru, December 12, 2022). Construction is planned to be completed by 2025.
The new agreement follows an earlier announcement in May from India and Russia of an intergovernmental agreement on shipbuilding and repairs. India's ambassador to China, Pawan Kapoor, remarked on the potential for cooperation between Astrakhan-based companies and Indian shipyards. He emphasized the ongoing negotiations with Russia's USC to assess that potential (Defence Watch Bureau, Public Sector Undertaking Watch, November 9).
Russia has begun investigating alternative maritime routes to avoid being overly dependent on the Black Sea. This comes as Moscow is searching for options to cope with the increasingly stringent Western sanctions imposed on Russia in the wake of President Vladimir Putin's "special military operation" (SVO) in Ukraine. These include the Caspian's INSTC and the Northern Sea Route (NSR). The NSR is rising in popularity for Russian shipping companies, as well as for China and Türkiye, and has the advantage of being solely in Russia's territorial waters (see EDM, April 4). The Kremlin is also seeking new partners to support its struggling shipbuilding industry, which has struggled in recent years and has been further impaired by sanctions (see EDM, October 5, 12, 2021.
According to Dubovik, the first four ships of the Goa deal will be launched in the first quarter of 2024. ). A Russian-registered subsidiary of the Islamic Republic of Iran Shipping Lines (IRISL), a state-owned Iranian shipping corporation, will be the first customer of the vessels (News9live, November 6). The contract stipulates that India will build chemical tankers, bulk carriers, and container ships, with the 24 vessels being delivered before 2027 (India Shipping News, October 31).
Cooperation with India in shipbuilding has its benefits for Russia. For example, the final unit cost per vessel within the contract is projected to be half of what it would cost Russian shipbuilders (The Maritime Executive, November 3). Additional savings will come from Goa Shipyard's low interest rates, sitting at 2 or 3 percent as opposed to Russian State Transport Leasing Company's current rate of 18.6 percent (Bol'shaia Aziia, October 25). Russian Foreign Minister Sergei Lavrov has stated that the vessels will be purchased with some of the $39 billion in rupees "stuck" in accounts in India as payments for imports from Russia (BFM.ru, October 26
New Delhi hopes that the shipbuilding deal with Russia will expand its status as a leader in global maritime trade. Last month, Indian Prime Minister Narendra Modi told attendees at the third Global Maritime India Summit in Mumbai that the country plans "to become one of the top five shipbuilding countries in the next decade. Our slogan is 'Made in India—For the world.'" His administration plans to establish additional shipbuilding and maritime repair centers throughout the country (Korabel.ru, October 25).
Putin intends to revitalize Russia's shipbuilding industry, despite the increasing pressure from Western sanctions. On October 9, he signed a decree transferring the management of Russia's largest shipbuilder, USC, to state-owned VTB Bank for five years (TASS, October 9). Sanctions have left USC struggling to source critical components to complete its backlog of orders, particularly the powertrain and technology systems previously sourced from the European Union. The combined pressures have resulted in a major loss of Russia's shipbuilding capacity.
Implementation of the Russian-Indian contract is not without its difficulties. While it appears to be a tidy interim solution for several problems facing the two countries, several obstacles remain. These include the shallow-draft Volga-Caspian Sea Navigation Canal needing continual dredging (see EDM, August 6, 2020; February 24) and the fact that IRISL is currently under sanctions from the United States, United Nations, and European Union. These and other uncertainties could complicate the planned vessels' eventual transit to the Caspian.
Sanctions on Russia and Iran continue to pose risks for substantial investments in the INSTC. The route remains a patchwork of several independently run rail, road, and maritime projects without a single operator overseeing development. Given that the Caspian's geography and the geopolitical tensions in the surrounding region, it seems likely that Russia's new Indian-built Caspian merchant fleet may spend more time idle in port than transporting cargo.