Indonesia Avoids Open Territorial Dispute, Despite Concerns
Publication: China Brief Volume: 14 Issue: 13
By: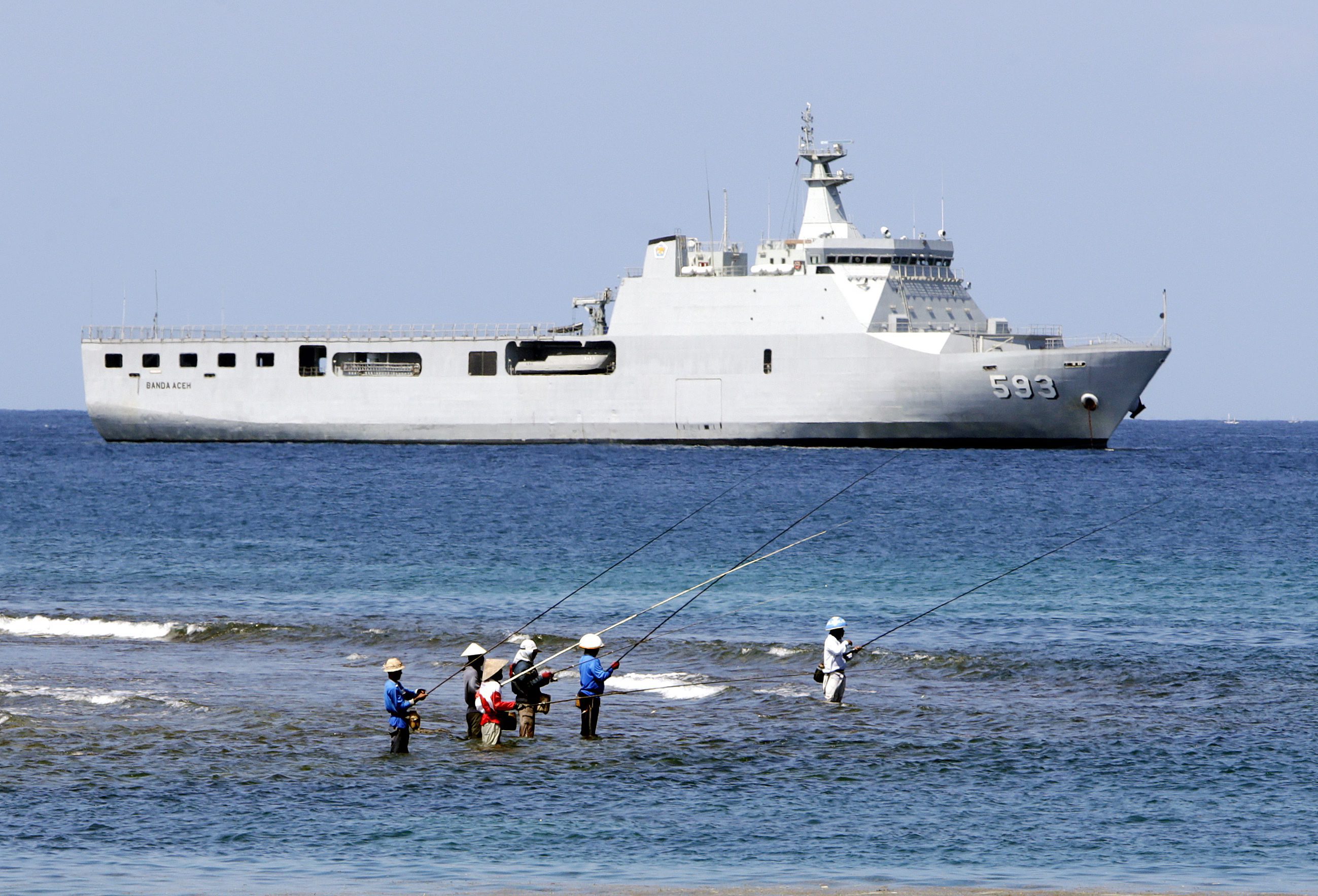 Over the past few months, criticism by Indonesian officials of China's conduct in the South China Sea has fueled speculation about a policy departure in Southeast Asia's largest state (Jakarta Globe, March 13; PacNet, April 1; Strat.Buzz, April 2). While this does signal rising concern about Beijing's assertiveness and Indonesia's willingness to address it, it does not in and of itself constitute a policy shift. While concerned about China's territorial claims, Indonesian governments have tried to avoid letting them define a generally positive relationship and to maintain the country's status as a non-claimant. But, as it witnesses the pressure put on neighboring countries—and increasingly comes in contact with Chinese vessels—it is becoming harder for Jakarta to maintain this position.
While Indonesia technically is not a claimant state in the South China Sea disputes, it is an interested party. China's "nine-dash line" map overlaps with Jakarta's exclusive economic zone (EEZ) generated from the Natuna Islands chain, which contains one of the world's largest offshore gas fields and is a rich fishing ground. Beyond this, China's claims also undermine the United Nations Convention on the Law of the Sea (UNCLOS), which is the basis for the territorial integrity of the world's largest archipelagic state (Jakarta Post, April 7). Jakarta is also fully aware that the disputes between China and the four ASEAN claimants (Brunei, Malaysia, the Philippines and Vietnam) could undermine regional stability.
In response, Indonesia has used a careful mix of diplomatic, legal and security measures since the 1990s to both oppose China's contentious claims while not officially legitimizing them as well as facilitating dispute resolution between South China Sea claimants while maintaining its own status as a non-claimant. In the diplomatic domain, it has repeatedly sought clarification from China about the extent of its claims. At the same time, Jakarta has not officially included China in the list of ten neighbors with which it must settle maritime boundaries, since doing so would lend credence China's claims (Jakarta Post, August 8, 2011). Since 1990, the Indonesian Foreign Ministry has also organized an annual workshop on "Managing Potential Conflict in the South China Sea" to build confidence between rival claimants (Jakarta Post, October 31, 2013).
In the legal realm, Indonesia has worked assiduously with other willing ASEAN countries to conclude the ASEAN-China Declaration on the Conduct of the Parties (DoC) and move towards a legally binding code of conduct (CoC). Jakarta has also sought to build up its own capabilities to protect its territorial integrity, and the Natunas have been a critical part of Indonesia's military modernization plans since the 1990s. For instance, when Indonesia learned that Beijing had included the Natuna Islands chain in a map detailing its South China Sea claims in 1993, it increased air patrols around the area and then conducted one of its largest-ever joint military exercises there in 1996 (Straits Times, April 24).
Indonesia's Growing Concerns
China's growing assertiveness in the South China Sea over the past few years has placed Indonesia's delicate approach under strain. In the legal domain, Beijing's official submission to the UN of its nine-dash line map for the first time in May 2009, which included parts of Indonesia's EEZ, frustrated Jakarta because it was out of step with UNCLOS. China's pressure on Cambodia on the South China Sea issue during the ASEAN Ministerial Meeting in July 2012, which led to the regional grouping's unprecedented failure to issue a joint communiqué, as well as its continued foot-dragging on a CoC, also directly undermined Jakarta's focus on ASEAN unity and diplomacy in the resolution of the disputes, a key priority for Indonesia repeatedly expressed by Foreign Minister Marty Natalegawa (Japan Focus, 2012). Natalegawa also firmly told China earlier this year that Indonesia would not accept an air defense identification zone (ADIZ) over the South China Sea (Straits Times, February 18).
China's enhanced military and paramilitary presence in the South China Sea has also made Indonesia increasingly nervous. Beijing's assertiveness over the past few years has included not seizing Scarborough Shoal from the Philippines and dispatching oil rigs in contested territory with Vietnam, but expanding naval exercises and patrols in the southern parts of its claims closer to Malaysia and Indonesia, which has resulted in direct confrontation at sea. In 2010, when an Indonesian patrol boat captured a Chinese vessel illegally fishing within Jakarta's EEZ, Beijing dispatched a maritime law enforcement (MLE) vessel, which allegedly pointed a machine gun at the Indonesian boat and compelled it to release the Chinese vessel (National Institute for Defense Studies, February 2012). Similarly, in March 2013, when Indonesian officials boarded a Chinese vessel for the same reason and attempted to transport the nine fishermen ashore for legal proceedings, the captain of the ship was forced to release them following harassment by Chinese MLE vessels (The Strategist, October 29, 2013). While Indonesia has tended to downplay these incidents, they do raise eyebrows in Jakarta.
Indonesia has not felt the need to change the general contours of its approach thus far. But its recent reactions nonetheless suggest both growing concerns about Beijing's conduct and an increasing willingness to react to it. Indonesia declared that China's nine-dotted map "clearly lacks international basis" in a diplomatic note to the UN in 2010, and it dismissed Beijing's printing of its disputed claims on passports in 2012 as "disingenuous" (Jakarta Post, November 29, 2012). Jakarta also took an unprecedented leadership role after ASEAN's 2012 stumble in Phnom Penh and forged a consensus among Southeast Asian states on the South China Sea question, a clear demonstration to both China and Cambodia that the organization's chair did not necessarily unilaterally control its agenda (Asia Times Online, July 27, 2012). More recently, Natalegawa has proposed that ASEAN foreign ministers meet for a special meeting on the South China Sea before the ASEAN ministers meeting scheduled in August (Kyodo News, June 5).
Indonesian military officials have also been more outspoken about China-related concern and plans for a response. This February, during a visit to China, TNI Chief General Moeldoko announced in Beijing that Indonesia would station additional forces around the Natuna waters to "anticipate any instability" in the South China Sea (AntaraNews, February 27). Then, in March, Air Commodore Fahru Zaini publicly stated that China had claimed Natuna waters "as their territorial waters", and that "this dispute will have a large impact on the security of Natuna waters" (AntaraNews, March 13). This rhetoric was backed up by announced shifts in capabilities. For example, the Indonesian Air Force was expected to upgrade its airbase facilities with the long-term goal of permanently deploying a squadron of Sukhoi fighter aircraft and four Boeing AH-64E Apache attack helicopters on the Natuna Islands (IHS Jane's, March 31). While Indonesian foreign ministry officials subsequently clarified that none of these statements represented departures from Indonesian policy, their public and direct nature nonetheless attests to the growing concern about China, particularly in military circles.
Constraints on Jakarta's Response
But even though these developments reflect Indonesia's rising anxiety about China's behavior in the South China Sea, several structural factors may constrain both the extent to which Indonesia can react as well as the degree to which this issue will affect the overall Sino-Indonesian relationship.
Firstly, while the South China Sea issue is important to Indonesia, Jakarta would still strongly prefer not to let this single issue get in the way of burgeoning Sino-Indonesian ties. China is Indonesia's second largest trading partner, its top source of foreign tourists, and a growing investor. The two countries inked a strategic partnership in 2005, which was upgraded to a comprehensive strategic partnership during Chinese President Xi Jinping's first visit to Jakarta last year (Xinhua, October 3, 2013). While even Indonesian diplomats publicly admit that there still exists a "trust deficit" in the relationship, it is nonetheless an important one (Jakarta Post, October 2, 2013). More generally, maintaining good relations with Beijing is—in the words of Foreign Minister Natalegawa—part of the "dynamic equilibrium" that Indonesia seeks in the Asia-Pacific, where the region is not dominated by one country or two rival powers but rather a place where a range of actors can engage inclusively and intensely across issues (Jakarta Post, July 1, 2011).
In that vein, Indonesia has tried to find creative ways to engage with China on the South China Sea despite concerns about its conduct there. For example, in May 2011, after a meeting with visiting Chinese Defense Minister Liang Guanglie at the sidelines of the ASEAN Defense Ministers' Meeting (ADMM), Indonesian Defense Minister Purnomo Yusgiantoro broached the idea of both countries conducting coordinated patrols in the South China Sea to prevent illegal fishing by Chinese fishermen in Indonesian waters (Jakarta Post, May 23, 2011).
Secondly, while China's rise is a source of concern for Indonesia, it is only one among a multitude of threats which Jakarta has to worry about. For instance, Indonesia's buildup in the Natunas is not solely focused on the South China Sea or China, but part of a larger national goal to develop a Minimum Essential Force (MEF), a concept introduced by President Susilo Bambang Yudhoyono to establish the minimum scale of military capabilities the country needs to deploy in response to strategic threats by 2024. As some Indonesian analysts have pointed out, the MEF and other supporting documents suggest that Jakarta's defense priorities are geared first towards more immediate security risks such as internal conflicts, terrorism and natural disasters before focusing on priorities such as protecting its vast territory and balancing against neighboring states deemed to be threatening its borders (Jakarta Post, November 24, 2011). This interpretation suggests that even if China's rise constitutes a growing threat in the eyes of Indonesian policymakers, it still ranks quite low in Jakarta's overall threat matrix.
Thirdly, to the extent that Indonesia is building up its military capabilities—in response to China or otherwise—this is still very much a work in progress with severe limitations. While Indonesia's defense budget has risen over the past few years, the 2014 allocation of around $8 billion is still merely 0.9 percent of GDP, which is far below its own intended target of 1.5 percent of GDP by the end of 2015 (IHS Jane's, August 18, 2013; Jakarta Post, April 3). Indonesia's air force is stretched thin with just 50 fighter aircraft in service in the world's 15th largest country by area, while its navy still lacks capabilities in areas critical to policing Jakarta's extensive maritime area, including anti-submarine warfare and maritime reconnaissance (Aviation Week, February 11; The Strategist, August 29, 2012). Notable efforts are underway to either reverse previous degrading or add new capabilities altogether, but they begin from a low base and some of them have stalled.
Conclusion
These considerations do not, however, mean that Indonesia's position cannot change. If Indonesia's territorial integrity is threatened by regular infringements by Chinese vessels in the Natunas, or, more specifically, if Beijing directly challenges Jakarta's rights to explore the resources within its EEZ, these could lead Indonesian policymakers to either reevaluate policy options or fracture the country's domestic consensus (Straits Times, April 24). The energy question is especially significant since Indonesia's national oil company Pertamina has already partnered with ExxonMobil, Total, and PTTEP Thailand in a consortium to explore the East Natuna Block, with production set to begin in 2024 (Jakarta Globe, August 13, 2013). Indonesia will also inaugurate a new president in October this year, and there may be subtle shifts in its approach depending on who is elected and appointed foreign minister. The two top presidential candidates have recently sparred on the issue, with former Jakarta governor Joko Widodo demonstrating a preference for a more diplomatic approach relative to the more hawkish Prabowo Subianto (Jakarta Post, June 24).
For now, Indonesian policymakers are trying to maintain their current approach to the thorny South China Sea issue: protesting China's nine-dash line without admitting a dispute exists; helping resolve the disputes while remaining a non-claimant; and challenging Beijing on its claims while preserving a strategic relationship. Managing it will nonetheless be critical for Jakarta for years to come, with implications not only for Indonesia but the region more generally.