Insurgency-Related Incidents Reported In Four Republics of North Caucasus
Publication: Eurasia Daily Monitor Volume: 8 Issue: 185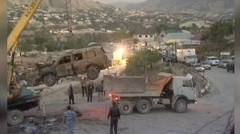 Two suspected rebels were killed in Kabardino-Balkaria today (October 7), during a special operation in the city of Tyrnyauz. The operation began yesterday, when police blockaded a group of four suspected militants in a five-story apartment building in the city. According to the authorities, the rebels opened fire on law-enforcement personnel who had ordered them to surrender. In a similar incident in Kabardino-Balkaria on October 3, police in the city of Baksan surrounded three alleged rebels, two of whom were killed in an ensuing shootout (www.kavkaz-uzel.ru, October 7).
On October 5, the press service of the prosecutor's office in Kabardino-Balkaria announced it had completed an investigation into ten residents of the republic accused of aiding terrorism and setting up an "illegal armed formation." According to the prosecutors, the goal of the group was to establish "an Islamic state with Sharia rule." The ten allegedly plotted "armed resistance" against the republican authorities and, to that end, illegally obtained weapons, ammunition, and food and medical supplies. On October 4, prosecutors in Kabardino-Balkaria completed an investigation of two residents of the republic accused of involvement in the armed underground, attacks on law-enforcement personnel, arson attacks on shops and other crimes. The two suspects were identified as 29-year-old Mikhail Miziev and his 20-year-old brother Ramazan Miziev, both residents of the republic's Chegem district (www.kavka-uzel.ru, October 5).
Also on October 5, Russian Interior Minister Rashid Nurgaliev said that the frequency of terrorist crimes in Kabardino-Balkaria has been cut in half this year, with "stabilization" in the republic already apparent as of this past summer. "Forty terrorist crimes have been committed in the republic this year, half the number registered during the same period last year," he told a meeting in Nalchik, Kabardino-Balkaria's capital. "Also, the number of injured civilians has decreased by 75 percent, which is very important." Still, the situation remains "complicated," Nurgaliev conceded, accusing rebels of undermining economic development and the promotion of civil society institutions in the North Caucasus. He said that while rebel attacks increased at the beginning of 2011, 313 terrorist crimes were committed in the North Caucasus Federal District in the first nine months of this year, down 58 percent compared to the same period last year. There have also been 194 attacks with firearms and 119 bombings in the federal district so far this year — down from the same period last year, according to Nurgaliev. He said that more than 300 militants, including 35 rebel leaders, have been killed in special operations, and 194 improvised explosive devices and 300 kilograms of explosives have been seized so far this year, which is one and a half times more than in the same period last year. Nurgaliev said 143 law-enforcement officers have been killed and 397 wounded in special operations in the North Caucasus so far this year, with 25 killed and 30 wounded in Kabardino-Balkaria alone (Interfax, October 5).
In Dagestan, the chairwoman of the group Mothers of Dagestan for Human Rights told the Kavkazsky Uzel website yesterday (October 6) that a resident of the village of Sultanyangiyurt, Murad Dzhavatkhanov, had been seized by men in police uniforms after he bought a train ticket at the Kizilyurt railway station. However, when relatives called the Kizlyurt police, they denied having detained him, as did the police in the cities of Khasavyurt and Makhachkala (www.kavkaz-uzel.ru, October 6).
On October 3, two policemen were killed and one wounded in Dagestan when the armored police van in which they were traveling was hit by a bomb blast on the outskirts of the city of Kizilyurt. The bomb was reportedly planted in another vehicle and detonated as the police van was passing by, and there were contradictory reports about whether the explosion was caused by a suicide car bomber (www.kavkaz-uzel.ru, October 3). The slain policemen were later identified as 29-year-old Private Bashir Kamuchov and 21-year-old Junior Sergeant Idris Nasrulaev. The bomb reportedly exploded with force of 20 kilograms of TNT, leaving a crater one and a half meters wide and 15 centimeters deep, and breaking windows in nearby buildings (www.kavkaz-uzel.ru, October 6).
Also on October 3, a bomb detonated on the Kaspiisk-Makhachkala highway in Dagestan as a car in which a policeman and his 10-year-old daughter were driving. Both were injured and hospitalized. The blast reportedly had the force of five kilograms of TNT (www.kavkaz-uzel.ru, October 4).
In Ingushetia, a powerful roadside bomb detonated near the city of Nazran yesterday (October 6). No one was hurt in the incident (www.kavkaz-uzel.ru, October 6). On October 5, a suspected rebel was killed during a special operation conducted by Federal Security Service (FSB) and Interior Ministry personnel in Nazran. The slain alleged militant was identified as Ruslan Tsurov, a resident of the village of Sredniye Achaluki in Ingushetia's Malgobek district who was born in North Ossetia. According to the FSB, Tsurov had been involved in attacks on police and preparations for terrorist attacks (www.kavkaz-uzel.ru, Interfax, October 5). On October 4, another resident of Sredniye Achaluki, Isa Sheikhov, told Kavakzsky Uzel that his son, Bilan Sheikhov, had disappeared the previous day while driving to the house in which they both lived. Isa Sheikov said his son had stopped answering his cell phone and that his car was later found abandoned with its doors broken off, which suggested he had been abducted (www.kavkaz-uzel.ru, October 4).
In Chechnya, two policemen were wounded on September 30 when a bomb went off as they were patrolling an area three kilometers from the village of Agishty in the republic's Shali district (www.kavkaz-uzel.ru, October 1).